Is it just me, or does it seem like Tiramisu had it's hey-day as a trendy dessert years ago? Regardless I never really got into the sudden hype over Tiramisu. It seemed to be everywhere back in the mid-90's! Every restaurant, even the bad ones, had Tiramisu on their dessert menu. It was mentioned in movies, think
Sleepless in Seattle
, and seemed to be the ultimate dessert.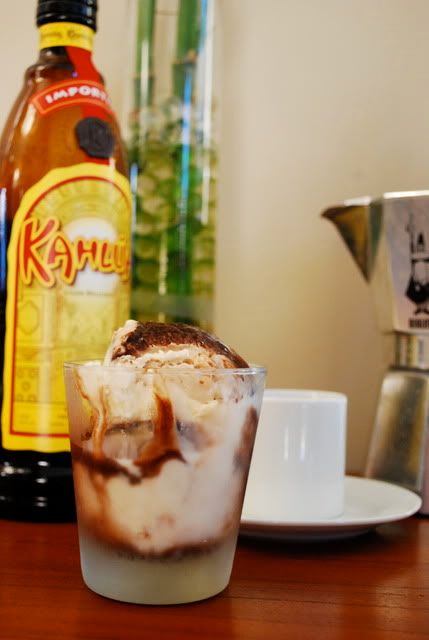 I've seen it served in a fancy champagne glass, two pale lady finger cookies swimming in a pool of spiked zabaglione and sprinkled with cinnamon. Other places have it in cake form, layers of lady finger cookies topped with a mascarpone cream, dotted with chocolate and cinnamon and soaked in coffee and rum. Something about it just never appealed to me, but I couldn't put my own lady finger (haha) on what it was (I'm such a sucker for puns!), until recently when I was flipping through David Lebovitz's book
The Perfect Scoop
. It's the lady fingers I don't like! Because honestly, what else in it is there to dislike? Epresso, good! Mascarpone, good! Chocolate, good! Liquor, GOOOOOOOD!
I didn't see any reason not to make David's
Tiramisu Ice Cream
. Not only was it easy to assemble - no tempering of raw egg yolks etc. - but, the ingredient list just sounded divine. It's not a traditional ice cream, since the base is made up mostly of mascarpone cheese. It ends up being QUITE rich, which is largely due to the silky chocolate ribbon that gets swirled in. Less is more with a scoop of this ice cream. In fact, I found that a scoop of this mixed with a scoop of Breyer's Vanilla was the perfect marriage. It subdued the richness of the Tiramisu Ice Cream and stretched the flavor a little bit. So if you're not too concerned about your waistline, give this recipe a try. Oh and (as if you haven't heard this a million times) Tiramisu means "pick me up" in Italian and it's named so because of the espresso in the dessert. The taste of this ice cream will definitely wake up your taste buds, but it's so rich and luxurious it won't have you ready to get up and go afterwards. Maybe it's named "pick me up" because it's so tasty you can't help but pick it up and eat it! Enjoy!
Tiramisu Ice Cream
Source: The Perfect Scoop, by David Lebovitz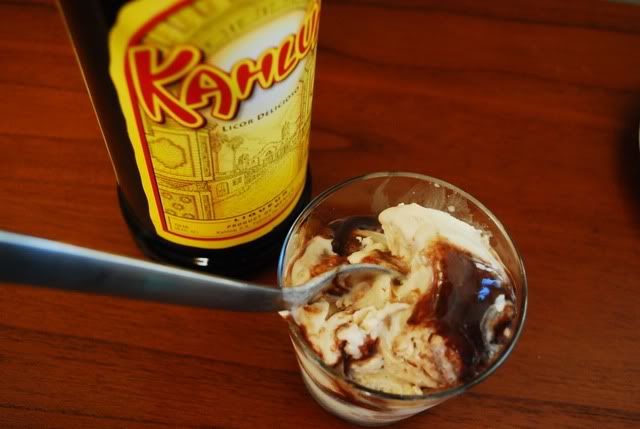 2 cups mascarpone
1 cup half and half
2/3 cup sugar
pinch of salt
1/4 cup coffee-flavored liquer, Kahlua
3 tablespoons brandy or dark rum
Mocha Ripple (recipe below)
Puree the mascarpone, half and half, sugar, salt, liquer and rum together in a blender or food processor until smooth and the sugar is dissolved. Chill thoroughly in the refrigerator.
Freeze in your ice cream maker according to the manufacturer's instructions. As you remove it from the machine alternate layers of Mocha Ripple with the frozen ice cream in the storage container.
Mocha Ripple
1/2 cup sugar
1/3 cup light corn syrup
1/2 cup strongly brewed espresso
6 tb unsweetened cocoa powder
1/2 tsp vanilla extract
Whisk together the sugar, corn syrup, espresso and cocoa powder in medium saucepan. Heat over medium heat, whisking constantly until the mixture begins to bubble at the edges. Continue to whisk until it just comes to a low boil. Cook for 1 minute, whisking frequently. Remove from the heat, stir in the vanilla, and let cool. Chill in the refrigerator before using. Can be stored for up to two weeks in the fridge.