I can't believe I haven't made some version of this soup sooner! Why? Well simply because I just love butternut squash. It's not only a fabulous fall vegetable, but it packs so many vitamins and minerals into each sweet spoonful. It's like superfood! And these days, everyone can use a little of that.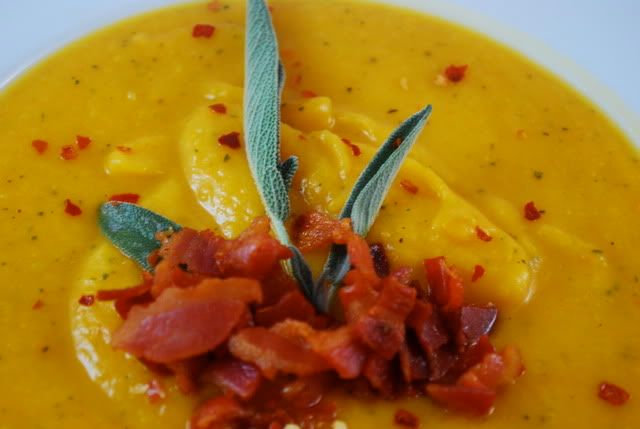 My recipe below is kind of a hybrid of a couple of versions I've seen out there. But I can namely give inspirational credit to the butternut squash recipes on both the
Jenn Cuisine blog
and
La Tartine Gourmande's blog
.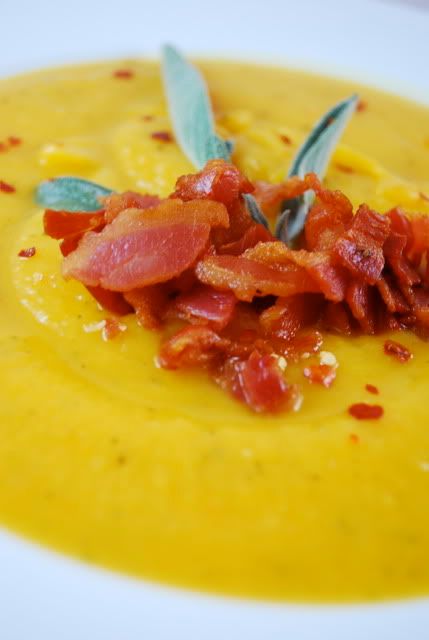 And, at the risk of sounding trite, I can safely say that this recipe was taste-tested and approved by my husband, who is not a fan of sweet root vegetables, ie sweet potatoes, butternut squash etc. but he really liked this soup, which made me feel good. I think the salty crunch of pancetta on the top helped...meat is truly the way to my man's heart for sure! Enjoy!
Roasted Butternut Squash Soup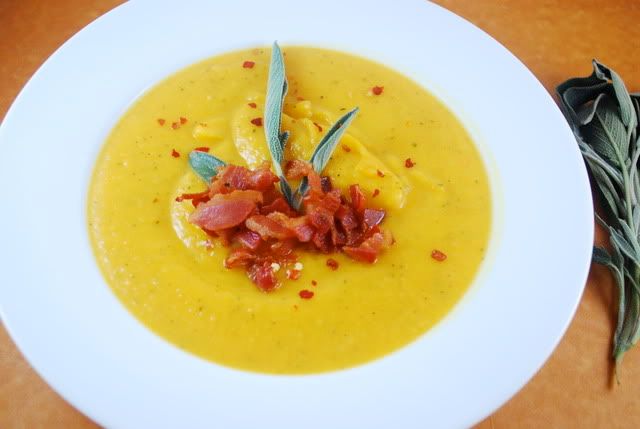 1 medium-sized butternut squash, cut in half lengthwise and seeds removed
1 large sweet potato
3 tablespoons olive oil
1 vidalia onion, diced
3 to 4 medium-sized carrots, shredded
3 cloves garlic, minced
2 tablespoons butter (ok, I probably actually added more like 4, but I was trying to appear conservative here)
about 1/4 cup of chopped sage leaves (I didn't measure so I'm guesstimating here. I love the taste of sage, so I used a lot. You can certainly use less, like 1/8 cup if you think 1/4 cup will be too much for your taste. Or you can subsitute fresh thyme if you prefer.)
1/4 teaspoon to 1/2 teaspoon of crushed red pepper flakes (depending on how hot you like it)
pinch of nutmeg
1 bay leaf
5 cups water
salt and pepper
crispy pancetta for garnishing
Preheat oven to 350 degrees. Place your two squash halves, skin side down, alongside your whole sweet potato onto a baking sheet. Drizzle the exposed squash flesh with a tablespoon of your olive oil and then sprinkle with salt and pepper. Rub oil on your sweet potato as well and then season it with salt and pepper. Roast the vegetables in the oven for an hour or until soft and fully cooked. Once cooked remove from the oven and scrape the soft flesh away from the skins of the vegetables. Puree the squash and potato in a blender or food processor.
Meanwhile, while squash is roasting, you can heat up your remaining olive oil and butter. Once the butter and oil are melted together, add your onions, shredded carrots and garlic. Let cook until slightly softened. Add in your sage, red pepper flakes, nutmeg and bay leaf and saute a bit longer. Finally add in your water and season with salt and pepper. Allow the flavors to mingle and simmer together, then add in your root vegetable puree.
At this point, you can serve the soup as is or you can puree the entire thing in a food processor or blender in small batches and then return to the soup pot. I like a smooth soup, so I took the puree route. If you find your soup is too thick after pureeing it, simply add more water, but remember to reseason appropriately with salt and pepper after doing so or your soup may lack flavor. Serve hot topped with crispy bacon or pancetta bits. The salty/sweet combo will give your tastebuds another reason to love fall's cornucopia of flavors!