The heat has been insane lately in Maryland. It's almost too hot to eat anything these days! However, if you're looking for a light, tasty and fresh appetizer that will hold up in this oppressive heat this is it. I saw this post on
Proud Italian Cook
that included a recipe idea for
Artichoke Salsa
.
It sounded so good and since I love artichokes I knew it would be a hit. Plus, there is no need to warm up the oven and you don't even have to light the grill if you don't want to! Just cut up some nice French bread to serve this salsa-style artichoke mixture on. I did serve it on grilled flatbread squares, but if you can't stand the heat that extra step is not needed.
This dish is a bit labor intensive - interpreted to mean LOTS of chopping. I chopped everything by hand so it takes a while. But it's worth it. So stay cool and enjoy this yummy bruschetta!
Artichoke and Tomato Bruschetta
Adapted from Proud Italian Cook's blog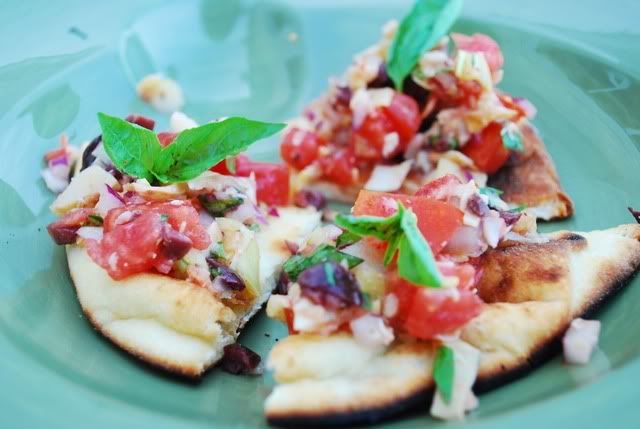 1 12 oz jar of marinated artichoke hearts, chopped
1 8 oz jar of pitted kalamata olives, chopped
2 to 3 ripe tomatoes, diced
1/2 of a red onion, finely diced
3 garlic cloves, minced
1 fresh Cubanelle or Banana pepper, diced
a handful of basil, chiffonaded
1/2 of a lemon juiced
3 tablespoons of olive oil
salt and pepper to taste
a loaf of French bread, sliced or pitas cut into triangles
After chopping and dicing your ingredients, combine them all in a bowl. Toss with the fresh squeezed lemon juice, olive oil, basil and salt and pepper. Season to taste - go easy on the salt because the olives will add salt as well as the marinated artichokes.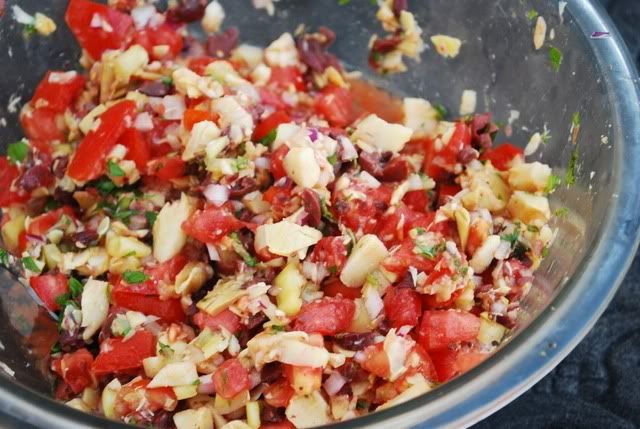 Grill your French bread or sliced pitas over hot coals until grill marks are formed. Serve artichoke mixture over pieces of grilled bread. Top with more basil leaves if desired.
(It also tastes great topped with a little shredded pecorino Romano cheese)