So I'm at my parent's beachhouse for the last three weeks of my maternity leave. My mom is here with me, and the baby too of course, and my husband comes up on the weekends. My mom and I have been doing a lot of dinners at home because lately it just seems like we can make whatever we would get in a restaurant, only much better, not to mention cheaper - GEESH do they jack up the prices in these resort towns!! Insane. Anyway, this salad is one of those dishes. They serve something similar at one of the local restaurants and charge something like $12 for a measly portion. I made this salad into a meal for my mom and myself. It was delicious! The combination of roasted beets and tangy goat cheese can't be, well...BEET! Get it?? Ok....I'll BEET it with the bad puns. No but really I'm done now. Haha.
Ok. So I combined a few recipes for similar salads out on the interwebs and came up with this version. I found the method for baking the goat cheese croquettes, rather than frying them, on
Annie's Eats
and the method for roasting the beets from
Everyday Italian's
Giada De Laurentiis. So cancel that reservation at your fancy coastal cuisine restaurant and get out your roasting pan because this simple, elegant yet hearty salad can be your dinner in no time flat! Enjoy!
Roasted Beet Salad with Goat Cheese Croquettes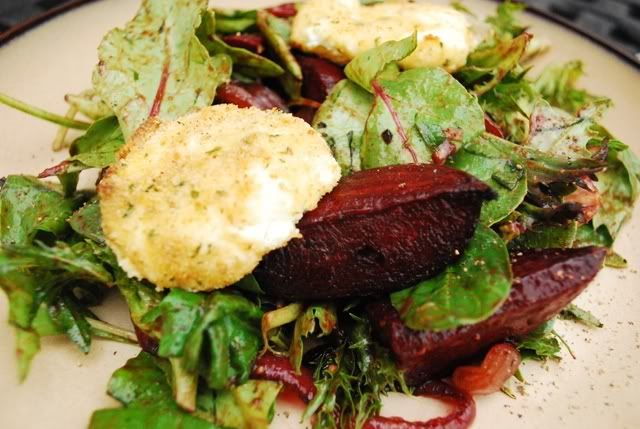 1 package of mixed field greens
6 beets, stems and leaves removed
1 red onion
1 avocado, sliced
1/2 cup of candied walnuts (you can purchase these already prepared)
For the Goat Cheese Croquettes:
1 log of goat cheese
1 egg, beaten
1/2 cup breadcrumbs
For the Dressing:
1/4 cup balsamic vinegar
3 tb shallots, minced
1 tablespoon honey
1 tablespoon dijon mustard
1/2 cup olive oil
salt and pepper
Preheat oven to 450 degrees.
Prepare your dressing. Whisk all the ingredients together and season with salt and pepper. Set aside.
Next, prepare your goat cheese croquettes. Slice your log of goat cheese in 3/4 in slices - you should probably end up with about 8 if you have an 8 oz. log of goat cheese. Have your egg and breadcrumbs set up in separate bowls for dipping. First dip the goat cheese slices in the beaten egg and then into the breadcrumbs. Arrange in a single layer on a plate and cover with plastic wrap. Place in the freezer for 30 minutes.
Meanwhile, rinse your beets, but no need to peel them. The skins will come off easily after boiling. Place your trimmed beets into a large saucepan. Cover with cold water and set to boil on the stove. Boil the beets until you can stab a toothpick through them. Drain and rinse in cold water. Once the beets are cool you will be able to easily remove the skins. Cut the beets into quarters and place onto a rimmed baking sheet. Slice your red onion and toss it with the beets on the baking sheet. Toss the beets and onions with a few tablespoons of your prepared dressing, enough to lightly coat all the beets and onions.
Bake the beets and onions until they have caramelized - about 25-30 minutes. Once done, remove from the oven and let cool.
Remove your goat cheese croquettes from the freezer and bake in the oven on 475 degrees for 10 minutes, until golden brown but not melted! You'll want to serve these warm over the salad so don't bake them too far ahead of time.
Arrange your greens in a bowl and add your sliced avocado, candied walnuts and cooled onions and beets. Toss with a generous amount of dressing. Plate your salad and top with two to three goat cheese croquettes. Serve warm.