My mom's friend Rasamee, or Ras as we call her, is from Thailand and she makes some of the most delicious Thai food I've ever tasted. I've been to several Thai restaurants and nothing compares to her Pad Thai and her Tom Kha Gai - or Coconut Chicken Soup. So I begged her to teach me how to make these Thai favorites and much to my delight, she agreed!
She generously prepared each dish as I watched, asked tons of questions and scribbled down notes all while snapping photos here and there and trying to keep my 1-year-old daughter out of her cabinets! It was a lightening round cooking class, but tons of fun. Most of all it resulted in some tasty authentic Thai food.
Her Shrimp Pad Thai is, in a word, awesome! I could have literally eaten two plates full. The spice is just right and she has the perfect combination of fresh taste and rich flavor.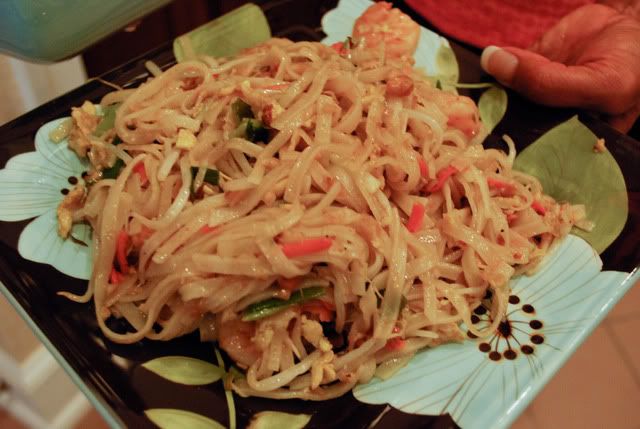 The Coconut Chicken Soup is so good I eat it until I explode. Literally! Every time I get this soup in a restaurant it tastes like it's been loaded down with sugar. Ras doesn't use sugar at all and it makes all the difference. The coconut flavor shines through and it's savory and has a natural sweetness from the onions.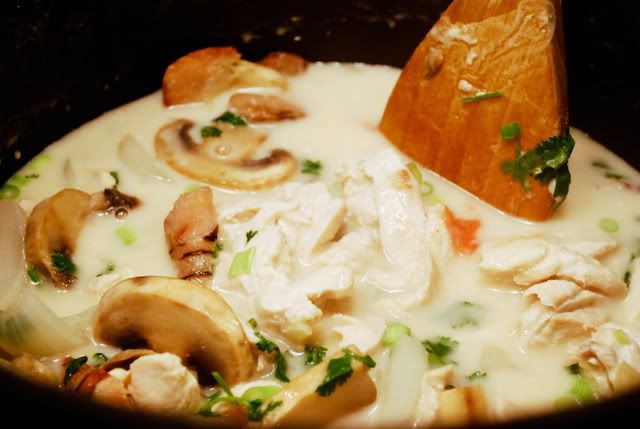 One word of warning though - the Thai red hot chili is HOT! I mean like FRIGGIN HOT! Like I just swallowed a flame thrower HOT! I had to walk around the house for a few minutes, panting like a dog to get my mind off the pain. So, the moral of this story is - the peppers are super hot. You have been warned!
On the other hand, Fish Sauce is your friend! It sounds awful, it smells funny and the picture on this particular bottle of a baby holding a bottle of fish sauce is a bit disturbing, but it makes all the difference in Thai food. There is no substitute for Fish Sauce. If you can't find it....keep looking!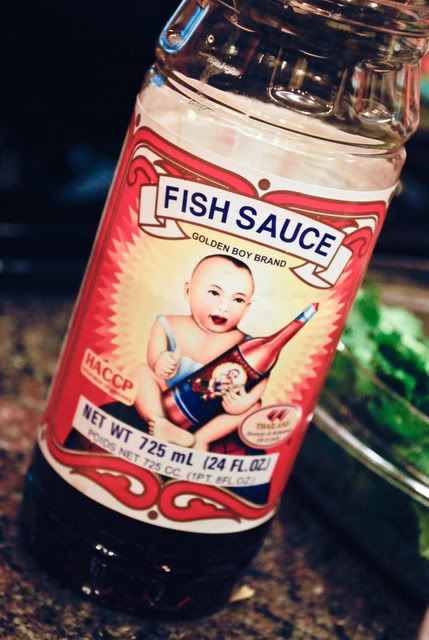 Anyway, despite Ras's thick accent, which is one of her many charms, and the fact that she doesn't measure anything, I think I was amazingly able to piece together a semblance of a recipe for each dish. Hopefully they do Ras's food justice!! I'm happy to be able to share them on my blog. So until Ras opens her own Thai restaurant, try out these recipes that have been in her family for years. Enjoy!
Tom Kha Gai or Coconut Chicken Soup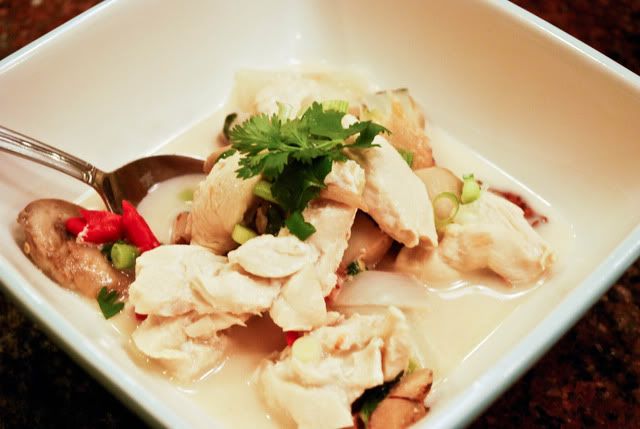 1 package of chicken breast or tenderloins, cut until chunks
2 kaffir lime leaves
1/4 cup of thickly sliced galanga root (if you can't find this, you can substitute ginger. Galanga tastes like a cross between ginger and licorice root. You can wrap this bouquet garni style and plunge it into the soup that way, making it easy to fish out before serving. Otherwise, you will want to pick the galanga root out before serving, as it is very fibrous and hard to eat.)
1 whole lemongrass stalk, cut into thirds
1 can coconut milk
2 cups water
1/2 large onion sliced
1 tomato, cut into chunks
1 pint of mushrooms, sliced
juice of 4 limes
1/2 cup fish sauce
3 red Thai peppers, minced
handful of cilantro
handful of scallions
In a large stockpot, add your kaffir lime leaves, lemongrass, galanga, 1/2 can of coconut milk and water. Bring to a boil and let simmer for 5 minutes. Next add your chopped chicken. Allow to cook on a simmer. Once chicken has cooked, add the onion, tomato and mushrooms. Once the vegetables have cooked down, add the rest of the coconut milk, along with your fish sauce and lime juice. Bring to a simmer and add the peppers, cilantro and scallions. Stir to combine. Taste for flavor. If it feels a bit flat, add a little more fish sauce. It will punch up the flavors. Serve warm and enjoy! You can serve it over white rice if you prefer, but I like the soup just as it is.
Shrimp Pad Thai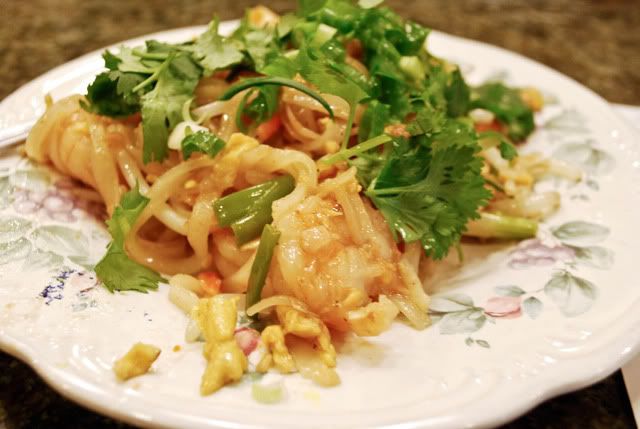 For the Sauce: (this makes a large amount of sauce - you can keep it in the freezer for future use. You will only use about 1-2 cups of it for one batch of Pad Thai)
1 16 oz jar of concentrate cooking tamarind
1 lb jar of palm sugar
1/2 cup salt
Make the sauce first. Combine the ingredients in a large wok until well combined and saucy and until all the sugar has dissolved. Sauce will keep in the fridge for a month or up to 6 months in the freezer.
For the Noodles:
1 package of Banh Pho Rice Noodles
6 eggs, beaten
1 cup vegetable oil plus 4 tablespoons
8 cloves garlic, minced
1 1/2 lbs of shrimp, peeled and deveined and soaked in cold saltwater
1 cup of sugar water (this is equal parts sugar and water, heated until the sugar dissolves)
1/2 to 3/4 cup fish sauce
1/4 to 1/2 cup white vinegar
1 tsp cayenne pepper
a handful of shredded carrots
1 1/2 cups chopped peanuts
2 cups bean sprouts
handful of cilantro
handful of scallions
limes for garnish and juice
Soak the rice noodles in cold water overnight if possible. Set aside.
Drain your shrimp, which have been soaking in cold saltwater for about 30 minutes. Set aside.
Heat a large wok over high heat until hot. Add 2 tablespoons of vegetable oil and using some hot pots, lift the wok and swirl the oil around so that it covers all sides of the pan as good as possible.
Add half of your egg mixture and continue to swirl the wok as the eggs cook. This allows the eggs to cook in a thin layer. They will cook in about a minute or so. Once cooked, remove to a cutting board, add two more tablespoons of oil to the wok and then add the rest of your egg mixture. Swirl until the egg is cooked.
See Ras swirl.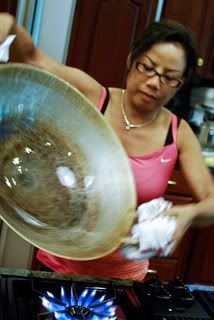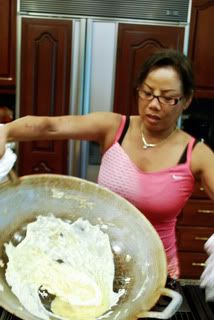 Good Ras. Good swirl!
Remove to a cutting board. Once cool, chop egg with a knife.
Scrape egg bits out of the wok, wipe with a clean papertowel if necessary, and then add in about a cup of oil to your wok. Get the oil hot and then add in your minced garlic. Don't let the garlic burn, but cook until softened. Add in your shrimp and stir to coat with the oil and garlic. While the shrimp cooks, add your egg back into the pan.
At this point you will need the sauce you made beforehand. Add about 1 1/2 cups of your tamarind sauce, your sugar water, fish sauce and vinegar. I suggest adding the smaller measurements of fish sauce and vinegar because you can always add more later as you need it but you can't take it away. Stir to combine. Once combined, add in your cayenne pepper, carrots and chopped peanuts. Add more vegetable oil if it seems dry and finally add in your bean sprouts.
Taste a spoonful of noodles. If the flavor is flat, add more fish sauce, sugar water and vinegar to taste. Add slowly so you don't overpower it with any flavor in particular. It's a delicate science!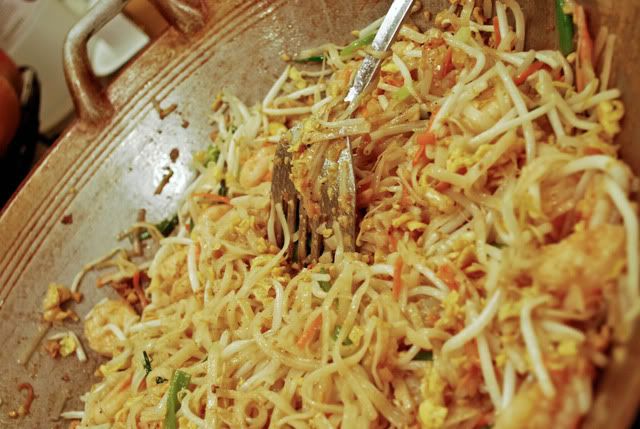 Finally, once you have the flavor where you want it, top with chopped cilantro, chopped scallions and a squeeze of lime juice. Garnish with fresh lime slices and serve hot.