I recently went strawberry picking at a local pick-your-own farm. A word to the wise: skip the strawberry picking. It was backbreaking work. I now understand why they charge $5 a pint for strawberries in the supermarket. It's a bitch picking those little red queens off the vine. First of all, the vines are more like mini-bushes that are only about a half-foot off the ground. So the entire picking process is done on your knees or kneeling. For little kids this is probably not only easy but fun. It's literally at their level. But for an adult this is something that involves way too much bending and standing back up again. My back was aching, my knees were creaking. Strawberry picking made me feel old and out of shape. Not pleasant. And when it's over 85 degrees and humid out, it makes for a less than enticing afternoon. So needless to say, this was probably the first and last time I'll pick strawberries. But hey, it's all about the experience right?? For sure right.
Anyway, I did make some scrumptious ice cream with those fresh berries. I found this recipe in my ice cream bible, ie David Liebowitz's
The Perfect Scoop
.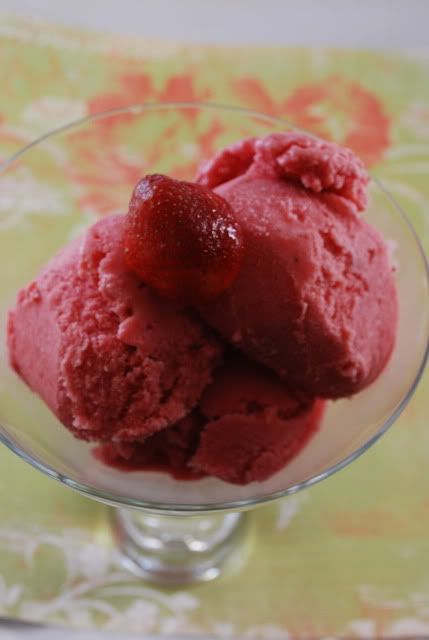 While the book recommends eating this ice cream right after it's made, an opportunity I didn't quite have considering I made this at about 10 p.m. on a random Sunday, it was still good after some time in the freezer. As mentioned, I went to bed as soon as it was done and threw it in the freezer. Sorry David! Maybe next time. It was still very good and very refreshing when I ate it a few days after the fact. Enjoy!
Strawberry Sour Cream Ice Cream
Source: David Lebowitz, The Perfect Scoop
1 pound fresh strawberries, rinsed and hulled
3/4 cup sugar
1 tablespoon vanilla vodka or kirsch
1 cup sour cream (I used light sour cream)
1 cup heavy cream (I used half and half)
1/2 teaspoon freshly squeezed lemon juice (I omitted this only because I had no lemons)
Slice the strawberries and toss them in the a bowl with the sugar and vodka or kirsch, stirring until the sugar begins to dissolve. Cover and let stand at room temp for 1 hour. Stirring occasionally.
Pule the strawberries and their liquid with the sour cream, heavy cream and lemon juice in a blender until almost smooth, but still slightly chunky.
Refrigerate for an hour and then freeze in your ice cream maker according to manufacturer's instructions.