After making pumpkin pancakes and pumpkin blondies, I still amazingly had about a cup and half of pumpkin puree left. My solution - pumpkin ravioli.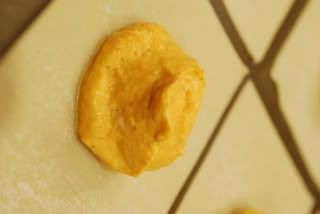 I made the filling with pumpkin, marscapone cheese, nutmeg and honey. I didn't really measure out the ingredients, I just kind of went by taste, texture and appearance.
To wrap the ravioli I used wonton wrappers, which I've seen in Rachael Ray's magazine and also on Giada's show, Everyday Italian. These made an excellent substitution for fresh rolled pasta. The wontons boil up perfectly thin and light and stayed together beautifully. I really love how delicate they made the ravioli.
I used a tiny cookie scoop to measure out the ravioli filling.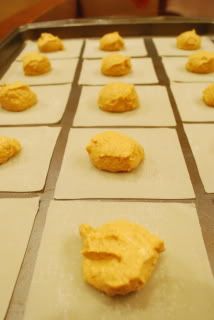 After dotting about a tablespoon of filling in each ravioli, wet the edges of each wonton with a wet fingertip, and then place another wonton wrapper on top and secure the edges by pressing down firmly.
I boiled the ravioli for about 10-12 minutes and then served it with a sage brown butter sauce accented with caramelized onions and a splash of balsamic vinegar for tartness.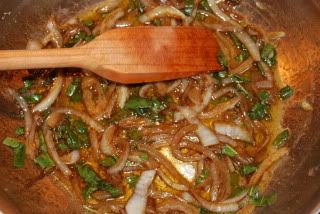 The sauce was ok - I was really having trouble figuring out what would work with these. I think next time I'll try a bechamel or cream sauce laced with nutmeg and black pepper. The brown butter sauce was very rich, but did complement the pumpkin filling quite nicely.
Overall these turned out very well. If you can't find marscapone cheese you can very easily substitute cream cheese or any other kind of soft spreadable cheese, such as goat cheese, Laughing Cow cheese or boursin cheese. Be creative! Play with the flavors and you're bound to find something that works.
Although I didn't measure here is an estimate of the measurements.
Pumpkin Ravioli with Sage Brown Butter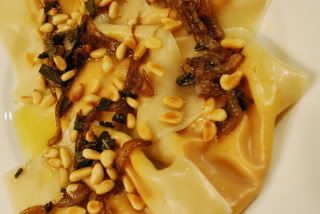 1 1/2 cups pumpkin puree
3/4 cup marscapone cheese
1 teaspoon nutmeg
1 tablespoon honey
salt and pepper to taste
1 package of wonton wrappers
1/2 stick of salted butter
1/2 onion
2 tablespoons balsamic vinegar
1 tablespoon olive oil
1/2 cup chopped fresh sage leaves
1/4 cup pine nuts, toasted
In a bowl, mix together your pumpkin, cheese, nutmeg, honey and season with salt and pepper. Taste to adjust seasoning. On a baking sheet lay out as many wontons as you fit side by side in one layer. With a small cookie scoop or tablespoon measure, scoop out a tablespoon of pumpkin mixture and place in the center of your ravioli.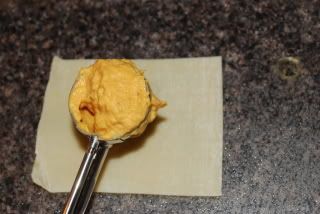 After you've laid down all your filling then fill a small bowl with water, dip your index finger in the bowl and then run it around the edge of your wonton. Place another wonton on the top and then press firmly around the edges to seal. Try not to leave any air pockets within your ravioli and make sure you get a good firm seal.
Once complete, place your ravioli in boiling water and boil until they float to the top, about 10 mins.
For the brown butter sauce, melt your butter and olive oil in the pan and add your chopped onion. Once the onion softens, about 20 minutes, add in the balsamic vinegar. Let it cook off a bit and then add your chopped sage leaves. Let cook another 5 minutes to soften sage. Remove from the heat and spoon over a plate of ravioli. Sprinkle with pine nuts and grated romano cheese and serve!