Are you drooling?? Because I was when I first read that. I saw this sinfully rich recipe in the latest
Williams-Sonoma
catalog and I just couldn't resist. Ever since I was maybe 10-years-old and my parents took me to
Ruth's Chris Steakhouse
for dinner, I've been obsessed with
Bananas Foster
. They used to prepare it tableside for a dessert. A tuxedo-outfitted waiter would wheel over a little cart with a hot plate and skillet on it. He'd have a bowl of ripe bananas, a bottle of rum, a dish full of brown sugar and another dish full of soft butter. The flame would click on and the show would begin. He'd start by slicing up the bananas and melting the butter in the pan. Then he'd toss the bananas with the butter and then sprinkle in the brown sugar. Finally, the grand finale - the rum would go in and he'd light it on fire. You could feel the heat and smell the strong liquor burning off. The whole skillet would be a blaze for about 20 to 30 seconds until the alcohol had burned off and all that was left was sticky, buttery, banana goodness. Then this warm mixture would be spooned over cold vanilla ice cream and served in a pretty silver dish. Heaven! For a while the restaurant stopped serving tableside Bananas Foster, and I never really understood why. I believe they have finally brought it back, and of course I can make the dish whenever I want since the technique is so easy. And you really don't need to light it on fire, that's just part of the show.
Considering my love for Bananas Foster, it's a wonder I didn't think of doing something like this on my own! I think the only thing this recipe is missing is a scoop of cold, creamy vanilla ice cream. Not exactly a healthy breakfast, but everyone is owed a sugary carb overload every now and then. And most importantly, they are baby approved.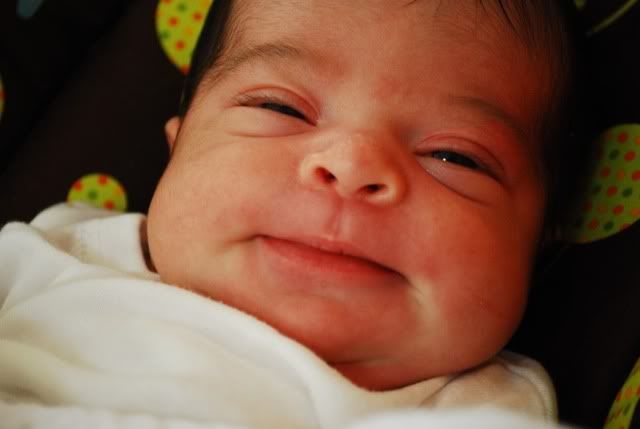 Enjoy!
Bananas Foster French Toast
Williams-Sonoma Catalog
4 eggs
1/4 tsp. ground cinnamon
1/2 cup milk
6 Tbs. firmly packed dark brown sugar
Kosher salt, to taste
4 day-old slices brioche or other egg bread, each 1 inch thick
6 Tbs. (3/4 stick) unsalted butter
4 bananas, cut on the bias into 1/2-inch slices
1/4 cup dark rum
1/2 tsp. vanilla bean paste
3 Tbs. water
Directions:
Preheat an oven to 200ºF.
In a bowl, whisk together the eggs, cinnamon, milk, 1 Tbs. of the brown sugar and a pinch of salt until well combined. Pour half of the egg mixture into a deep pie dish. Soak 1 bread slice, turning once, for 1 to 2 minutes. Transfer to a plate. Repeat with the remaining bread and egg mixture. Gently pour any remaining egg mixture over the bread until absorbed.
In an 11-inch French skillet over medium heat, melt 1 1/2 Tbs. of the butter. Add 2 bread slices and cook, turning once, until golden, 2 to 3 minutes per side. Transfer to a wire cooling rack set over a baking sheet and keep warm in the oven. Repeat with 1 1/2 Tbs. of the butter and the remaining bread.
In a 9-inch French skillet over medium-high heat, melt the remaining 3 Tbs. butter. Add the bananas and cook, stirring occasionally, until lightly browned, 2 to 3 minutes. Carefully pour in the rum, then add the remaining 5 Tbs. brown sugar, the vanilla bean paste, water and a pinch of salt. Stir to coat the bananas evenly. Simmer until the bananas are soft and the sauce is thickened, 2 to 3 minutes.
Transfer the French toast to individual plates and top with the bananas. Serve immediately. Serves 4.