Some things just go together. Cookies and milk, pb and j, hot chocolate and marshmallows and among those famous pairings should be blue cheese and honey. Sweet honey mingles with tangy blue cheese to reveal a smooth, sultry and surprising combination.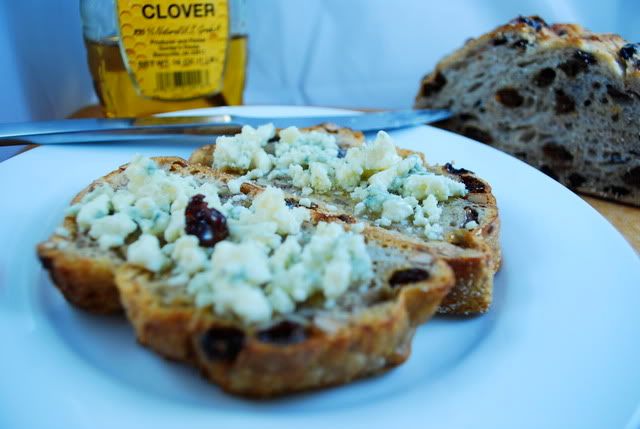 This is an easy appetizer to whip up for a crowd or just for two. I think it works best with a semi-sweet bread. I found a walnut raisin sourdough bread at my local grocery store and it worked perfectly with the toppings. Slice, toast up and enjoy! It's easy yet fancy and will leave you wanting more. What else can you ask for from a bruschetta?
Blue Cheese and Honey Bruschetta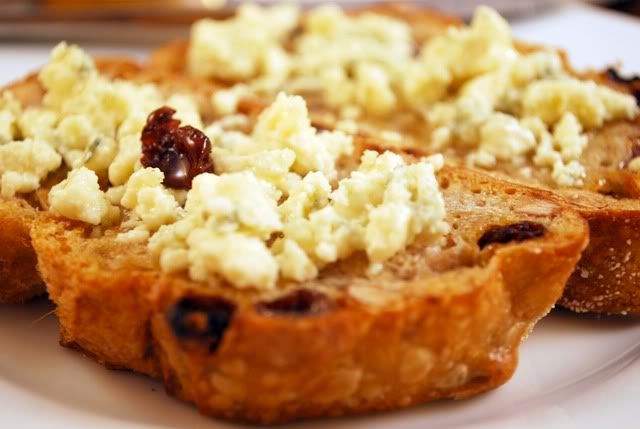 1 loaf of raisin walnut bread (Or any fruit/nut bread will do), sliced into 1 in thick slices
1 8 oz package of blue cheese
1 stick of butter, slightly softened so it's spreadable
1/4 cup honey
Preheat oven to 350 degrees. Place your sliced bread on a baking sheet and let it crisp up. Once slightly toasted, remove and spread a pat of butter on each slice. Then crumble a small handful of blue cheese over top of the buttered bread.
Place the toasts back in the oven for about 3 to 5 minutes to slightly melt the cheese. Remove and drizzle each slice with your honey. Serve warm.