Whoa that was a mouthful! And so was this meal. This was my first attempt at turkey burgers. I was inspired by the flavors of spinach and artichoke dip as well as a recipe for Artichoke Stuffed Turkey Burgers on the
Good Things Catered blog
. I decided to create a turkey burger that tasted like artichoke and spinach dip. It worked out perfectly! My husband, I have to say, was a bit skeptical about turkey burgers, being a die-hard red meat burger eater. But even he couldn't deny these tasty morsels. They stayed so juicy too, thanks to the artichokes and spinach. I was really afraid I was going to dry them out worrying about cooking them through but they turned out so juicy. I topped them off with ooey gooey dill havarti cheese and grilled sweet onions.
They were truly some of the best burgers we've ever had.
I served them up with some roasted red potatoes tossed with a dijon rosemary glaze.
Simple and delicious and a much better choice than the frozen french fries I was going to serve. Here are the recipes...enjoy!!
Spinach-Artichoke Turkey Burgers
1 lb ground turkey
1 10oz box of chopped frozen spinach, thawed and drained of water
4 artichoke hearts quartered
1 tablespoon of chopped oregano
2 cloves of minced garlic
1 tablespoon plus more for sprinkling of your favorite hamburger seasoning (I used McCormick's Hamburger seasoning. Mrs. Dash is another good choice or McCormick's Montreal seasoning.)
salt and pepper
1 sweet onion, cut in slices for grilling
1 cup of dill havarti cheese, shredded (I found it too soft to slice with a cheese slicer. If you can find it in pre-sliced slices then go for it!)
Mix together the turkey meat, spinach, artichokes, oregano, garlic and hamburger seasoning. Season with salt and pepper and then divide the mixture into four equal patties (they will be quite large due to the artichokes). Then sprinkle the top of each patty lightly with more hamburger seasoning.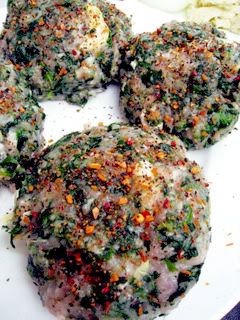 Preheat your grill and get ready to cook those babies up. Put your onions on one side of the grill and your burgers on the other. Depending on your grill temperature your burgers will need about 8 to 10 minutes per side so they are cooked through. The onions just need to be grilled until slight brown and softened.
Look at the juicy tangy artichoke poking out the side of Mr. Turkey Burger. He's so cute!
Finally throw a 1/4 cup of shredded havarti, or a slice per burger if you have 'em, and turn off the grill. Close the lid to allow the cheese to melt down and get all tasty and whatnot. Remove your hefty burgers from the grill, place on a toasted sesame seed roll and top with your grilled onions.
When you cut your burger in half you can marvel at all the spicy spinachy goodness going on inside. The creamy havarti pairs so nicely with the vinegary artichokes.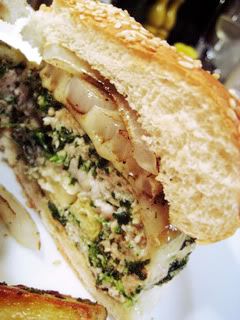 Roasted Rosemary Dijon Red Potatoes
4 medium-sized red potatoes
1/2 of an onion, sliced thinly
3 tablespoons of chopped fresh rosemary
2 tablespoons of dijon mustard
1/4 cup of olive oil
salt and pepper
Preheat your oven to 400 degrees. Cut your potatoes in wedges, not too thick but not too thin. Toss them with your sliced onions in a baking dish. Mix together your rosemary, mustard and olive oil. Season with salt and pepper to taste and then toss the mixture with your potatoes and onions.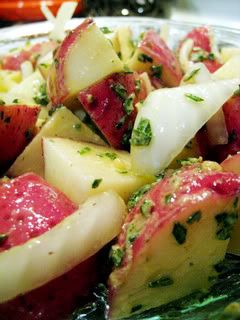 Bake the potatoes in the oven until tender and crispy, about 40 minutes. Remove and serve.