Ok I might have added the "rustic" bit - only because I needed some reason to make my misshapen pizza sound more legit. Therefore, it's not oddly shaped, it's...wait for it...rustic. I'm just not very good at getting the dough to make a perfect circle, what can I say? Oh well. Anyway, I made this yummy pizzeria-style pizza for dinner one night this week and it was simple, full of garlic flavor and hit the spot just right. The baking method outlined in this recipe really ensures a crisp crust without burning the fresh cheese topping. It has you preheat the pizza pan and then bake the crust first without the cheese and then add the cheese and place it back in the oven to melt the cheese. I found this genius because I have burnt fresh mozzarella on the top of a pizza many a time, trying to get the crust underneath crispier. I'll remember this method next time I'm using fresh mozzarella.
By the way, please excuse my awful photos. One of the bulbs for my lightbox lights has burnt out and it gets dark out way before we eat dinner in these parts so I'm left with poor lighting situations on a cold winter's night. Very annoying.
But back to the pizza! I found the recipe in an old (we're talking January 2009) issue of
Gourmet Magazine
. I have made white pizzas before from my own recipe, but I just thought I'd try theirs and see how it measured up. This white pizza gets it's flavor from a garlic and olive oil base that is topped with fresh mozzarella and chopped rosemary. It really thrives on the simple pairing of flavors.
I served it with a
Caesar Salad recipe
from
Annie's Eats
.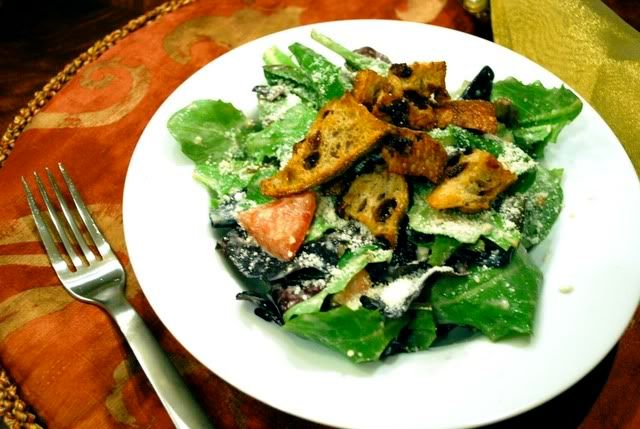 This was a creamy Caesar dressing, whereas I think I prefer the oil-based Caesars. I topped my salad with pecan-raisin bread croutons, which added a nice, sweet note to the savory dressing. I had this in a restaurant once and really liked the contrast of tastes. Overall, the dressing was pretty good, but I think in the future I'll stick with the traditional Caesar salad dressings without mayonnaise. I always seem to like them better.
Pizza Bianca
Gourmet Magazine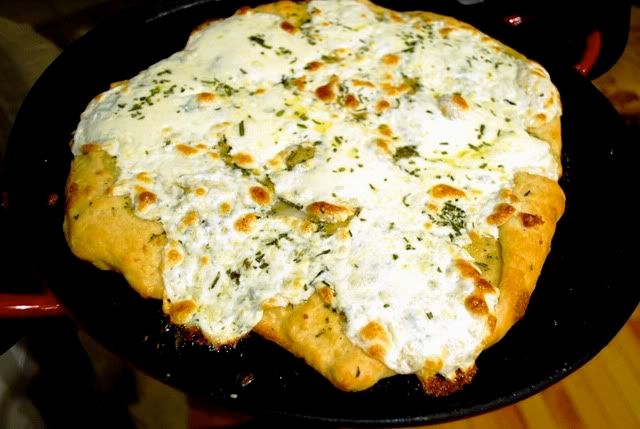 1 large garlic clove (I used 3)
1 tbsp extra-virgin olive oil (I might have used 2 tbsp)
1 lb store-bought pizza dough or make your own
1/2 lb cold fresh mozzarella
1 tbsp rosemary leaves (I used 2-3 tbsp)
Put a large heavy baking sheet on the lowest rack of oven then preheat the oven to 500 degrees. Mince and mash garlic to a paste with a pinch of salt and then stir together with the oil. Roll out dough onto a floured surface with a floured rolling pin. Transfer to a large baking sheet lined with parchment paper. Lightly prick the dough all over with a fork. Stir garlic mixture and brush evenly over dough. Slide dough from parchment onto hot baking sheet. Bake until the top is puffed and pale golden in patches, 6 to 10 minutes. Prick any large bubbles with a form and flatten. Meanwhile, thinly slice mozzarella and pat dry. Remove crust from oven and arrange the mozzarella on it in 1 layer. Sprinkle the rosemary on the top. Bake until the edge of crust is deep golden and cheese is bubbling and golden in patches, 8 to 10 minutes. Serve with crushed red pepper and grated Parmesan if desired.