On Christmas Eve, it's typical for Italian families to do the traditional, Feast of the Seven Fishes. My grandmother and great aunts used to do this, but after they passed, unfortunately the tradition kind of died. So here I am to help breath some life back into this fishy meal! While we didn't have seven fishes, ok we just had the one, you have to start somewhere. Traditionally a lot of bacala is served, which is salted cod fish. Not exactly my favorite. So I opted for fried calamari instead. I had attempted this once before - a recipe by Paula Deen that involved soaking the calamari in buttermilk and then cornmeal. It sounded mouth watering, but I think I worked my calamari in batches that were too large so I ended up with a huge, sticky ball of raw squid. When I threw it into the fryer that way (BIG MISTAKE!), the oil heat went down to barely hot, never came back to heat and I had to throw the whole batch away.
So I tried to keep it simple this time. Which lead me to Giada's recipe. You basically coat the calamari - IN SMALL BATCHES! - in a seasoned flour mixture and then fry it in oil - IN SMALL BATCHES! - for about five to 10 minutes, depending on doneness, then remove and serve.
This was the perfect and easiest way to do calamari. It turned out light and crispy. We served it with jarred marinara (yes, I was too lazy to make sauce from scratch...I know I know.) Don't be afraid to fry cause it's really easy. Just make sure you get good quality squid that's fresh - that way it will fry up nice and tender instead of chewy. Enjoy!
Fried Calamari
www.foodnetwork.com, Giada DeLaurentiis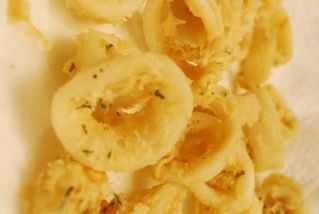 Vegetable oil, for deep-frying
1 pound clean squid with tentacles, bodies cut into 1/3- to 1/2-inch-thick rings
2 cups all-purpose flour
2 tablespoons dried parsley
Salt and freshly ground black pepper
2 lemons, cut into wedges
1 cup simple tomato sauce, recipe follows or jarred marinara sauce, warmed
Pour enough oil into a heavy large saucepan to reach the depth of 3 inches. Heat over medium heat to 350 degrees F. Mix the flour, parsley, salt, and pepper in a large bowl. Working in small batches, toss the squid into the flour mixture to coat. Carefully add the squid to the oil and fry until crisp and very pale golden, about 1 minute per batch. Using tongs or a slotted spoon, transfer the fried calamari to a paper-towel lined plate to drain.
Place the fried calamari and lemon wedges on a clean plate. Sprinkle with salt. Serve with the marinara sauce.