I know what you're thinking - lasagna in the summer? You mean you honestly turned on the oven for an hour and ate a heavy lasagna for dinner? What were you thinking?? True, it is odd and very out of character for me to make a lasagna in the summer, but honestly I was craving it. I did make it lighter than your normal cheesy, oozy casserole. I used cottage cheese, lowfat mozzarella and put in spinach and chicken sausage to add some substance.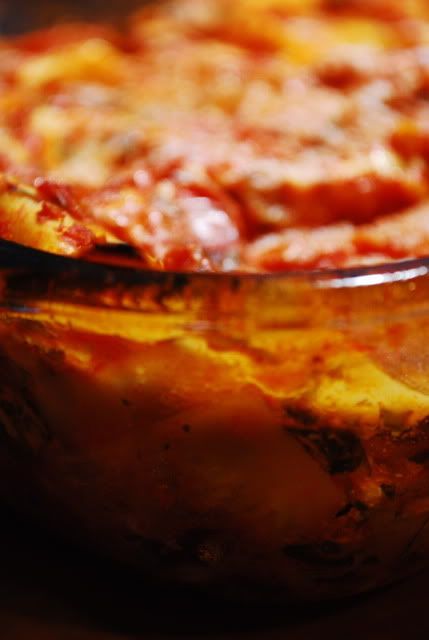 I also made a simple sauce from scratch that didn't need a lot of simmering because it got a boost of flavor from one jar of pureed roasted red peppers. So in the end, it really isn't that hard to eat lasagna in the summertime when it's as light and fresh as this one was. And if you have on the good old AC you'll be able to handle the heat in the kitchen. Enjoy!
Spinach and Sausage Lasagna
32 oz roasted red pepper marinara (recipe below)
9 lasagna noodles (no-bake Barilla are the best - they are light and thin and come out perfectly aldente every time!)
1 package of frozen spinach, thawed and drained
3 chicken sausages, removed from casings, browned and drained of grease
2 cups of shredded lowfat mozzeralla
16 oz lowfat cottage cheese
2 eggs
1/2 cup grated romano cheese (or Parmesan)
a small handful of chopped fresh oregano
salt and pepper
Preheat oven to 400 degrees. Spray a large baking dish with non-stick cooking spray and set aside.
In a bowl, combine the spinach, cheese, eggs and oregano and season with salt and pepper.
Take a ladle full of your sauce and put it on the bottom of the baking dish. Layer on top three lasagna noodles and half of your cheese mixture. Spread evenly to coat the noodles. Then sprinkle half of your browned sausage crumbles on top then ladle another few scoops of sauce on top of that to cover the cheese and sausage. Layer the same way one more time or until you've used all your ingredients. Top the lasagna with three more noodles and the rest of your sauce. Sprinkle the top with more Romano cheese (or shredded mozzarela if you have more). Cover with foil and bake for 40 minutes. Then uncover the lasagna and let it bake for another 10-15 minutes until bubbly. Slice and serve with more cheese.
Lisa's Roasted Red Pepper Marinara
I combine roasted red peppers with a can of crushed tomatoes and a can of fire-roasted tomatoes to get the flavor jumpstarted. This allows me to simmer the sauce for about 30 minutes, rather than all day! I also throw in about a cup of chopped fresh basil leaves to give it a lemony, fresh taste. A great shortcut.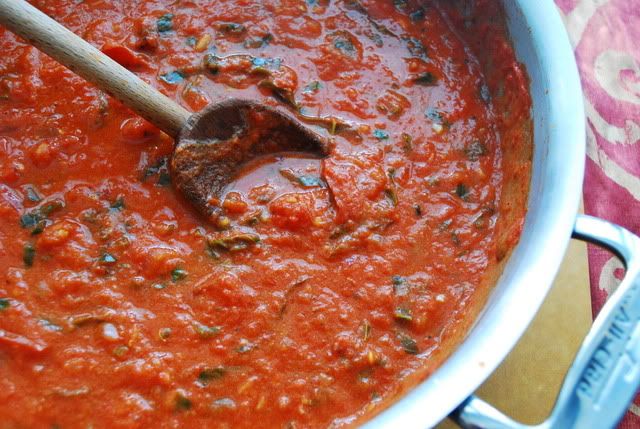 4 cloves garlic, chopped
1/2 onion, chopped
1 tsp red pepper flakes
4 tablespoons olive oil
1/2 cup white wine
1 jar roasted red peppers
1 14oz can crushed tomatoes
1 14oz can fire-roasted diced tomatoes
1 cup chopped basil leaves
pinch of sugar
pinch of salt
pepper to taste
In a saucepan brown your garlic and onions and red pepper flakes in oil until softened. Meanwhile, in a food processor puree the roasted red peppers. Once the garlic and onions are softened, pour in the white wine and allow it to reduce by half. Once reduced, pour in your red pepper puree, crushed tomatoes and fire roasted tomatoes. Bring to a simmer and then reduce heat to low. Add in your basil, sugar and salt and let simmer for about 30 minutes. Taste and season accordingly with salt and pepper. Serve in lasagna or with your favorite pasta.