There are several variations of so-called "Monkey Bread" out there on the blog-o-sphere and in cookbooks galore. Well stop making all of those. Don't question why, just do it. Well, ok I'll tell you why. Because this one here is "da bomb" - literally and figuratively. It's got all the wonderfully yummy qualities of monkey bread, but with the added touch of cream cheese.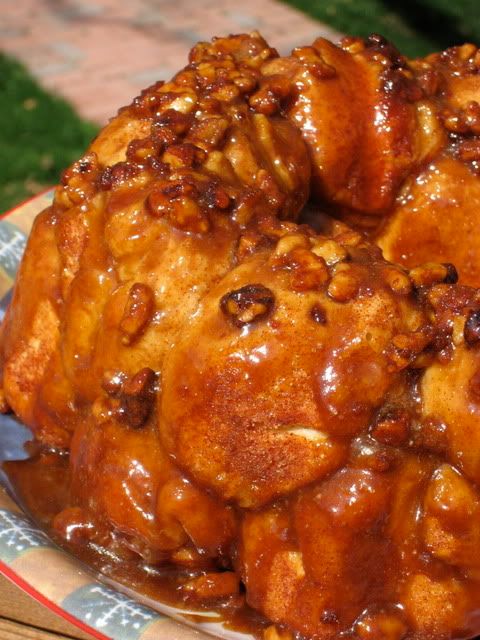 This particular recipe is one that I've been making for a few years now, but unfortunately I can't remember where I found it! I liked this recipe because it included filling each little sweet, cinnamon ball with a square of cream cheese. So every piece of this pull-apart bread is like it's own sticky cheese danish. Ingenious!! I'm thinking this was originally a Paula Deen recipe, figuring she's the only one that could make something as decadent as monkey bread even more fattening and delicious. However, a search online and on
Food Network's
website brought up only traditional monkey breads, without the cream cheese. Oh well. So anyway, here is the recipe and for now I'll leave the source as anonymous. Enjoy!
Cinnamon-Cream Cheese Monkey Bread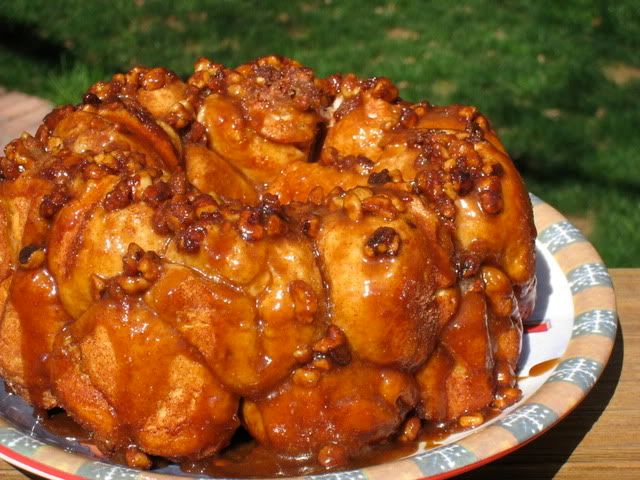 1/2 cup sugar
1 teaspoon cinnamon
2 cans of refrigerated biscuits (10 count cans work best)
1 block of Philadelphia cream cheese, cut into 20 cubes
1 stick of butter
1 cup of brown sugar
1/2 cup of walnuts, chopped
Preheat oven to 350 degrees. Prepare a bundt pan by spraying it with non-stick cooking spray. Set aside. Mix together your cinnamon and sugar. On a cutting board or clean work surface, separate your biscuits. Sprinkle each biscuit top with your cinnamon sugar mixture. Place a cube of cream cheese in the center of each biscuit and then fold the edges in to conceal the cube of cream cheese. Rolling the biscuits between your hands to form a small ball is helpful.
Once you have all your biscuits filled and rolled into balls, put them into a large ziploc bag. Pour in the rest of your cinnamon sugar mixture and shake to thoroughly coat the biscuits.
In a small saucepan melt together your butter and brown sugar until combined - don't burn!! Now you're ready to assemble your bread. First, scatter your chopped walnuts around the bottom of the bundt pan. Then place half of your biscuit balls into the bundt pan, make sure to evenly space them around the pan as well (although they will be stacked on top of each other). Cover those with your butter and brown sugar mixture. Then add the remaining biscuit balls and then coat with your remaining butter and brown sugar. (I find there is always a little too much butter and brown sugar so I end up discarding a bit. You could bring the measurements down a touch to account for this, unless you want it really ooey, gooey sweet). Bake in the oven on the middle rack for 40 to 50 minutes, until the biscuits have plumped up and get golden brown. Serve warm with your favorite hot coffee.