I have something to admit. I'm a virgin. A salmon burger virgin that is of course! Not only that, but I've never ever bought canned salmon before so this was a whole new experience for me. I guess you can say I've been afraid of what I would encounter inside the can. I was picturing a fishy, gelatinous mess. Gladly, I was mistaken. I bought the most expensive canned salmon available (at $6 a can) in the hopes that it would have the least fishy quality. It was quite good and very meaty. The picking over part was a bit of a job though.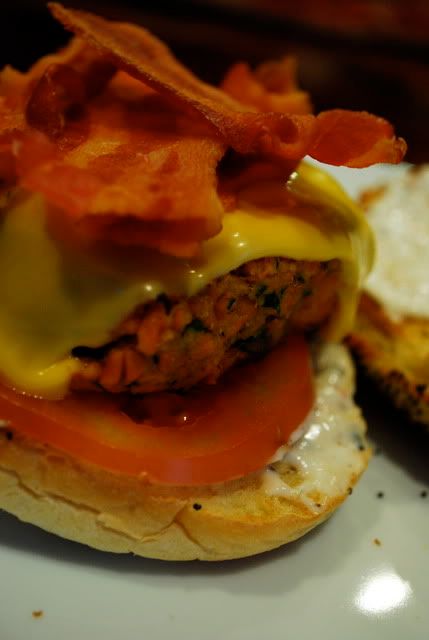 There are tons of fine bones, spine bones and even some slimy skin mixed in with the good salmon meat. It takes some patience and time to pick through the meat and clean it out, but it's definitely worth it. Canned salmon packs a tasty punch and we really loved having these non-traditional burgers. Now that it's warm out, I want to try another variety of these fish cakes but done on the grill. I found the initial recipe at
Rachael Ray Magazine's
website. I changed it slightly, but kept a lot of the original attributes. I linked to the original recipe below and posted what I did with my burgers. If you're a canned salmon and salmon burger virgin like me I encourage you to get yourself to the canned seafood aisle of your grocery store and go crazy. I promise you'll walk away satisfied! Enoy!
Salmon Cobb Burgers
adapted slightly from Rachael Ray Magazine's recipe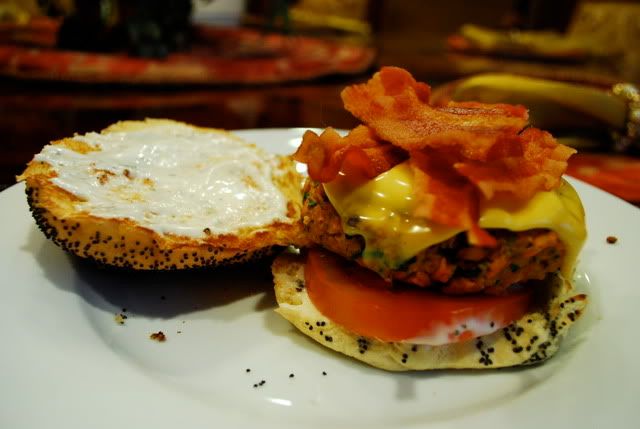 One 14.7-ounce can salmon, drained and picked over
1/2 cup breadcrumbs
1/4 cup chopped flat-leaf parsley
1 large egg, beaten
1 tablespoon Dijon mustard
salt and pepper
extra virgin olive oil
4 tablespoons Ranch dressing
4 poppy seed Kaiser style rolls, toasted
1 tomato, sliced
8 slices cooked bacon
4 slices American cheese
In a medium-size bowl, mix together the drained and picked salmon with the breadcrumbs, parsley, egg, dijon mustard and season with salt and pepper. Form into 4 patties. Heat a few tablespoons of olive oil, enough to lightly coat a medium skillet, over medium heat. Once pan is hot place down your salmon patties and cook until evenly browned on both sides, about 4 minutes on each side. Top each patty with a slice of cheese, remove from the heat and cover to allow the residual heat to melt the cheese.
Now get ready to assemble your sandwiches. Dress each toasted roll with a tablespoon of Ranch dressing, top and bottom. Use more if needed or desired. Put down a slice tomato, top with your salmon pattie, top with two slices of bacon each. Serve and enjoy!