Ok so this name may be a bit cheesy, I know. Yes I've become that parent. I've already named something after my daughter. But I have good reason! I've made this pizza twice in the last week and a half, due to a request by my husband. It's his new favorite. Kind of like our daughter...seeing the connection?? I figured since it was so delicious and so loved by my husband, what else would I call it? It just seemed like a natural fit.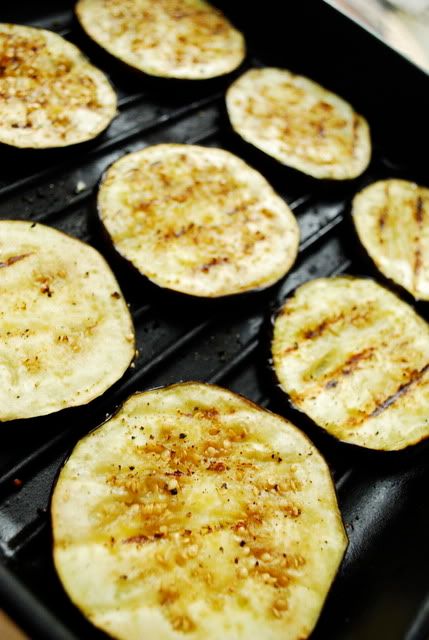 This pie marries grilled eggplant with fresh tomatoes, shredded fontina cheese, crispy prosciutto and fresh basil. The inspiration for this pizza came from two perfect eggplants I bought at the market last week. I knew I wanted to grill the eggplant and figured building a pizza around it was a pretty good start. I had some fontina in the fridge along with a container of sweet little cherry tomatoes. And because my husband has a hard time swallowing meatless meals (I know, I know) I had to add some crispy prosciutto to the mix.
What you're left with is a hearty pizza pie with tons of fresh flavor. If it's nice outside you can practically cook this whole meal on the grill! Just cook the prosciutto on low flame because it will burn easily. Hope you enjoy our Pizza Gabriella - oh and feel free to rename it after your favorite person :) Enjoy!
Pizza Gabriella
3 garlic cloves, minced
1/4 cup olive oil plus 5 tablespoons
1 teaspoon red pepper flakes
1 eggplant, sliced into rounds that are 1/4 to 1/2 in thick
1 pint of cherry tomatoes or Campari tomatoes, sliced
5 thin slices of prosciutto
1 1/2 cups fontina cheese, grated
1 Boboli pizza crust, or your favorite pizza crust or dough
8 basil leaves, chiffonaded
grated Romano cheese
Preheat oven to 350 degrees. On a sheet pan, lay out your prosciutto slices and crisp up in the oven for 10 to 15 minutes. Once crisp, remove from oven. When they are cool you can chop or crumble the slices up so you can sprinkle them over your pizza when assembling.
In a small saute pan, heat up the 1/4 cup of olive oil and add in your chopped garlic and red pepper flakes. Cook over medium to medium low heat until the garlic has softened. Once the garlic is tender, remove from the heat and set aside.
Spread your eggplant rounds out and brush each side with olive oil and then sprinkle with salt and pepper. In a grill pan or over a hot grill, place your eggplant rounds and cook about 3 minutes on each side until slightly softened and singed with grill marks. Remove from grill and set aside.
Preheat oven to 425 if using Boboli.
Now you're ready to assemble your pie. Place your crust on a pizza pan (if you're using a raw pizza dough I would suggest cooking it first, either over a hot grill or in the oven, then assembling your pizza toppings and then cook it on 350 degrees). Take your garlic pepper oil and brush it generously all over the crust, making sure to get lots of garlic and pepper bits on the crust. Next top evenly with your slices of tomatoes. Next top with your slices of grilled eggplant, spreading them evenly over the tomatoes. Next sprinkle your crumbled prosciutto over the pizza and then top with your grated fontina cheese. Bake for 20 minutes or until the cheese has melted. Remove from the oven and top with shredded basil and a sprinkle of Romano cheese.