This post may come off sounding like an Oscar-winning speech, with these delicious cookies as the award. "I have to thank my husband who supported me through the whole process, allowing me to craft these delicious cookies."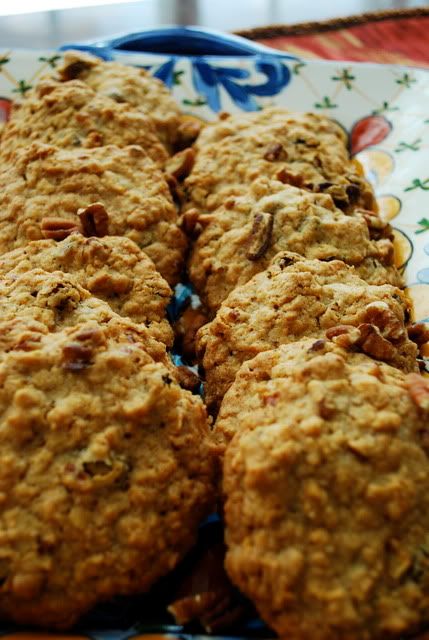 OK that might be a bit dramatic. But honestly, I wouldn't have been able to make these sweet morsels, that I've been craving for a few weeks now, without the help of my fabulous husband. The shopping for ingredients, mixing, baking and savoring wouldn't be possible without his unwavering devotion to give me a few hours of free time from mommy-duty.
As many of you may already know, either from first-hand experience or word of mouth, being a new mommy is demanding. It's rewarding in more ways than you can really explain, but it can also be exhausting. Especially when you're breastfeeding. You're the only one that can feed the baby and in the early days it ties you to their ravenous feeding schedule that takes place every 2 to 3 hours. So if you want to do something, you need to plan ahead and make sure you maximize the free time you have in between feedings. And you only have that free time if you have a supportive spouse or partner or family member to watch the baby for you so you can hopefully get something done. Most of the time we double team on baby duty between feedings, but when I proposed breaking away so I could make these cookies, my husband said "No problem."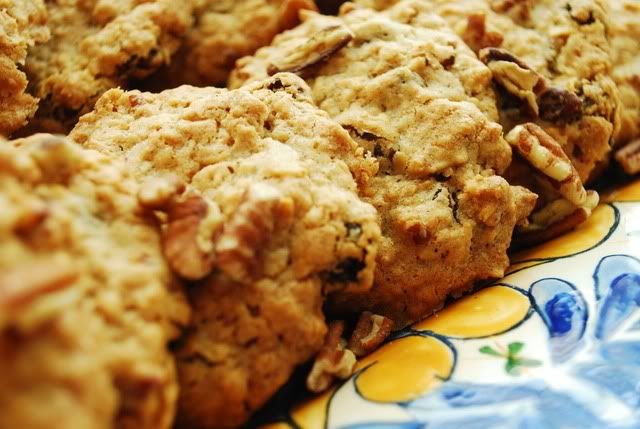 So I was off, playing beat the clock before baby became cranky and ready to eat again. Fortunately, these cookies were foolproof, easy to make and baked up quickly. I got them done in no time and was ready for baby when she was ready to eat. Considering that, I guess I should also thank
Ina Garten
for creating such a simple, yummy recipe. Ok cue the music, it's definitely time for me to leave the podium. Hope you get a chance to bake and enjoy these cookies!!
Raisin Pecan Oatmeal Cookies
Ina Garten, Barefoot Contessa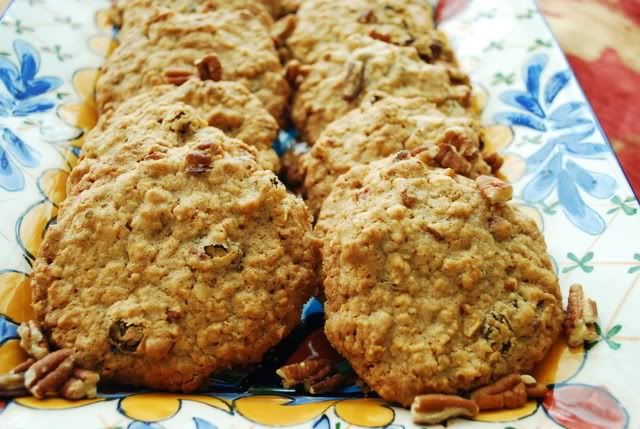 1 1/2 cups pecans
1/2 pound (2 sticks) unsalted butter, at room temperature
1 cup dark brown sugar, lightly packed
1 cup granulated sugar
2 extra-large eggs, at room temperature
2 teaspoons pure vanilla extract
1 1/2 cups all-purpose flour
1 teaspoon baking powder
1 teaspoon ground cinnamon
1 teaspoon kosher salt
3 cups old-fashioned oatmeal
1 1/2 cups raisins
Directions
Preheat the oven to 350 degrees F.
Place the pecans on a sheet pan and bake for 5 minutes, until crisp. Set aside to cool. Chop very coarsely.
In the bowl of an electric mixer fitted with the paddle attachment, beat the butter, brown sugar, and granulated sugar together on medium-high speed until light and fluffy. With the mixer on low, add the eggs, one at a time, and the vanilla.
Sift the flour, baking powder, cinnamon, and salt together into a medium bowl. With the mixer on low, slowly add the dry ingredients to the butter mixture. Add the oats, raisins, and pecans and mix just until combined.
Using a small ice-cream scoop or a tablespoon, drop 2-inch mounds of dough onto sheet pans lined with parchment paper. Flatten slightly with a damp hand. Bake for 12 to 15 minutes, until lightly browned. Transfer the cookies to a baking rack and cool completely.