I love summer! Every summer I grow herbs on my patio and it's so much fun to plan meals around the fresh supply I have waiting for me. This was one of those meals, inspired by my little herb pots. I love basil. It smells so lovely, with a slight hint of anise. It just reminds me of the summer I spent in Florence, Italy.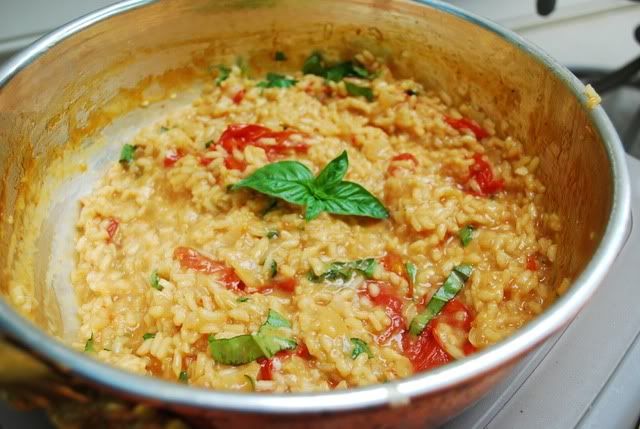 This risotto was kind of modeled after a caprese salad, but I left out the fresh mozzarella and substituted grated romano instead. You might think risotto is too heavy for a summer dish - not to mention the 30 minutes spent stirring it over a hot stove. But this risotto has a really fresh light flavor, accented with grilled tomatoes and a ton of fresh basil. I served it with a
Grilled Pinot Grigio Pork Tenderloin
, marinated in a mixture of fresh rosemary from my herb pots, garlic, dijon mustard, Pinot Grigio wine, olive oil and salt and pepper.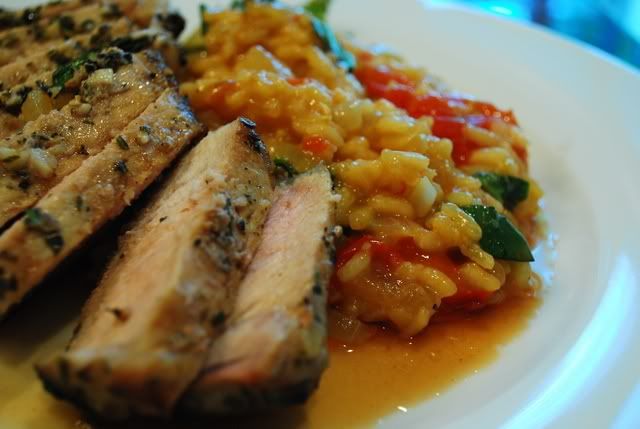 So if you have some extra time give this delicious fresh summery risotto a try. Just crank up your AC for the stirring part.
Enjoy!
Roasted Tomato and Basil Risotto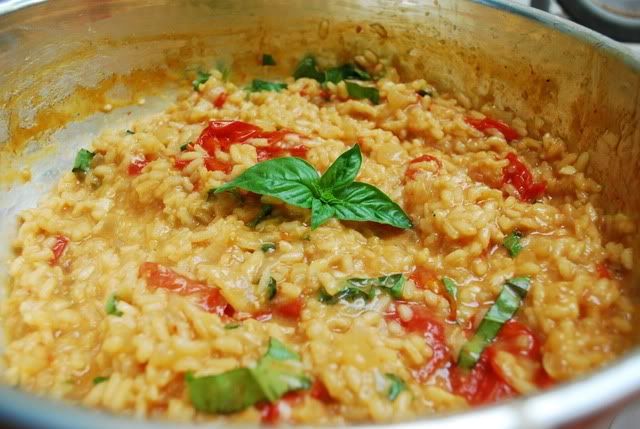 1 pint of cherry tomatoes
4 cloves garlic, minced
5 tablespoons of olive oil
2 tablespoons of butter
1/2 of a vidalia onion (it calls for the whole thing but I don't like that much onion)
3 garlic cloves, minced
1 cup of Arborio rice
1 cup of dry white wine
4-6 cups of chicken stock or water
a handful of chopped fresh basil
1/4 cup grated Romano or Parmesan cheese
Fire up your grill or preheat your oven to 400 degrees. In a foil pan, toss your cherry tomatoes with 3 tablespoons of olive oil and your 4 minced cloves of garlic. Roast until tomatoes have blistered, either over a hot grill or in the oven - about 20 minutes. Remove from heat and set aside.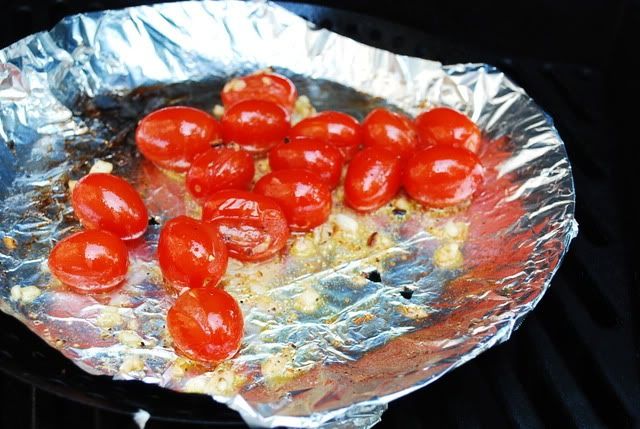 Finely chop your onion and garlic. Over medium heat, heat the olive oil along with your butter in a risotto pan or large heavy bottom saute pan. Add your onion and garlic and cook until translucent, about 7 to 10 minutes. Then add your arborio rice and toss often, allowing the rice kernels to toast up a bit, about 7 to 10 minutes. This helps them absorb the liquid more efficiently.
Then add your cup of wine and stir until the liquid is nearly completely absorbed. In a saucepan, heat your 4 cups of chicken stock over low heat. Once warm, add it to your risotto one cup at a time, stirring occasionally so your rice doesn't stick or burn. If the liquid is evaporating too quickly in your risotto pan, turn your heat down to medium low. You'll have to find the perfect temp on your range.
Once all the liquid has been absorbed and your rice is cooked to al dente, remove the pan from the stove. This could take anywhere from 30 to 45 minutes depending on your stove and temperature and how often you've been stirring.
Off the heat, stir in the tomatoes, basil and grated cheese until combined. Season with salt and pepper and serve hot.