So do you know who Violet Beauregard is?? If you're a closet fan of the classic
Willy Wonka and the Chocolate Factory
film then you know exactly who I'm talking about. This greedy gum-chewer ends up turning into a blueberry before the end of her tour of the factory. The Oopma Loompas roll her away to be juiced, as her father laments, "I have a blueberry for a daughter." Remembering that great scene, I figured this pound cake would be right up Violet's alley.
After a recent trip to a local farmer's market, I came home with an overflowing pint of plump, juicy blueberries. (I wish I had taken a picture but I was trying to bake this cake as quick as I could before the baby woke up to eat so pictures were not in the cards until afterward! So here's a picture of my sweet, little baking interrupter:
Anyway, the blueberries were so beautiful and I knew I would never eat all of them before they went bad, so I figured the best thing to do was bake with them. I didn't feel like making blueberry muffins so I brainstormed on what else I could make. The idea of a blueberry pie was appealing, but I didn't have near enough blueberries for that. So I turned to an old faithful recipe for a super-moist pound cake, added my two cups of blueberries to the batter along with a cup of cinnamon streusel sugar and voila - Blueberry Cinnamon Streusel Pound Cake, or as I like to call it
Violet Beauregard's Blueberry Pound Cake
.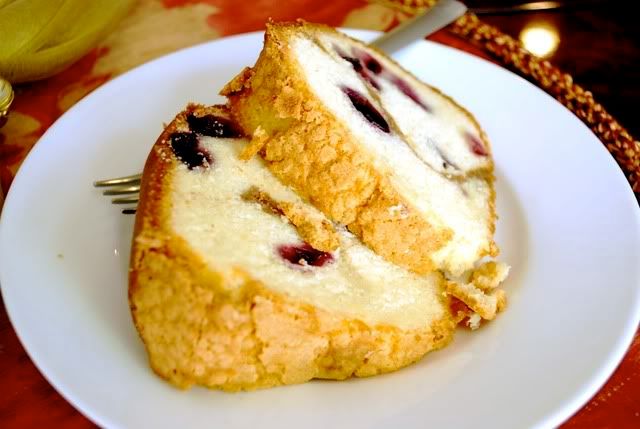 Bursting with sweet, juicy blueberries this is great for dessert or breakfast. The spicy streusel streaming through the center of the cake adds a flavorful touch. And the crazy amounts of butter along with a block of cream cheese make this THE MOISTEST pound cake I've EVER tasted. It would be a great cake to share with friends or bring to a party because it's truly no-fail! Enjoy!
Violet Beauregard's Blueberry Pound Cake
adapted from Nordstrom Family and Friends Cookbook and Ina Garten's streusel recipe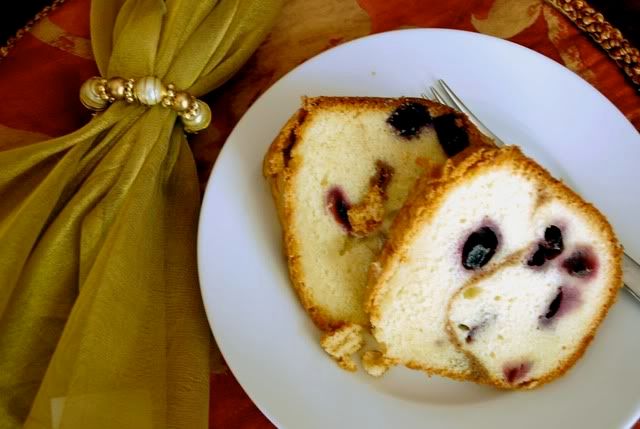 For the Pound Cake:
1 1/2 cups unsalted butter, or 3 sticks, at room temperature
3 cups all-purpose flour, plus more for preparing the pan
1 8-oz package of cream cheese at room temperature
3 cups granulated sugar
1 tablespoon vanilla extract
6 large eggs, at room temperature
2 cups ripe blueberries, or 3 cups if you have it (this is my addition)
For the streusel:
1/4 cup light brown sugar, packed
1/2 cup all-purpose flour
1 1/2 teaspoons ground cinnamon
1/4 teaspoon kosher salt
3 tablespoons cold unsalted butter, cut into pieces
Position a rack in the lower third of the oven and preheat to 325 degrees. Butter a 10-in tube pan or Bundt pan and then dust the pan with flour, tapping out the excess. In a large bowl, using an electric mixer set on high speed, beat together the butter, cream cheese and sugar until light and fluffy. Add the vanilla extract and beat until incorporated. Add the eggs, one at a time, beating well after each addition. Stop the mixer, scrape down the sides and then beat on high speed for 1 minute longer. Reduce the speed to low and add the flour 1 cup at a time, beating after each addition until the flour disappears. Do not overmix.
Fold in your blueberries.
Next, make your streusel. Combine all the dry ingredients and cut the butter into the flour and sugar mixture with fork or your fingers until you achieve a crumbly mixture. Now you're ready to assemble the batter into your prepared pan.
Pour half the batter into a prepared pan. Next, disperse the streusel mixture evenly over the top of the batter. Finally cover with the remaining half of the cake batter.
Bake the cake until a toothpick inserted into the top comes out clean, about 1 1/4 hours. Remove from the oven and let the cake rest in the pan on a wire rack for 15 minutes. Invert a rack on top of the cake, invert the cake and rack and then lift off the pan. Let cook slightly before serving.