Why can I not just make a simple pepperoni pizza? These homemade pizzas are certainly not "fast food" by any means - and I'm not even making homemade pizza dough!!! This idea came to me after seeing a
Clams Casino Spaghetti
on the menu of one of my favorite Italian restaurants in Bethany Beach, DE. I thought about it and said to myself, "Why can't we put those same toppings on a pizza?" So, I did. With a little twist of course.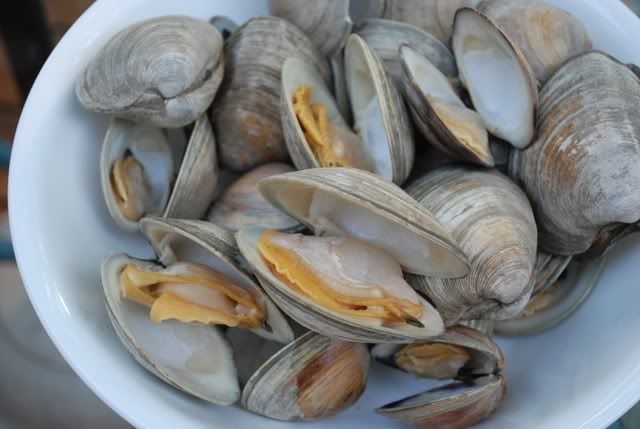 The reason I have the word
casino
in quotes is because it has a few more elements than the traditional clams casino, but the name was catchy, succinct and, well, close enough to the original dish.
I steamed some clams, roasted some tomatoes, roasted some garlic, crisped up some prosciutto and grated some fontina and two hours later (haha) I had a pizza. I know it sounds labor intensive, but it was worth it.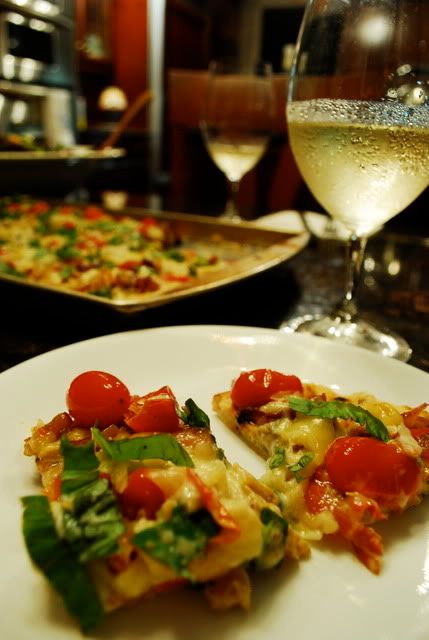 This pizza is brimming with fresh, chopped clams, juicy, smoky tomatoes and topped with a roasted garlic cream sauce. You could easily just make a garlic oil too if you aren't into creamy sauces. Either way, if you like the flavors of clams casino, then I think you'll like this pizza. Enjoy!
Clams "Casino" Pizza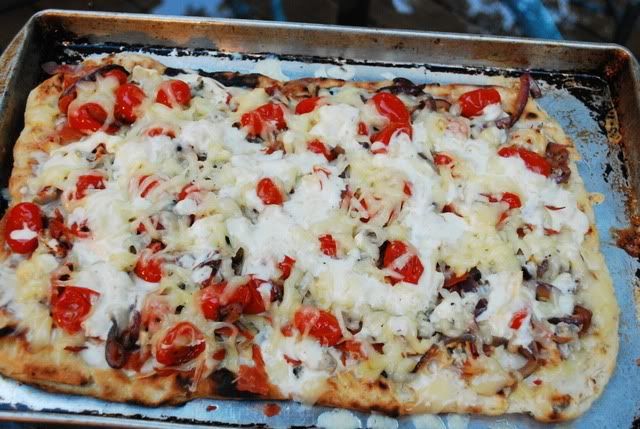 1 bag of pizza dough
2 dozen clams
1 pint of grape tomatoes
3 tb extra virgin olive oil
1 head of garlic
1/2 tsp garlic powder
3/4 cup heavy cream
1/4 cup grated romano cheese
5 slices of thinly sliced prosciutto
1 cup of grated Italian Fontina cheese
a handful of fresh basil, chopped
salt and pepper
To start, steam your clams until they open up. Once open, remove the clams from their shells, clean out any sand, and then chop. Set aside.
Preheat oven to 350. You will be crisping up your prosciutto, roasting your tomatoes and roasting your garlic in the oven and can do it all on separate racks at the same time.
Place your prosciutto on a baking sheet and cook in the oven until crispy, 15-20 minutes. Remove and crunch up into pieces. Set aside.
In the same oven you can roast your grape tomatoes. Toss them with 2 tablespoons olive oil, sprinkle with salt and pepper and roast until softened, about 25-30 minutes. Remove and set aside.
For the garlic, slice off the top of a whole bulb of garlic. Rub with olive oil, sprinkle with salt and pepper and place in a small baking dish. Pour water into the dish so it covers to about 1/4 way up the side of the bulb. Cover with foil. Roast in the oven for 45 minutes until the bulb is golden and soft. Once done, remove from the oven, let cool and then squeeze the pulp out from the bulb.
To make the cream sauce:
Mash your roasted garlic into a paste. In a small saucepan, whisk together your garlic paste, garlic powder and heavy cream until combined. Let the cream mixture come to a simmer and then reduce the heat. Mix in your grated romano cheese and season with salt and pepper. Once thickened, remove from the heat.
Prepare your pizza dough. You can either parbake it in a 350 oven or on a hot, oiled pan over the grill. Once the pizza dough has cooked up, remove from the heat and start to assemble your toppings. You want to cook the raw pizza dough first, then top it and then just heat and melt the cheese in a hot oven or over a hot grill.
First, spread half of your roasted garlic cream sauce over the crust of the pizza. Top evenly with your chopped clams, roasted tomatoes and crisped prosciutto. Finally, top with your grated fontina cheese. Drizzle with the rest of your cream sauce. Place the pizza back in the 350 oven and cook until your cheese has melted. Remove and top with chopped fresh basil. Slice and serve.