I love it when this happens. Let me start from the beginning. We live in a suburb. There aren't too many great, local restaurants out here but there are a few gems. And most of those places have one or two menu items that we end up nearly craving at least once a month. This shrimp dish is one of those such items. A local tavern out in the country, a true neighborhood pub, serves this delicious
Buffalo Shrimp
.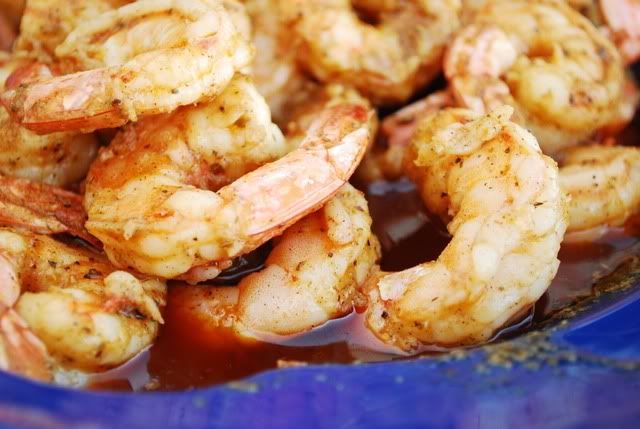 I'm not real sure why they call it "buffalo" shrimp since it doesn't taste like that chicken wing sauce everyone knows so well. For the longest time I couldn't figure out what spices they were using - I just knew they were good! Half a dozen plump, juicy shrimp, their outside layer caramelized to a perfect toothiness and are then swimming in a spicy buttery sauce. Then it happened!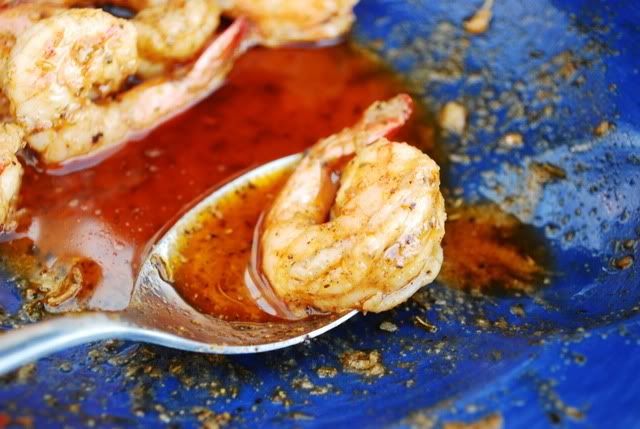 I was getting my haircut at the salon in the same strip mall that the tavern is in (like I said, suburbs) and my hairdresser and I got to talking about local gossip. Before you know it we were discussing the shrimp and how good they are and she told me she got the recipe from the tavern's cook! She told me the recipe and that was that! I tried my hand at it last weekend when I was at the beach with my mom. The results were delicious and almost an exact replica of the restaurant's dish. It uses blackening seasoning as the spice component and sautes the shrimp in a butter and white wine sauce.
The dish works best if made in a cast iron skillet, but I unfortunately don't have one of those so I had to use a regular skillet. We didn't get that nice caramelization on the shrimp, but the flavor was still there. And there is so much sauce that you could easily serve this shrimp over rice or pasta if you wanted to make a nice, full meal out of it. So now, when I don't feel like going out to eat, I can make one of my favorite local restaurant meals myself at home. Like I said, I love it when this happens. Enjoy!
Ten Oaks Tavern's Buffalo Shrimp
source: my hairdresser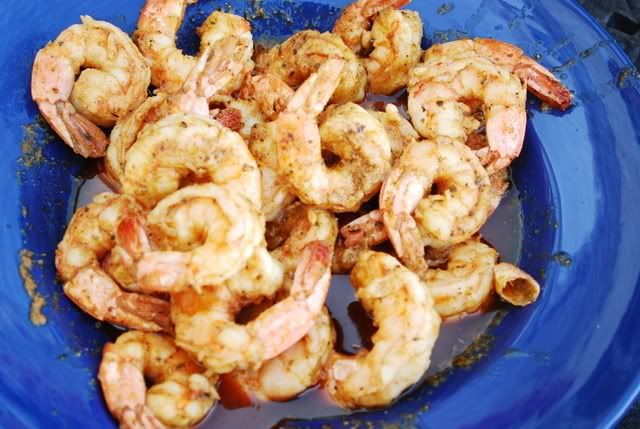 1 pound of large shrimp, peeled and deveined (about 15-20 shrimp total)
1 stick of butter (I know, just go with it)
1 tablespoon of Phillips Blackening Seasoning
1/2 cup of dry white wine
1/4 cup prepared blue cheese dressing for serving
Heat a cast iron skillet over medium heat. Add the butter and blackening seasoning to the pan until it melts together and the butter browns slightly. Add in the shrimp and allow them to sear in the seasoned butter. Don't mix them around too much because you want to get a nice, crusty sear on them. Once the shrimp are cooked, remove them from the pan and then deglaze the pan with your dry white wine. Let the alcohol cook off and then pour the winey butter sauce over the shrimp. Serve hot with blue cheese dressing for dipping.