So dinners at my house have been pretty boring as of late. There are two very good reasons for this. For starters, my nearly 6-month old baby makes planning elaborate dinners nearly impossible. Secondly, my husband has decided he needs to lose what he calls his baby weight and so is on a low-carb diet (the only diet that ever works for him, so he says). Because of this, our dinners lately have been simply grilled fish, chicken or steak with either steamed veggies or a green salad. Nothing much to blog about. However, last night I was sick of the same old thing and decided I could throw together something with a little more flavor and ingenuity that wouldn't take hours.
Enter
manchego-stuffed pork saltimbocca
.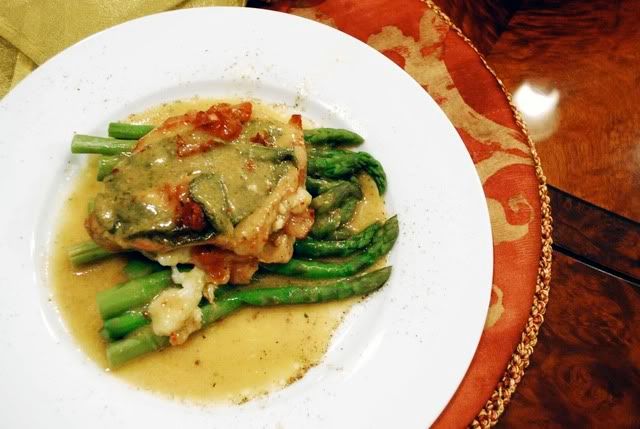 This is my slightly, kicked-up version of the traditional saltimbocca preparation, which marries prosciutto and woodsy sage with seared chicken or pork in a simple lemon butter pan sauce. I served mine stuffed with nutty manchego cheese alongside some steamed asparagus. It satisfied all our dinner needs, quick, low-carb and delicious! Saltimbocca literally means jump in your mouth and the combination of cheese, salty prosciutto and the earthiness of the sage do just that. Your tongue will be dancing for joy when you taste this easy to prepare dish. Enjoy!
Manchego-Stuffed Pork Saltimbocca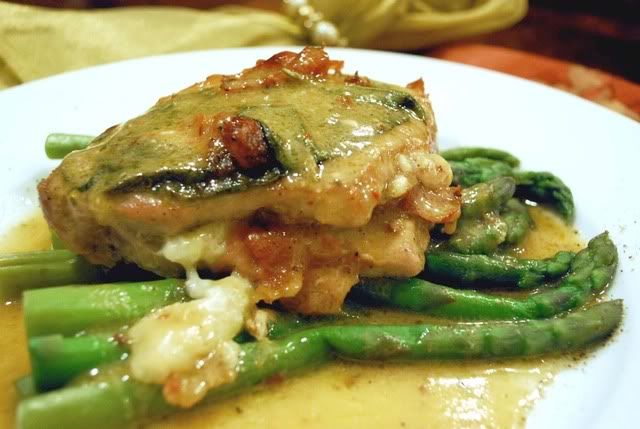 2 boneless pork medallions, about 1 1/2 in thick each (the thicker they are the easier they are to stuff)
2 slices of thinly-sliced prosciutto
4 sage leaves
1/2 cup shredded manchego
juice of one lemon
1/2 cup chicken stock
3 tablespoons butter
1/2 tablespoon dijon mustard
salt and pepper
olive oil
Season your pork with salt and pepper on each side. Cut a pocket in each pork loin, being careful not to split the medallions in half. Fill each pocket with about a 1/4 cup of your shredded cheese. On the top of each pork loin lay two sage leaves and press flat. Finally, wrap your prosciutto around the pork medallion.
Preheat oven to 350. Heat a saute pan over medium heat and cover the bottom with a thin layer of olive oil. Once shimmering, add your medallions, sage side down. Let sear for 3 minutes on each side and then place the pork medallions in an oven-safe dish and cook the rest of the way - 20 minutes or until center is not pink.
Meanwhile, add your lemon juice and chicken stock to the saute pan. Scrape up any brown bits from the pork. Whisk in the tablespoons of butter and the dijon mustard. Bring the sauce to a rapid simmer and then reduce heat. Allow to thicken and reduce while occasionally whisking. Season with salt and pepper. Once pork is done, serve over top of steamed asparagus and cover with your pan sauce.