I'm back!! After an extremely long hiatus, I plan to hopefully pick up my spatula and get back to blogging. Life has been busy with a toddler in the family, and when I'm not with my daughter (mainly because she's napping or sleeping) I'm trying to finish other chores and things around the house. But I have truly missed blogging my food adventures so I'm going to try my best to get back to steady updates. However, there may be a slight wrench thrown into this plan come the end of February. We are expecting baby girl #2 on Feb. 25!! We're so blessed and excited, though I'm sure that will slow down blogging again for a little while. I may turn this blog into a family and food blog with baby updates and stories. We shall see.
Anyway, to the task at hand - SOUP! While it is January and officially winter here on the east coast, the temps have been pretty mild as of late. Just these past two weeks we had more than one 55-60 degree day! Quite unusual for January. But I'm not complaining!! Despite the balmy temps, I still crave wintertime comfort foods and there is nothing better than homemade soup.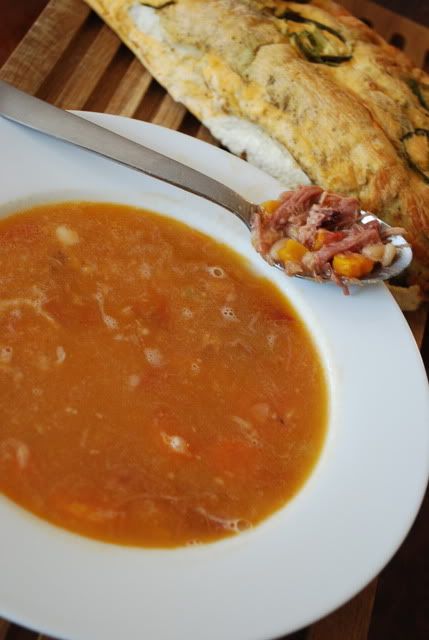 I had catered a Christmas luncheon for 60 people before the holidays and they ordered two spiral cut brown-sugar glazed hams as part of their menu. I kept the large bones from both hams and froze them to use for future use as soup - the unknown profits of catering.
This recipe is truly a family recipe. My grandmother used to make this soup and my mother after here. I still remember coming home from school in January - it was something we usually had after the holiday ham had been long gone - to warm, hearty bowls of ham and bean soup.
Who knew some meaty ham bones could make such a glorious pot of soup? This soup is cheap to make and chock full of good vegetables and tender beans. It's the perfect thing to warm you up on a cold winter night...that is if you are having those where you live. Enjoy!!
Old School Ham and Navy Bean Soup
2 lbs of dried navy beans
8-10 cups of hot water
2 ham bones with meat on them from spiral cut hams, smoked or brown sugar glazed will work (1 ham bone would be sufficient as long as it has a good amount of meat on it. If you don't have ham bones from an actual ham, then you may be able to ask the butcher for them.)
4 bay leaves
1 12oz bag of frozen cut carrots
1 onion, diced
6 stalks of celery, sliced
2 tb tomato paste
1 14.5 oz can of diced tomatoes with the juice
1 Parmesan rind, whole, for flavor (this is the hard part of the back of the block of cheese that doesn't grate well. If you don't have it, then just leave it out. You can always top the finished soup with grated Parmesan or Pecorino Romano.)
1 -2 tsp cayenne pepper, depending on how much heat you want
freshly ground black pepper to taste
To begin, you will need to cook and soak your beans. Rinse the beans and then put them in a large, heavy bottom stock pot and cover with the water. Bring the beans to a boil, boil for 3 minutes and then turn the heat off, cover and allow the beans to soak for one hour.
Once the beans have soaked, add in your ham bones with the meat and the bay leaves to the pot and bring it to a boil. Reduce to a simmer and allow to simmer for 2 1/2 hours. At the end of the time, check your beans to make sure they are tender. If so, remove the ham bones and using a pair of disposable gloves (because the bones will be hot), remove the meat from the bones and shred it into the soup. Once your bones have been picked of meat, you can add the large ones back to the pot along with your vegetables, tomato paste, tomatoes and Parmesan rind. Allow the soup to simmer until the vegetables are tender, about another 1/2 hour should do it. Add in your cayenne and black pepper. Taste for seasoning (you shouldn't have to add any salt because the ham meat and bones should add enough but taste to make sure).
Serve soup hot. Top with grated Romano cheese if desired.
(Leftovers of this soup may solidify a bit because of the starch from the beans and the fat from the ham. When reheating just add a little bit of water to help liquefy the soup.)