Over the last 9 months, I've eaten a lot of salmon. When you're pregnant, there aren't many fish that you can eat that I actually like. I love swordfish and tuna, but they are off limits. I'm not a big fan of flounder, tilapia, cod or haddock, which you can readily find in the grocery store, so I usually go for salmon. Fortunately, like chicken, salmon is quite a versatile fish that can hold up to a ton of different recipes. Most of the time, I keep it pretty simple - roasted salmon, grilled salmon, or sauteed salmon. Tonight however, I wanted something different. Something tasty. I had enjoyed Salmon Livornese at a local Italian restaurant in the past, so I googled it up and found an absolutely beautiful picture of a prepared Salmon Livornese on
Chef Benny Doro's
blog.
It's a pretty simple preparation, very healthful and light and perfect for an easy dinner that looks fancier than it is. He doesn't give measurements for the recipe on his blog, so I've modified the recipe to include my measurements. My technique was a little different as well so while I've linked to his exact version above, I've posted my method below. I served this with steamed haricot verts (the thinner green beans) and a nice field greens salad topped with candied walnuts, gorgonzola, sliced pears and red pepper. If you're tired of the same old salmon dish, give this a try! You could also easily substitute tuna or swordfish for salmon, even fresh rockfish would probably hold up well in this dish. Enjoy!
Salmon Livornese
adapted from Chef Benny Doro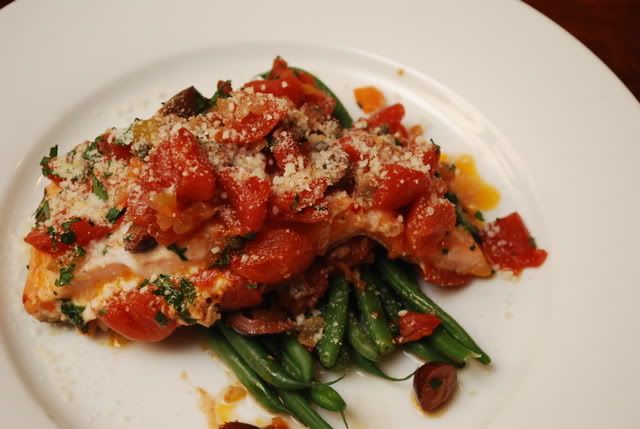 Serves 4 people
4 6 oz portions of salmon
1/2 lemon
For the Tomato Sauce:
1 shallot
3 cloves garlic
2 carrots
2 celery sticks
1/4 cup olive oil
1 tb tomato paste
1 28-oz can diced or crushed tomatoes (depending on if you want a chunky or smooth sauce)
15 kalamata olives, chopped
2 tb capers, drained
1/2 tsp red chili pepper flakes (or more if you like more heat)
salt and pepper for seasoning
chopped Italian parsley for garnish
grated parmiggiano reggiano or pecorino romano for serving
Preheat oven to 400 degrees.
Prepare your salmon fillets by spritzing them with fresh lemon juice. Set aside.
Meanwhile, in a food processor mince your shallot, garlic, carrots and celery. Add to a large skillet along with your olive oil and cook until vegetables are soft and fragrant. Once softened, add in your tomato paste. Allow to cook for another 2 minutes and combine. Now add your tomatoes with the juice and allow to cook until slightly thickened. Finally add your olives, capers and red chili flakes and let simmer another 3 minutes to allow the flavors to combine. Nestle your fish portions down in the sauce and cover your skillet with lid or foil. Place in your preheated oven. Cook for 25 minutes, or until flesh is firm. Remove dish and uncover before returning to the oven to cook for an additional 5 minutes. Serve hot and top with parsley and cheese.