I finally got to one of the two
Barefoot Bloggers
recipes for this month. Actually, I made the Indonesian Ginger thing, which was the second recipe, but did it with salmon instead of chicken, wasn't real impressed and it didn't come out very photoworthy so I just decided not to blog about it. However, this shrimp bisque was definitely blog-worthy.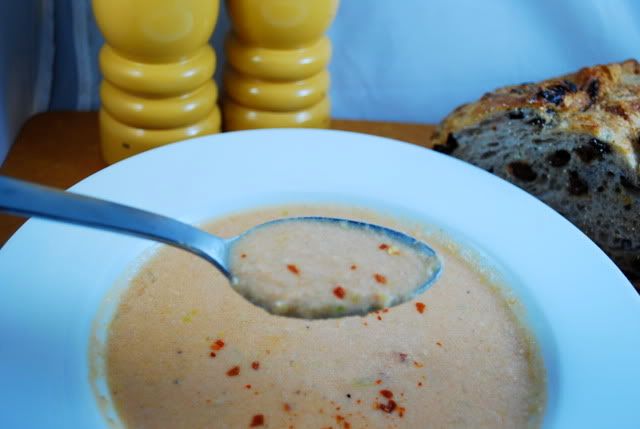 I had actually made this once before a few years ago so I already knew this recipe was a winner. Lately in these parts, soup-weather, ie cold, frigid nights, have been plentiful so I served up this soup last night. I really love the flavor in this soup - it's pretty simple, the shrimp taste can really shine through and it's not too rich. Ina hits a homerun again! If I make it again, I would keep a few extra whole shrimp for topping the soup, along with some fresh parsley. Soup is hard enough to photograph - especially in the winter when the sun goes down early. This soup made a particularly boring photo since I had nothing to top it with to add color or texture. Oh well - you still can get the general idea. Hope everyone enjoyed this BB recipe as much as me! Enjoy!
Shrimp Bisque
Barefoot Contessa, Ina Garten
1 pound large shrimp, peeled and deveined, shells reserved
4 cups seafood stock
3 tablespoons good olive oil
2 cups chopped leeks, white and light green parts (3 leeks)
1 tablespoon chopped garlic (3 cloves)
Pinch cayenne pepper
1/4 cup Cognac or brandy
1/4 cup dry sherry
4 tablespoons (1/2 stick) unsalted butter
1/4 cup all-purpose flour
2 cups half-and-half
1/3 cup tomato paste
2 teaspoons kosher salt
1 teaspoon freshly ground black pepper
Directions
Place the shrimp shells and seafood stock in a saucepan and simmer for 15 minutes. Strain and reserve the stock. Add enough water to make 3 3/4 cups.
Meanwhile, heat the olive oil in a large pot or Dutch oven. Add the leeks and cook them for 10 minutes over medium-low heat, or until the leeks are tender but not browned. Add the garlic and cook 1 more minute. Add the cayenne pepper and shrimp and cook over medium to low heat for 3 minutes, stirring occasionally. Add the Cognac and cook for 1 minute, then the sherry and cook for 3 minutes longer. Transfer the shrimp and leeks to a food processor fitted with a steel blade and process until coarsely pureed.
In the same pot, melt the butter. Add the flour and cook over medium-low heat for 1 minute, stirring with a wooden spoon. Add the half-and-half and cook, stirring with a whisk, until thickened, about 3 minutes. Stir in the pureed shrimp, the stock, tomato paste, salt, and pepper and heat gently until hot but not boiling. Season, to taste, and serve hot.