Forget New Year's resolutions! Life is too short to skip these butterscotch sticky buns. Ooey, gooey, buttery, nutty, soft and warm. It doesn't get ANY better than this. These buns rival the famous Cinnabon and they aren't that difficult to make, believe it or not. There are a lot of steps, since you have to let the dough rise, but they are worth the effort. Make sure to eat them HOT out of the oven - that is how sticky buns are meant to be devoured.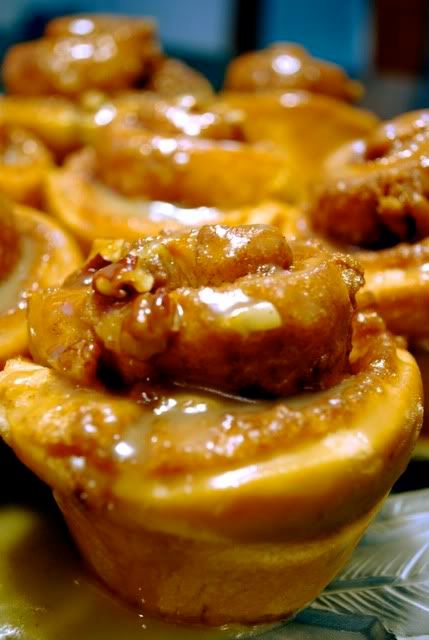 Although, a leftover bun can be warmed up in the microwave to bring back some of that supple softness. I made a batch of these on Christmas morning. Unfortunately, in the middle of making them three of my five family members left to go visit others and so the only person who enjoyed them hot out of the oven was me. A little Christmas gift to myself I guess. Oh well. I enjoyed making them and enjoyed eating them even more so no loss. They did have them for dessert after dinner, but the fresh dough tends to harden after a few hours so they weren't as squishy. The flavor was still there though. So put off that resolution one more week. I won't tell anyone!
Butterscotch Sticky Buns
Source: Food and Wine Magazine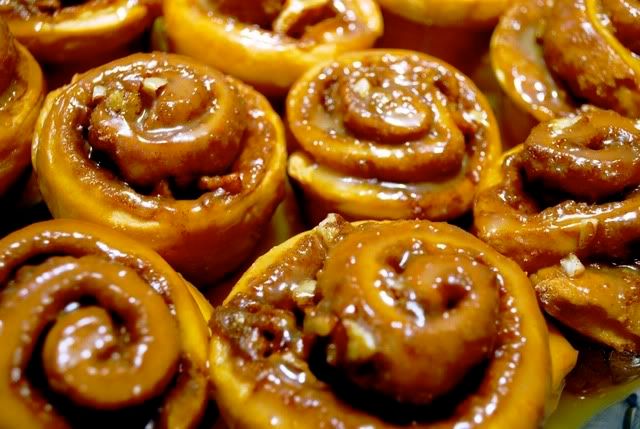 DOUGH
3/4 cup whole milk
1 tablespoon plus 1/2 teaspoon active dry yeast
1/2 cup granulated sugar
1 stick unsalted butter—6 tablespoons softened, 2 tablespoons melted
2 large eggs
4 cups all-purpose flour, plus more for dusting
1 teaspoon kosher salt
1 cup light brown sugar
2 teaspoons cinnamon
1 cup pecan halves
GLAZE
1/2 cup packed dark brown sugar
6 tablespoons unsalted butter
3 tablespoons Scotch whiskey
2 1/2 tablespoons sweetened condensed milk
2 tablespoons water
2 tablespoons crème fraîche
1 1/2 teaspoons corn syrup
1/4 teaspoon salt
1/8 teaspoon pure vanilla extract
1/8 teaspoon baking powder
DIRECTIONS
Make the Dough: In a glass measuring cup, heat the milk in the microwave until warm, 1 minute. In the bowl of a standing electric mixer fitted with the paddle, combine the warm milk and the yeast. Add the granulated sugar and the 6 tablespoons of softened butter and mix at medium speed until the butter is broken up, 1 minute. Beat in the eggs, one at a time. Add the flour and salt and mix at low speed until incorporated, about 2 minutes. Scrape down the side of the bowl. Increase the speed to medium and mix the dough for 2 minutes longer. Scrape the dough into a lightly oiled bowl, cover with plastic wrap and let stand at room temperature for 30 minutes.
Preheat the oven to 325°. Spray a standard 12-cup muffin tin with nonstick cooking spray.
On a lightly floured work surface, roll the dough out to a 9-by-24-inch rectangle. In a small bowl, mix the light brown sugar with the cinnamon. Brush the 2 tablespoons of melted butter over the dough and sprinkle with the cinnamon sugar. Beginning at a long edge, roll up the dough as tightly as possible and pinch the seam. Cut the log into twelve 2-inch pieces and set them in the muffin cups cut side up. Cover and let stand in a warm place for 30 minutes.
Set the muffin pan on a baking sheet and bake for 25 to 30 minutes, until the buns are golden brown. Spread the pecans in a pie plate and toast for 10 minutes, until fragrant. Let cool, then coarsely chop the nuts.
Meanwhile, Make the Glaze: In a small saucepan, bring the brown sugar, butter, Scotch, condensed milk, water, crème fraîche and corn syrup to a boil. Simmer over moderate heat until thickened slightly, about 2 minutes. Remove from the heat and stir in the salt, vanilla and baking powder.
Unmold the buns. Pour the glaze over the hot buns and sprinkle with the pecans. Let stand until the buns have soaked up some of the glaze and are cool enough to eat, about 20 minutes. Serve warm.