I was home sick about two weeks ago - and still today battling the after affects of a nasty cold, mainly congestion. Being pregnant, you really can't take any medication so I resorted to every homeopathic, old school remedy I knew.
First, I mastered the strange science of the Neti-pot. Have you ever seen one of these things? They look like a cheap plastic version of Aladdin's lamp and come with packets of saline solution. You fill the pot with warm water and saline solution and then shove the spout up your nostril, turn your head to the side and basically run water through your nose. It's a very odd feeling - almost like when you dive into the pool head first and get water up your nose. It does work though in helping to clear some congestion.
Second, I drank hot green tea - decaf of course - like it was going out of style.
Third, I hung my head over a steaming pot of water several times a day to keep the moisture going.
And did I mention I did all these things while there were two men installing hardwood floor in my house?? I'm sure they thought I was one of the strangest clients they've ever had when they found me hovered over my sink with my Aladdin lamp up my nose. Or with my head shrouded in a towel hanging over a steaming tea pot. Oh the things we do for relief.
Lastly, and probably the most normal method of relief, I made a huge, delicious pot of homemade chicken noodle soup.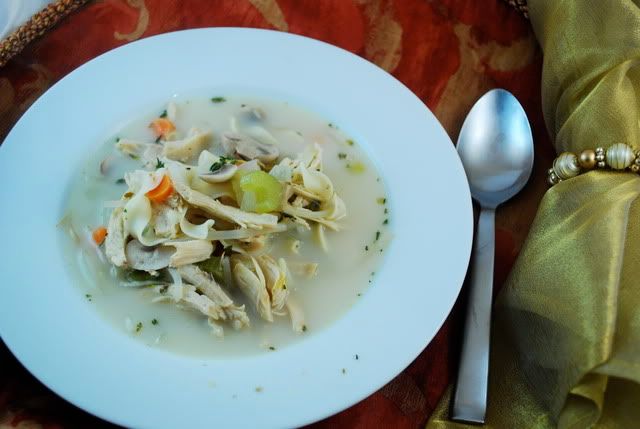 I was going to just come up with my own recipe, but then I saw this one on Food Network's website from Paula Deen and decided to give it a go. I'm so glad I did! It was slightly creamy, very comforting and had great homemade flavor. It so beat any canned chicken noodle soup. So if you're sick and you have any energy at all, do what I did and use it to make this soup. This recipe makes a ton so I froze a good bit of it for later in the season - in case the common cold strikes again I'll be armed and ready. Neti-pot, check! Tissues, check! Chicken soup, check!
Enjoy!
The Lady's Chicken Noodle Soup
Food Network Website, Paula Deen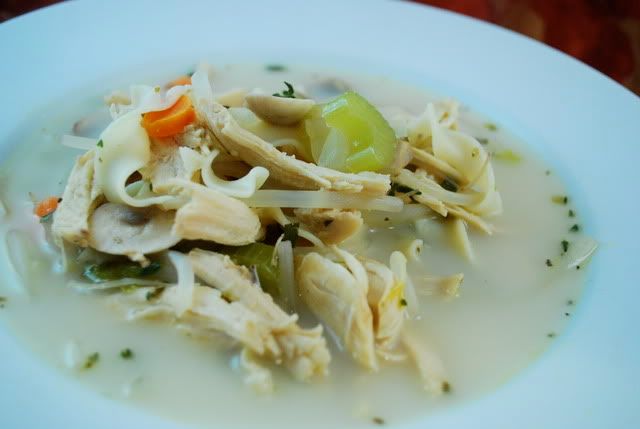 Stock:
1 (2 1/2 to 3-pound) fryer chicken, cut up (I used two chicken breasts with skin on)
3 1/2 quarts water
1 onion, peeled and diced
1 1/2 to 2 teaspoons Italian seasoning
1 teaspoon lemon-pepper seasoning
3 cloves garlic, minced
4 bay leaves
3 chicken bouillon cubes
Kosher salt and freshly ground black pepper
Soup:
2 cups sliced carrots
2 cups sliced celery, with leafy green tops
2 1/2 cups uncooked egg noodles
1 cup sliced mushrooms
3 tablespoons chopped fresh parsley leaves
1/3 cup cooking sherry
2 teaspoons chopped fresh rosemary leaves
(I also added a ton of fresh thyme as well as a bag of bean sprouts that I had in the fridge)
1 cup grated Parmesan, optional (ADD IT!! It made the soup so tasty)
3/4 cup heavy cream, optional (ADD IT!! Ditto statement above)
Seasoning salt
Freshly ground black pepper
Crusty French bread, for serving
Directions
For the stock: add all ingredients to a soup pot. Cook until chicken is tender, about 35 to 45 minutes. Remove chicken from pot and set aside to cool. Remove and discard bay leaves and onion (I left the chopped onions in the stock, I figured the more veggies the better. I think they just added to the overall flavor and texture of the soup). You should have approximately 3 quarts of stock. When chicken is cool enough to touch, pick bones clean, discarding bones, skin, and cartilage. Set chicken aside.
For the soup: bring stock back to a boil, add carrots, and cook for 3 minutes. Add celery and continue to cook for 5 to 10 minutes. Add egg noodles and cook according to directions on package. When noodles are done, add chicken, mushrooms, parsley, sherry and rosemary. Add Parmesan and cream, if using. Cook for another 2 minutes. Adjust seasoning, if needed, by adding seasoning salt and pepper. Enjoy along with a nice hot crusty loaf of French bread.