Philly and I go way back. It's where I was born and lived for the first year of my life, it's where my parents grew up and it's where most of my relatives still live in or around today. My little brother attended Drexel University and then decided to stay in the city to live. So my husband and I go up for a visit every now and then to hang out with my brother in his stomping ground. Now despite my long history with Philadelphia and my countless visits and hours spent in the city, I've never ever had a real Philly cheesesteak. Shocking isn't it?? I've had most every other Philly food - great Italian, Philly pretzels, a hoagie, but never a real, honest to goodness cheesesteak. My husband, being a native Marylander, had never had a cheesesteak either and every time we go up to Philly to visit he gripes about why we never get cheesesteaks. So two weeks ago we went up on a beautiful weekend and took a trip to the famous "cheesesteak corner" in South Philly for one of
Geno's
gut-busters.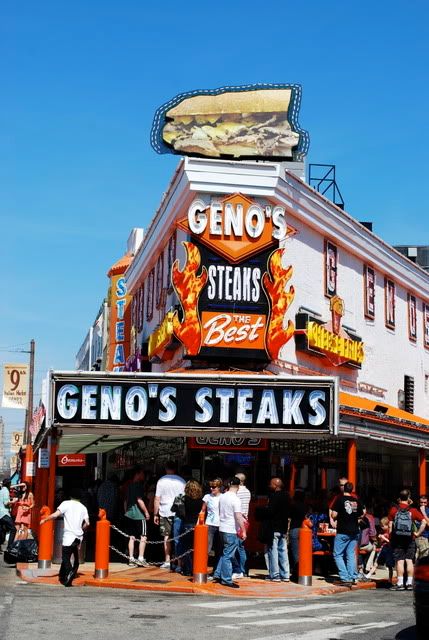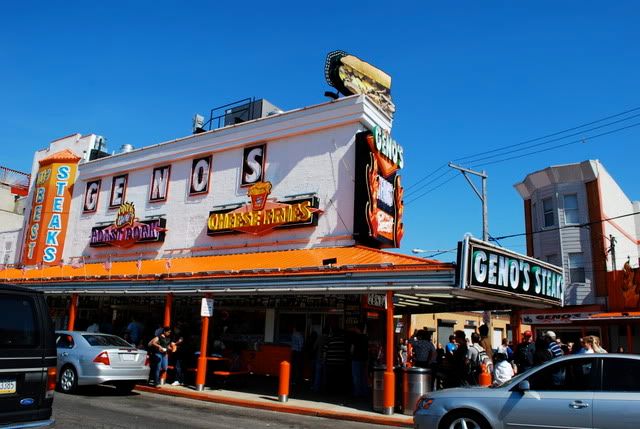 On this busy corner are two Philly landmarks -
Pat's King of Steaks
and
Geno's
.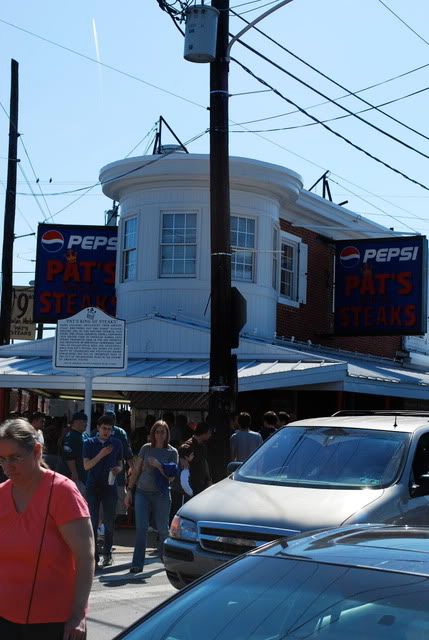 My brother claimed Geno's was the better of the two, so we went with Geno's. Both cheesesteak joints had long lines, but they moved fairly quickly. Of the two places, Geno's definitely has much more curb appeal.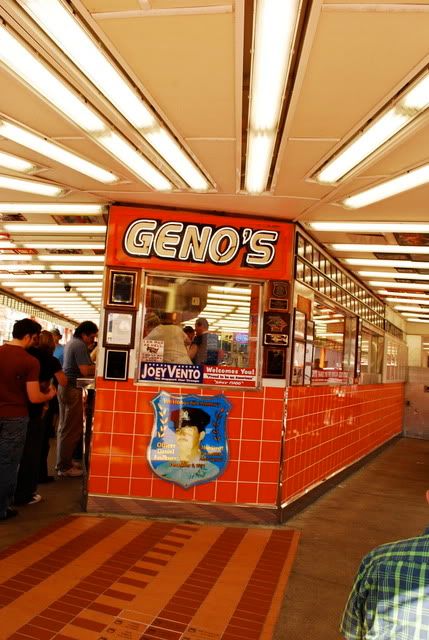 Bright, neon orange signs beckon hungry patrons. Vegas-style flourescent lighting draws your eye in while pictures of Geno's owners arm in arm with celebrities line the glossy orange-tiled walls. Big panel-size windows let you peek in on the quickly moving operation as four to five guys work feverishly to construct cheesesteak after cheesesteak.
The ordering can be a bit anxious, a la the soup nazi in
Seinfeld
, so we had my brother, a seasoned Philadelphia and cheesesteak afficionado, do the ordering for us.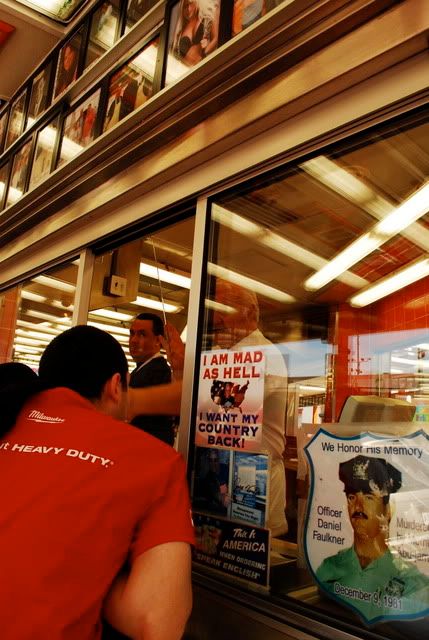 The Rules? Here they are:
Don't linger at that window - know what you want, speak up, say it and move on. The line is long, people are hungry and Geno's cooks are busy. No time for a slow decision maker waxing poetic about the difference between a whiz wit and wit-out. Just do it man! Don't think about the calories, the cholesterol, the fat and the zero nutritional value of this meal.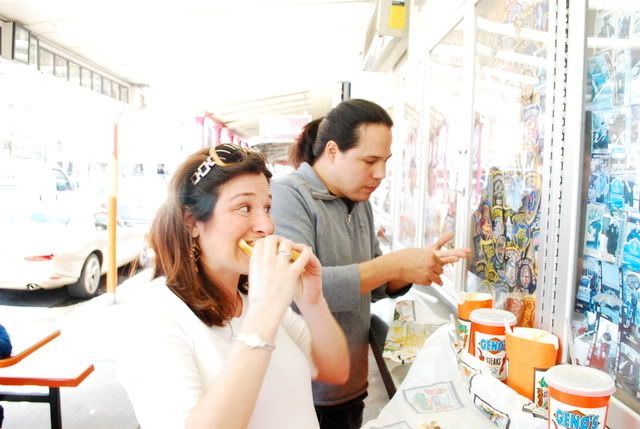 That's something that should have struck you long before you waited in line. Once you commit to the cheesesteak, you need to go whole hog - cheese fries, whiz wit (translated to cheesesteak with cheese wiz and sauteed onions, the only way to eat it apparently) and a large soda to wash it all down.
I was afraid of the possible extreme saltiness of the cheese wiz, so I opted for the cheesesteak with provolone.
It was good, but one bite of my brother's whiz wit and I was regretting my decision. Nobody beats the whiz, at least when it comes to cheesesteak. The oozing, goey cheese just makes the sandwich, hands down.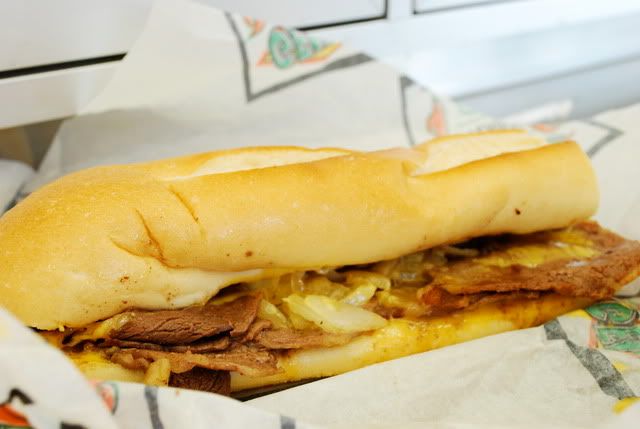 I did get the fries with cheese whiz and they were delicious. The cheese whiz isn't what you're thinking. It's not the salt-laden stuff you find in the grocery store. It's much creamier and much less salty and has actual cheese flavor.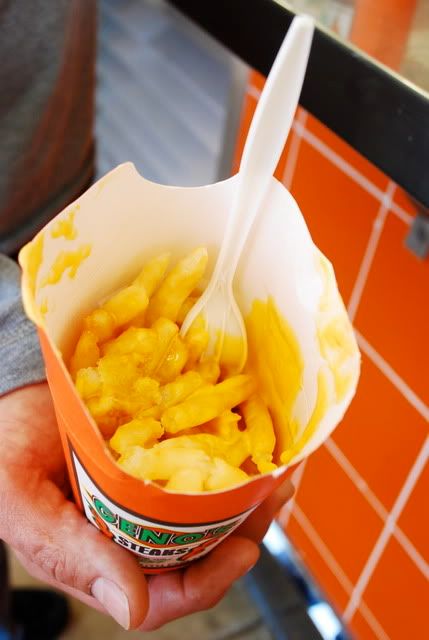 I knew my husband was enjoying his whiz wit meal because I don't think he said one single word once his cheesesteak was in hand. He wouldn't even stop to pose for a picutre! I made sure to document my first cheesesteak experience though, full, smiling mouth and everything!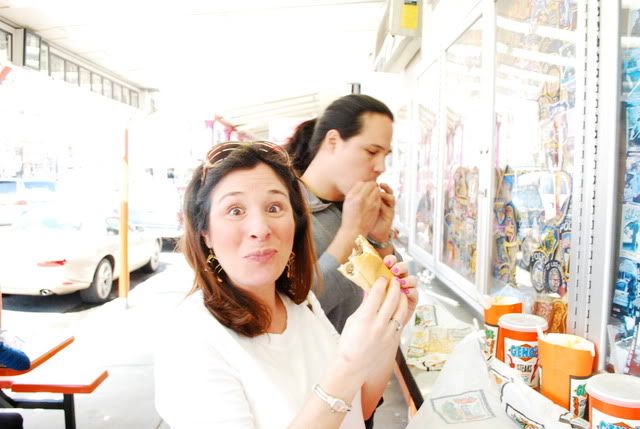 Next time we're in Philly we'll conquer Pat's and see how it compares. According to my brother there is no comparison. Geno's is just better. We shall see...