This little starter really exemplifies how simple, fresh and delicious Italian food can be. I've been making these as an appetizer for family gatherings for a while. They are easy to prepare, healthy and just downright delicious.
Basically, you grill fresh French bread and top with a warm bean and bacon mixture that has been flavored with garlic and rosemary. It doesn't get much better than that! There is an alternative way to make the bread portion that isn't as healthy - and I do opt for it when I have the time and don't mind making a mess. You can fry the slices of French bread in a shallow pan filled with olive oil and crushed whole cloves of garlic. The fried bread is...well, as you can imagine, really delicious. But it's greasier, heavier and messier than simple grilling the bread over hot coals. So in the summer I opt for grilling the bread. Try it both ways and see which you prefer! Enjoy!
White Bean and Pancetta Bruschetta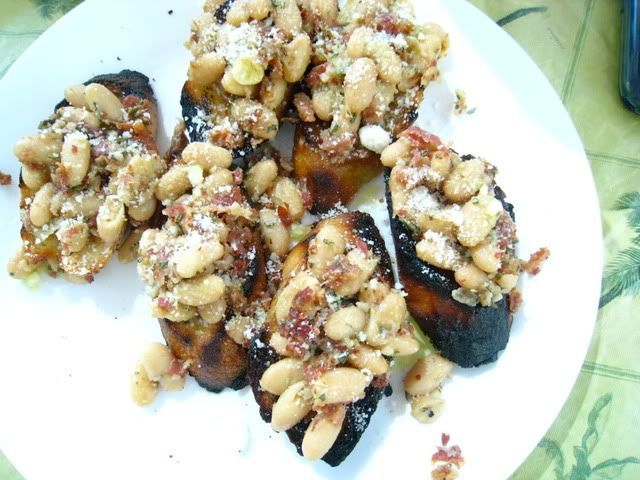 1 can of white cannelini beans, rinsed and drained
1 6 oz package of pancetta (usually sliced thin)
3 cloves garlic (You can use less if you aren't a big garlic fan), chopped
2-3 tablespoons chopped fresh rosemary
2 tablespoons olive oil
salt and pepper to taste
grated Romano cheese for topping toasts.
1 French baguette, sliced
In a skillet, brown your pancetta. Once crispy remove from the pan and set aside. To the skillet, add in the garlic and a tablespoon of olive oil and cook until the garlic is tender. Once tender, add the rosemary and cannelini beans along with the crispy pancetta. Cook until the beans are well coated and the rosemary has softened up a bit (about 3 minutes). Season lightly with salt and pepper.
Meanwhile, preheat a grill or a grill pan. Coat your baguette slices on both side with olive oil and sprinkle with salt and pepper. Place on the grill and watch carefully as they toast up. Flip after about a minute to two minutes on each side. Bread will be slightly charred with grill marks. Remove from grill and top each slice with your bean mixture. Drizzle the toasts with the additional tablespoon of olive oil (or more if needed) and then top each toast with grated Romano cheese. Serve warm.