This was one of my "last suppers", I guess you could say. I made this dinner for my family the Sunday before our little baby made her arrival into this world. It was a pretty decent day outside so perfect for a grilled feast, which is what we had. I didn't really follow a recipe for the kabobs.
We simply skewered up some fat, juicy scallops alongside pieces of onion, eggplant, red pepper and baby bella mushroom caps. I drizzled them with olive oil and grilled them until done. Meanwhile, I concocted an herb pesto of Italian parsley, fresh basil, garlic, olive oil and Romano cheese. I left out the pine nuts because my mom is not a big fan of those. And I have to say, without the pine nuts it makes a very light tasting, very fresh pesto sauce. Once the kabobs were done I de-skewered them (is that even a word?) and then tossed them with the pesto.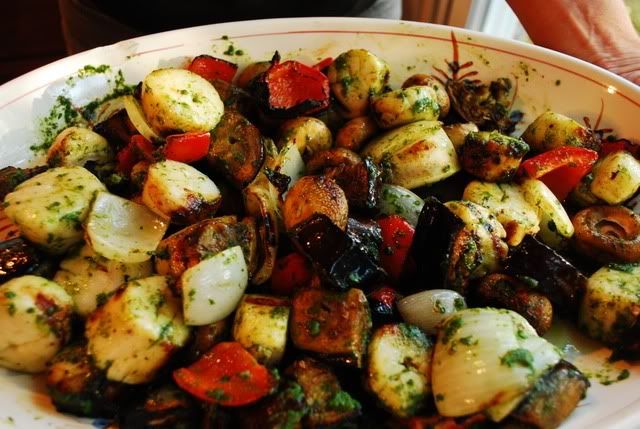 It was so light and delicious! I thought for sure there would be a ton of leftovers only because I bought way too many ingredients, but we ate almost all of the scallops and veggies up! Healthy and yummy.
And because we were being so good with the main course, I had to create a decadent side dish to go with the grilled abbondanza. I followed a basic risotto recipe, which I now know by heart, and just added about two cups of grated Fontina cheese and tons of freshly ground black pepper at the end. Once you stir in the cheese you get a smooth and creamy cheesy rice dish that is to die for. We literally scrapped the serving bowl clean on this one. Here's the recipe if you're interested in eating way too much of a good thing. Enjoy!
Fontina and Black Pepper Risotto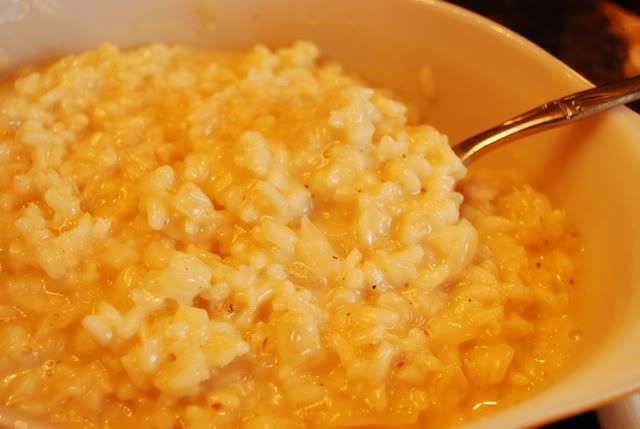 2 tablespoons of olive oil
2 tablespoons of butter
1/2 of a vidalia onion (it calls for the whole thing but I don't like that much onion)
3 garlic cloves, minced
1 cup of Arborio rice
1 cup of dry white wine
4-6 cups of chicken stock or water
2 cups grated Fontina cheese
salt and pepper (freshly ground)
Finely chop your onion and garlic. Over medium heat, heat the olive oil along with your butter in a risotto pan or large heavy bottom saute pan. Add your onion and garlic and cook until translucent, about 7 to 10 minutes. Then add your arborio rice and toss often, allowing the rice kernels to toast up a bit, about 7 to 10 minutes. This helps them absorb the liquid more efficiently.
Then add your cup of wine and stir until the liquid is nearly completely absorbed. In a saucepan, heat your 4 cups of chicken stock over low heat. Once warm, add it to your risotto one cup at a time, stirring occasionally so your rice doesn't stick or burn. If the liquid is evaporating too quickly in your risotto pan, turn your heat down to medium low. You'll have to find the perfect temp on your range.
Once all the liquid has been absorbed and your rice is cooked to al dente, remove the pan from the stove. This could take anywhere from 30 to 45 minutes depending on your stove and temperature and how often you've been stirring.
Off the heat, stir in your grated Fontina until melted. Finally, season liberally with freshly ground pepper. Serve hot!