So Mother's Day has come and gone and...yup I'm STILL pregnant! It's getting a little frustrating at this point since it doesn't look like I'm going to be giving birth anytime around my due date - unless things start progressing quickly (which I've told could happen). But I've been told that more often than not, first babies like to come late. That's OK I guess. More time to prepare right?? And more time to cook! Either way, I did enjoy psuedo-celebrating my first "unofficial" Mother's Day.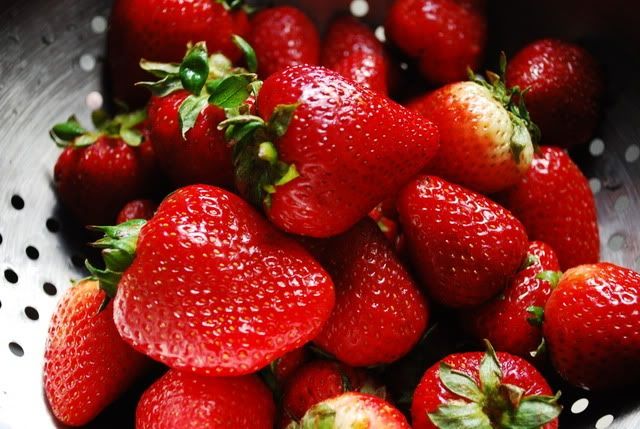 I bought a beautiful box of strawberries from Trader Joe's last week and decided to make a strawberry pie with my loot. It helps that both my mom and I love strawberries! I haven't ever made a strawberry pie before, but knew that I wanted to make one where the berries have been cooked, versus one that just features the whole berries in a cooked pie shell. While those are prettier, I am not a fan of that jelly type stuff that you have to coat the strawberries with.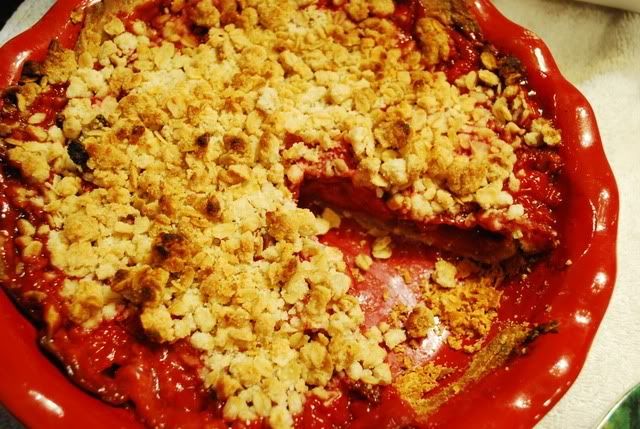 I found this recipe online from Emeril Lagasse and it sounded right up my alley. It's basically a traditional fruit pie with a crumb topping. It made for a delicious end to a very wonderful Mother's Day! And hopefully I'll be a mother in the full sense of the word very, very soon! Enjoy!
Strawberry Crumb Pie
www.foodnetwork.com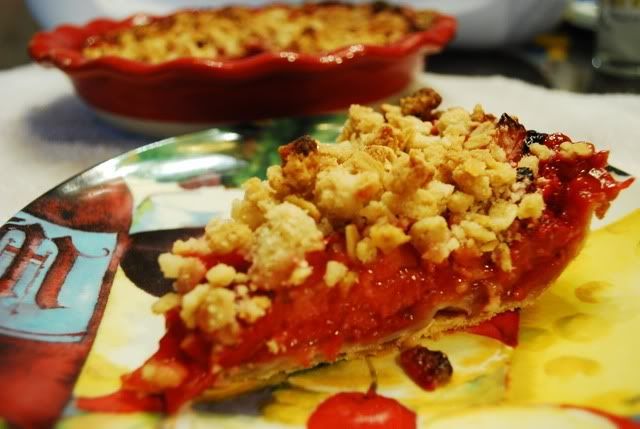 Pie Crust:
1 stick butter
3 ounces cream cheese
1 1/4 cups all-purpose flour
Pinch salt
For the crumb topping:
1/3 cup sugar
1/2 cup all-purpose flour
3/4 cup oatmeal
4 tablespoons butter, melted and cooled slightly
For the filling:
6 cups (2 pounds) quartered strawberries
1/2 cup granulated sugar
2 teaspoons fresh lemon juice
2 1/2 tablespoons cornstarch
1/4 teaspoon grated orange zest
Directions
In the bowl of a food processor combine butter and cream cheese and process until smooth. Add flour and salt and process just until mixture comes together to form a ball. Remove dough from the processor and shape into a disk, wrap in plastic wrap and refrigerate for at least 1 hour.
While the pie crust is chilling, prepare the crumb topping. Combine the 1/3 cup sugar, 1/2 cup flour, and the oatmeal in a small bowl and toss to combine. Add the melted butter and stir until thoroughly incorporated. Refrigerate until thoroughly chilled.
Preheat the oven to 350 degrees F.
Working on a lightly floured work surface, roll out dough out to a thickness of 1/8-inch and fit it into a 9 or 10-inch tart pan with a removable bottom. Return pie crust to the refrigerator for 20 minutes, then blind bake until lightly golden, about 18 minutes. Remove and transfer to a wire rack to cool while you assemble the strawberry filling. Increase the oven temperature to 375 degrees F.
In a mixing bowl combine the strawberries with the sugar, lemon juice, and cornstarch and toss to combine. Spoon the strawberry filling into the prepared piecrust and spread the crumb topping evenly over the top of the filling. Bake in the middle of the oven for 1 hour, or until filling is bubbly and crust and crumb topping are golden brown. Transfer to a rack to cool to room temperature before serving.