For years my mom and I always made the same cookies for Christmas. Gingerbread men and sugar cutout cookies (which both involve rolling, cutting and decorating), Mexican tea cookies (also called Russian tea cookies or Pfefferneusen or something like that), chocolate chip cookies and Pizelles. This year I just didn't have the energy or the time for making that many labor-intensive cookies so I decided to keep it simple. We made Pizelles, which I will post about shortly, as well as two kinds of biscotti. I find biscotti to be a pretty simple, quick cookie to make since there is no rolling or even dropping by the tablespoon involved. You simply cut the dough in quarters or halves, form it into logs and bake it whole. Then you cut it and toast the biscotti - making them twice-baked cookies. For a special touch, we dipped these particular fruit and nut biscotti in melted semi-sweet chocolate.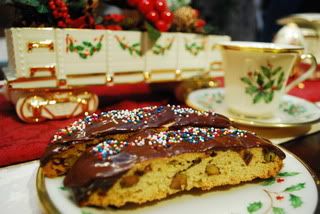 These biscotti were inspired by a recipe for
Fig and Pistachio Biscotti
on
Proud Italian Cook's
blog. I made a lot of changes and omissions however, so here is my version below. I substituted dates for figs because my mom had bought a huge bag of dried medjool dates to make an appetizer for Thanksgiving and we had plenty left over so instead of spending more money for figs, we used what we had. Also, since the Pizelles we make every year are anise flavored, I didn't want the biscotti to be as well. Plus, I'm not a huge fan of anise so I eliminated that ingredient. I just put in extra vanilla extract. Also, as I've said before on this blog, you won't catch me within 50 yards of a piece of zest. I'm not a fan, no matter how hard I try to like it, I just don't. Orange, lemon or lime, it doesn't seem to matter. I just don't like citrus zest. Sorry, not happening to my baked goods! Oh well. So, in short (ha), I left that ingredient out as well. Lastly, I dipped them in melted chocolate to add a holiday touch. I also added in a touch of cinnamon to give them a warm finish.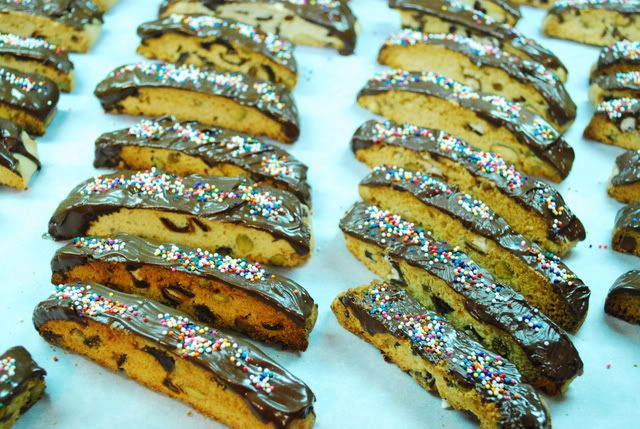 They turned out nice and crumbly. Apparently, biscotti made with butter have more of a cakey texture and those without butter have more of a traditional hard, crunchy consistency. These leaned toward the cakey end, but still had a nice toothy crunch. Hopefully you have time to enjoy a little holiday baking this season! These aren't too hard to make inbetween shopping and trimming the tree. Enjoy!
Chocolate-Dipped Date and Pistachio Biscotti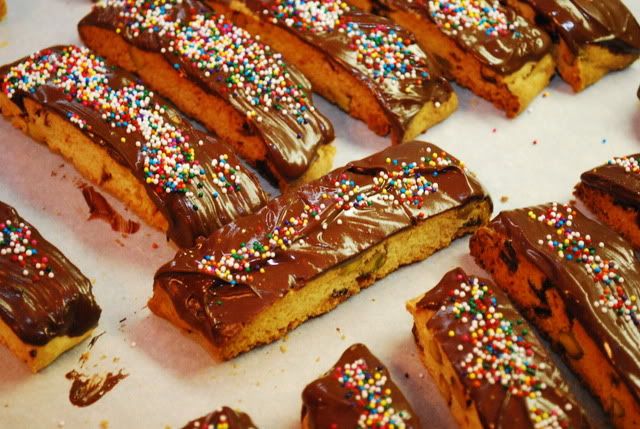 1/2 cup unsalted butter, room temp
3/4 cup sugar
2 large eggs
2 t. vanilla extract
1/2 tsp cinnamon
2 1/4 cups all-purpose flour
1 1/2 t. baking powder
1/4 t. salt
1/2 cup shelled pistachios
1 cup chopped pitted dates
8 oz semisweet chocolate chips
Heat oven to 350 degrees.
With your mixer, beat butter and sugar on medium-high until smooth, about 2 minutes.
Add eggs and extract beat until creamy and light.
Combine dry ingredients together, then add to the butter mixture, add the dates and the nuts last.
Mix everything on low speed until incorporated then remove dough and divide in half.
Form two 7×3 inch logs, place on parchment lined baking sheet apart from each other, and bake until lightly browned (25 to 30 minutes).
Remove from oven, and let them cool down, you can't cut them when they're hot they'll crumble.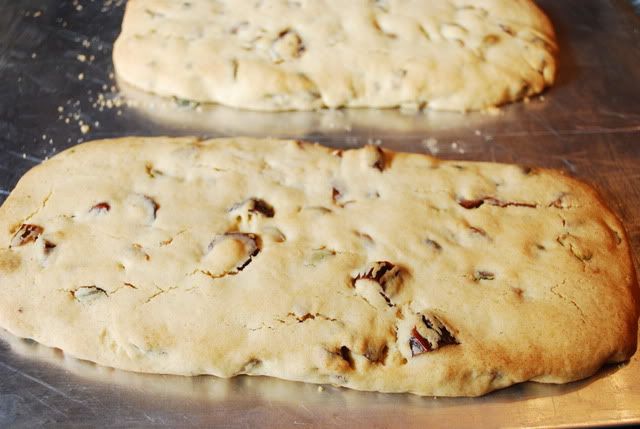 Using a serrated knife, take your time and slowly cut logs into 1/2″ thick slices.
Arrange biscotti on their sides on the baking sheet. Return to oven, and bake until golden, about 10-15 minutes. Turn biscotti over on the other side and bake for another 10-15 minutes more, or until desired crispiness. Cool on racks.
Once cool, melt your chocolate over a double boiler. Once melted, dip the tops of your biscotti in and sprinkle with jimmies or cookie decorations if desired. Chill in the refrigerator until the chocolate sets back up and then enjoy!
Makes around 36-40.