Well, it's here. Winter. Cold, blustery, bitter and raw. They are even calling for snow flurries today! I guess I shouldn't complain. It is December, after all (as I keep hearing people say). Nothing could be as crazy as last winter when we had blizzard after blizzard of unrelenting snow. I swear it didn't melt till May!
At least it puts you in the holiday spirit. Speaking of holidays, do you have your tree up yet? We do! I've also already watched the obligatory Christmas movies and had the required festive eggnog while tree trimming. That is required, right?? Hee.
And in the spirit of Christmas here is a nice abstract shot of our tree from outside our house: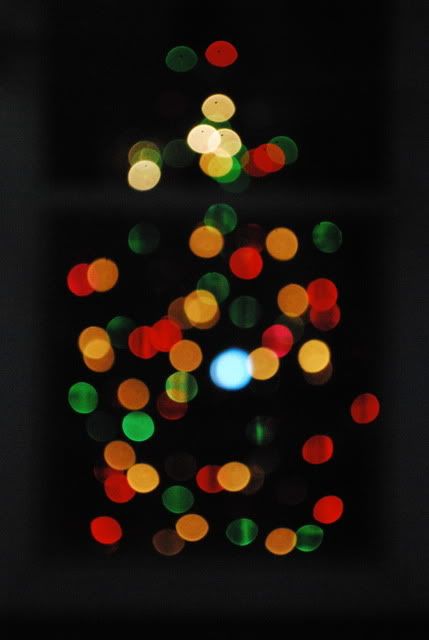 And here's a pic of our most favorite Christmas blessing of all, sleeping in "HEAVENLY" peace, as the song so beautifully says: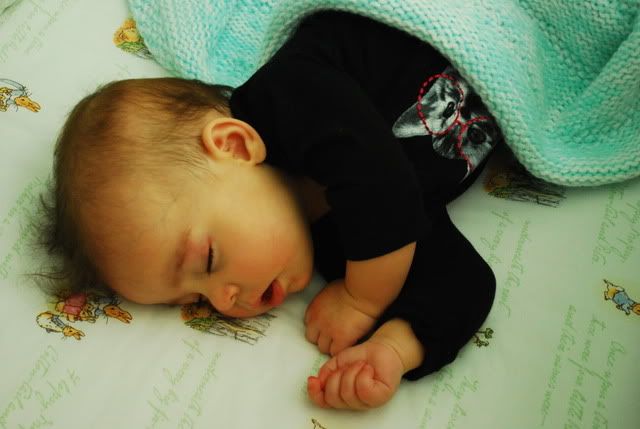 Anyway, the one redeeming thing about cold weather is the host of foods it inspires me to cook. Mainly - soup. I love a hearty bowl of warm, homemade soup on a cold, winter's night. There is NOTHING better in my opinion. I have some favorites, onion soup, traditional minestrone and roasted tomato bisque. However, last night we were looking to use up some brussel sprouts in the fridge so I fashioned up a tasty soup that made these mini-cabbage heads the star. You can just rinse them, cut them in half and throw them into the soup raw. They will boil in the broth while the beans soften up, floating like little green apples while your soup simmers.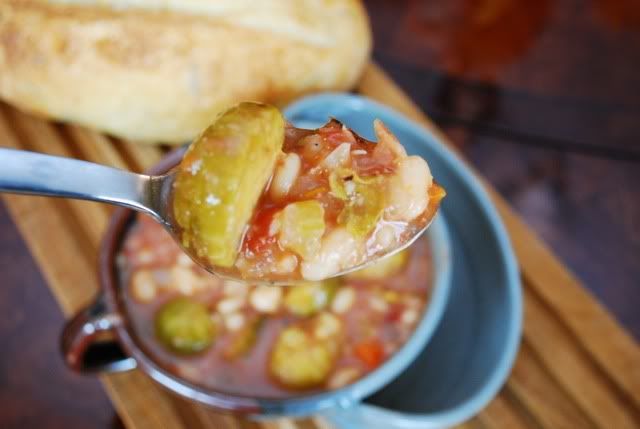 You can easily make this with canned beans, but it's not that much harder to use dried beans and you really get your money's worth as well as a major flavor payback with dried beans. If you use canned beans however, you'll want to probably cook your brussel sprouts ahead of time since you won't have to simmer the soup as long.
Another tip, I like a thicker soup consistency, so, as you'll see in my recipe, I pureed two cups of beans once they were cooked, and then stirred them back into the soup to thicken up the broth. If you like a thinner, clearer type of soup then just skip that step. We topped our soup with crispy cubes of prosciutto and a generous spoonful of grated Romano cheese.
Finally, a word of warning. Eat this soup with ones you love. Beans and brussel sprouts can be a dangerous combination, if you know what I mean. So tread lightly but don't be afraid - the taste is worth it! Or Beano before if you must.
Enjoy!
White Bean and Brussel Sprout Soup
1 lb dried white beans
1/2 cup cubed prosciutto
1 onion, diced
4 cloves garlic, minced
2 carrots, chopped
1 celery stalk, chopped
2 tb fresh rosemary, finely chopped
2 tb olive oil
1 qt chicken stock
2 cups water
1 can diced fire-roasted tomatoes with juice
1 bay leaf
1 lb brussel sprouts, rinsed, trimmed and then cut in half
salt and pepper for seasoning
grated pecorino romano cheese for serving
Soften the beans first. Rinse the beans, place in a large soup pot, and add cold water to cover by 2 inches. Bring to a boil and let simmer for 2 minutes, cover, and remove from the heat. Let stand for about 1 hour, then drain. Place aside.
In the bottom of that same soup pot, place your cubed prosciutto and crisp up over medium heat. Once the prosciutto has browned and crisped, remove it from the pot and set aside. You'll use this to top your soup when serving.
In the same pot, throw in your onion, garlic, carrots, celery, rosemary and olive oil. Saute them in the prosciutto grease and brown bits until softened. Once softened, add your drained beans to the pot along with the rest of your ingredients, stock, water, tomatoes, bay leaf and brussel sprouts. Bring to a boil and then reduce to a simmer. Allow soup to simmer uncovered until the beans are tender and the brussel sprouts have cooked. Miraculously, these two things seem to happen at the same rate, which ends up being about 30-40 minutes, depending on your stove.
Once done and the beans are tender, strain out two cups of beans (these will unavoidably include celery, onion, carrots and garlic but if you can try to avoid whole brussel sprouts and leaves within these two cups). Puree the beans and miscellaneous vegetables in a food processor until smooth. Return this puree to the soup pot and stir to combine. This will help thicken your soup to a nice consistency. Ladle soup into bowls, top with crispy prosciutto and grated romano cheese and serve.