These cookies have been a Christmas tradition in my family starting with my great-grandmother, and possibly before. My mom and I have made them every Christmas since I can remember. She nearly quadruples the basic recipe, which has been in her recipe box on this index card in a plastic sleeve for decades, and then passes them out to tons of family and friends.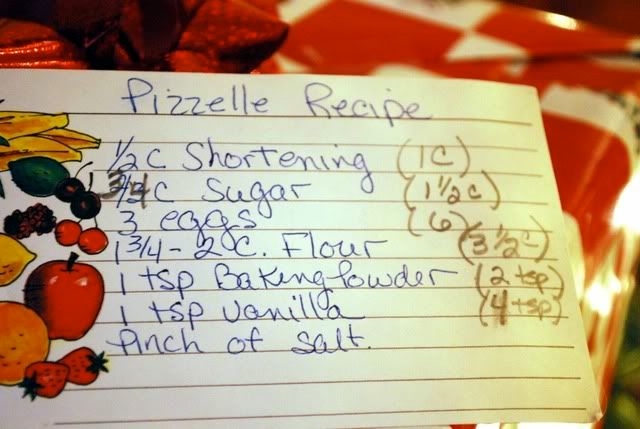 Everyone has come to expect them from our family at Christmas time. In order to meet the demand, we bought two pizzelle waffle irons and make a day of it. My mom and I get out the Christmas DVDs and spend nearly a whole afternoon into the early evening pressing these beautiful cookies out two by two while watching
White Christmas, Miracle On 34th Street, A Christmas Carol
and
It's A Wonderful Life
. This year however, our antique waffle iron, the one we've been using for decades, died on us. So we were working with one machine and not the better of the two. The one that crapped out on us was an Italian model, all metal waffle iron that made the cookies extra thin. The second iron, more modern, has a non-stick surface. This makes the baking much easier but doesn't make the pizzelles quite as thin and delicate as the Italian iron. Oh well. We made the best of what we had.

Nonetheless, the season doesn't feel like it has arrived until we bake pizzelles. The house fills with the sweet smell of butter, sugar and anise. The best part of the whole process is eating the ones that bake a little too long or accidentally break when being packed up or pulled from the iron. The challenge is not to eat too many as you go along. Every year for the past 10 years we've had an eager kitchen helper, as you can see. She gladly eats up the scraps and crumbs along the way.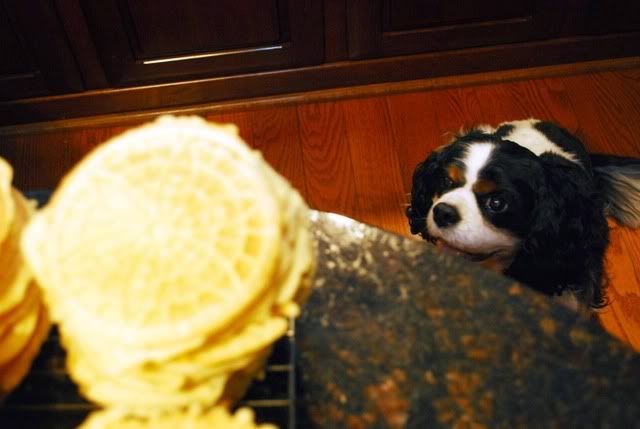 There are hundreds of recipes out there for pizzelles. They are a very simple cookie. Nothing real fancy. They almost taste like a waffle cone and can be a canvas for any flavors you prefer. In my family we have always used anise seed. My mom takes her basic recipe, pictured above, and adds in anise extract and anise seed. My grandmother used to also add lemon or orange zest, but my mom has omitted that ingredient. You can add a little cocoa powder to make chocolate pizzelles, substitute almond extract for the anise seed, or any other kind of extract really. In the end you get a light, wafer-like butter cookie that resembles a snowflake and literally melts in your mouth.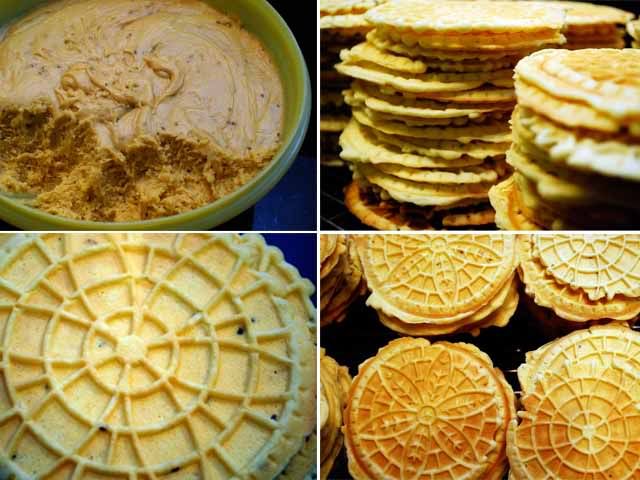 Like most Italian desserts, they go excellently with a nice, hot cup of espresso or other strong coffee. The bad thing about pizzelles is you can eat 6 of them and not even notice. They are addictive and go down like potato chips! You do need a pizzelle waffle iron to make these cookies, an investment that is worth it if, like in my family, you make hundreds of these every Christmas season. Buon Natale!!
Pizzelles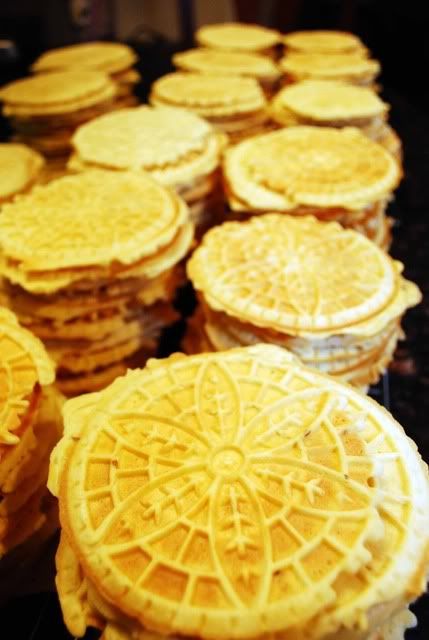 1/2 cup shortening (my mom uses butter)
3/4 cup sugar
3 eggs
1 tsp vanilla
1 1/2 to 2 tsp anise extract
3 tb anise seeds
1 3/4 cup flour
1 tsp baking powder
pinch of salt
In a large mixing bowl, cream the butter and the sugar together. Add in the eggs and incorporate. Next add in the vanilla and anise extract and mix in the anise seeds. In a separate bowl, mix together the dry ingredients (flour, powder). Stir into the eggs, butter and sugar mixture until the dry and wet ingredients are fully incorporated. Chill batter, covered, in the fridge until it's slightly firm, about an hour. Get your waffle iron hot. Once hot, put a tablespoon of batter into each side of the waffle iron. Close and bake. When you close the lid you'll hear the steam hiss and rise out of the iron. After about 15 seconds open up the iron to check your progress. Bake until they are firm but not brown. Burnt cookies will taste bitter because of the anise seed. The time may shorten up as you move along since the iron will get a little hotter. You may burn the first few trying to figure oput how long you need to bake each one for, but eventually you'll figure out how much time your particular iron needs to cook up the batter to a crisp cookie. Remove the cookies gently with a fork and place on a rack to cool. Once cool you can stack your cookies and store them in an airtight container. Cookies will stay fresh for up to two weeks. Enjoy!