Our darling little baby turned 1 on Sunday! And what a celebration we had.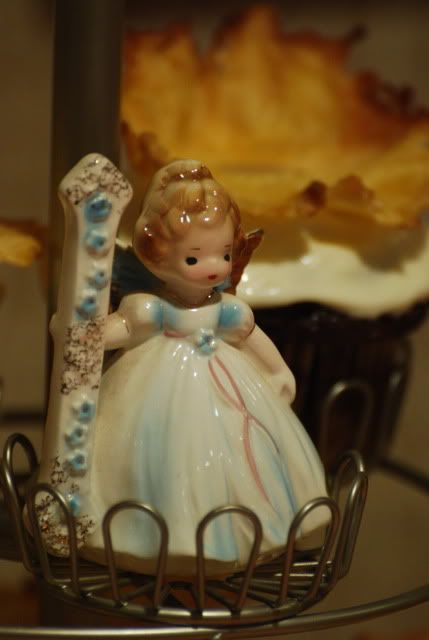 It was a pinwheel themed party and so my mom and I made a ton of pinwheels in various sizes out of craft paper. We used them to make centerpieces for the tables.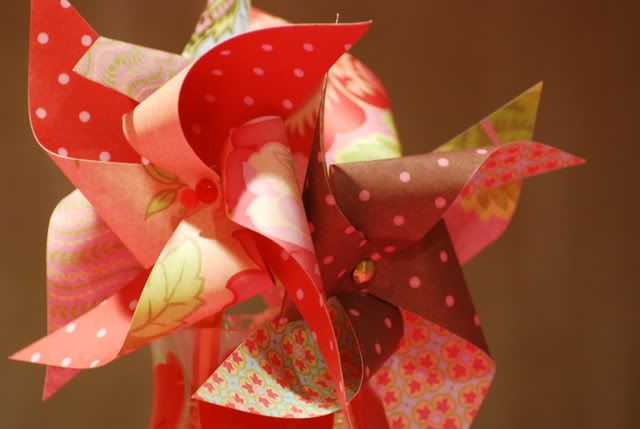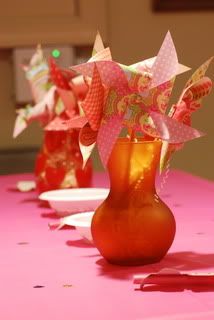 On top of that we made a homemade birthday banner for the birthday girl, since her name is hard to find in pre-fab banners. We spray-painted doilies and used cupcake wrappers for color and then found punch-out letters at Staples that we sponge-painted. It turned out beautifully!! And then we clipped the finished product to a rope with clothes pins.
Favor bags were filled with a pinwheel, customized M&Ms and a bottle of bubbles with a wrap that I designed to match the invites.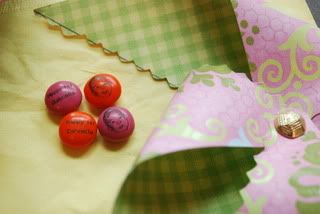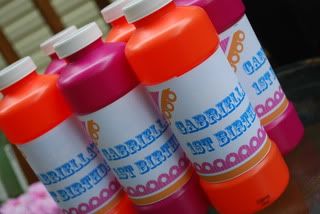 It was a lot of DIY work, but so worth it! It was very satisfying to throw such a pretty party for such a beautiful little girl. My husband and I were so thrilled to see her enjoy the day.
Now...on to the food!! This is a food blog after all. Well...The menu was vast! Here's what we had:
Deviled Eggs
Honey Mustard Chicken on Skewers
Taco Dip
Smoked Salmon Dip
Homemade Pigs in Blankets
Store-bought Spanakopita (Yes I cheated here and got some help from the store)
Tomato and Mozzarella Birds Nests (Post to come on these cute little apps!)
Strawberries Stuffed with Cinnamon-Sugar Marscapone Cheese (post to come on these too - they were so yummy!)
Assorted Fruit Tray
Crudite
Assorted Cheese and Crackers
Shrimp Cocktail
And then for dessert we made boxed chocolate and vanilla cupcakes with homemade cream cheese icing and topped them off with these beautiful pineapple flowers!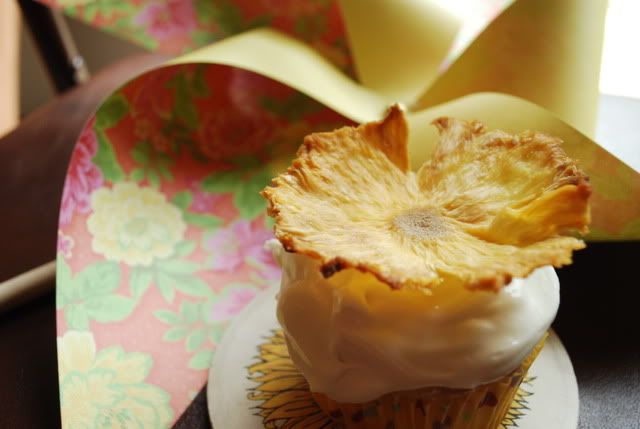 They are time-intensive to make. Not hard to make, but they do take a long time. I couldn't get the pineapples cut extremely thin since I don't have a mandolin, so that might be why it took me twice as long as this post from
Annie's Eats
blog on how to make Pineapple Flowers. Her step by step instructions are great and the flowers looks so cute and make a nice organic decorative touch to the cupcakes.
Unfortunately, it was very humid the day of my daughter's party so many of them started to loose their shape after sitting out for a few hours on the cupcake stand. But people were still impressed nonetheless.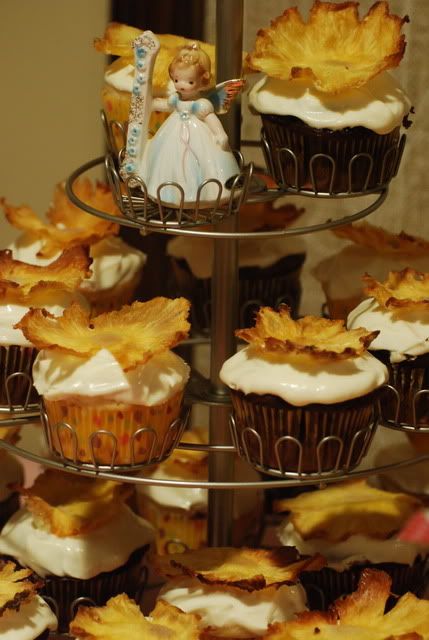 So if you have some time, try these out! They are much more unique than jarred sprinkles :) Enjoy!