These adorable, elegant little appetizers made a great addition to the birthday party we threw for our daughter. Not only are they fairly inexpensive to make - one box of spaghetti yields nearly 45 little birds' nests - they have widespread appeal and keep well on a buffet. I found this recipe when
Proud Italian Cook
posted about appetizers she served at a party. The original can be found at
, Foodalogue
.
I followed the original recipe but made a few changes. Here is my version of the recipe below. I omitted the bacon and peas in the original, and instead added chopped fresh basil and topped each nest with a roasted tomato half. I thought it just looked prettier than slopping tomato sauce on top. These were a hit at the party and I will definitely be making them again for future gatherings! Enjoy!
Tomato-Basil Spaghetti Birds' Nests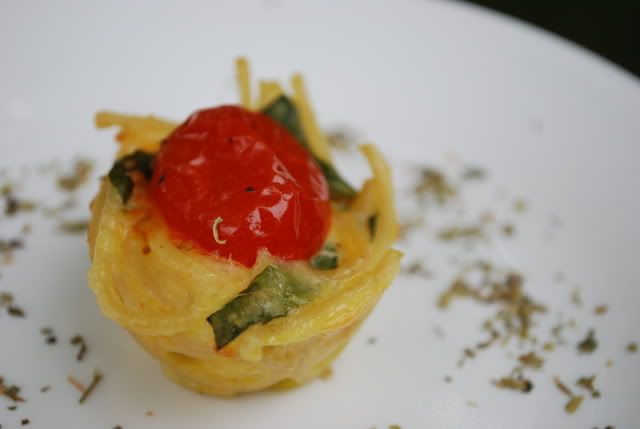 3 cloves garlic minced
1 1/2 lbs. mozzarella shredded
8 eggs beaten
1/2c parmigiano reggiano (or locatelli, whatever you use)
1/2c provolone
freshly chopped basil
1 large crate of grape tomatoes
olive oil
s+p
nonstick cooking spray
1 lb. spaghetti
Saute garlic in olive oil until soft. Reserve to side.
Preheat oven to 350. Cut each of your grape tomatoes in half and then place in a small baking dish. Toss with olive oil to coat and season with salt and pepper. Roast until they begin to soften and the skins blister, about 25 minutes. Remove and let cool.
Crack spaghetti in thirds, boil to al dente and drain.
Mix beaten eggs with cheeses, s+p, and fold in garlic and chopped basil.
Add drained spaghetti and mix.
Fill greased mini muffin tins with the spaghetti mixture and top each one with a tomato half.
Bake in 350-375 oven for 10 minutes or until egg has cooked and the cheese has melted. Remove and serve warm. These can be made a day in advance and then reheated to room temperature or warmer for serving. Makes about 45 pieces.