WHOA!! Long time, no blog hey??? I know I have been seriously MIA lately, but I have good reason. Once my baby girl started crawling my free time has been literally gone. The only time I can get anything done is nap time. I run around the house like a chicken without a head, trying to get work done - which can include actual office work, since I'm working from home, laundry, vacuuming, wiping down the bathrooms, cleaning, blowing my nose, brushing my hair, showering and possibly eating lunch. Time management has become my middle name!! It's an art form when you have a baby. And...lord help me...I only have one!!! WHOA again.
Anyway, I figured what better time to revive my long-lost blogging days than Cinco De Mayo. If you follow my blog, which I'm not really sure anyone does anymore, or ever did for that matter, you know I'm a fan of Mexican food. If I wasn't Italian, I'd be Mexican. Nuff said. I literally have a sixth sense for Mexican flavors and how to put them together (or so I think). I dream about exotic foodie vacations to Oaxaca to excavate corn fungus. Ok, not really, but wouldn't that be cool? Anyway, I digress.
In the past, my husband and I could be found at the local Mexican restaurant with the other revelers throwing back margaritas, bowls of salsa and pounds of refried beans in honor of this Mexican (not Independence Day I know) holiday. But this year a certain 11-month-old made going out to a crowded Mexican restaurant seem quite unappealing. And we were totally fine with that. We made our own fiesta, and enjoyed watching our little girl get her first taste of guacamole and gnaw on a tortilla. Ole!!
For us adults, I fixed
Roasted Poblano Pepper and Pork Quesadillas
with
Cucumber-Tomato Salsa
and a side of
Smashed Black Beans
. Who needs crowded Mexican restaurants? Not us! We enjoyed our little Mexican feast with some
homemade guacamole
and my special
margaritas
and our own little pinata - she's full of sweetness :) Enjoy!
Roasted Poblano and Pork Quesadillas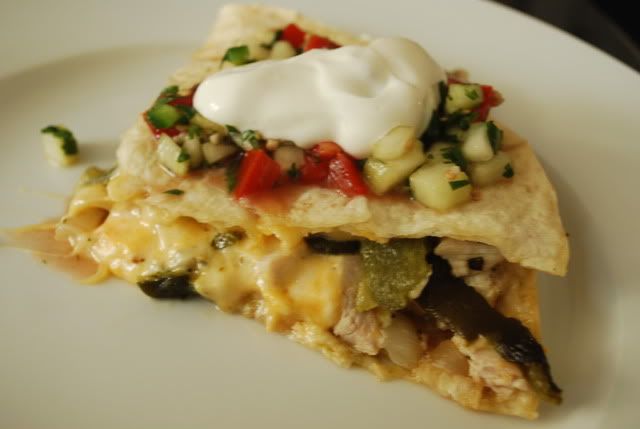 1 poblano pepper
1 cup of chopped roasted pork loin
1/2 sweet vidalia onion, sliced thinly
1 tb olive oil
1/4 tsp cumin
1/4 tsp chili powder
1/2 cup shredded cheddar cheese
1/2 cup shredded pepper jack cheese
2 large flour tortillas
Preheat your oven to 350. Preheat your grill. Once the grill is hot, place your poblano pepper over the hot coals and roast until the skin is evenly charred on all sides. Remove from the grill and place in a bowl. Cover tightly with plastic wrap and let sit for 30 minutes or until cool. Once cool, you should be able to peel the skin off and deseed the pepper. Once you've peeled it, slice the pepper flesh into strips. Set aside.
In a small skillet heat your olive oil and then add your sliced onion. Cook over medium low heat until softened. Add your cumin and chili powder and cook a while longer until the onion almost caramelizes. Once fully cooked, set aside.
To assemble your quesadilla, get out a pizza pan or baking sheet. Spray with cooking spray and lay down one of your flour tortillas. First spread our your cooked onions to cover the tortilla surface. Top with your chopped cooked pork loin. Next top with your poblano peppers. Finally coat the entire tortilla with your cups of shredded cheese and then place your second tortilla on the top.
Bake at 350 for 20 minutes or until cheese is melted. Remove and serve hot with your choice of toppings.
Cucumber-Tomato Salsa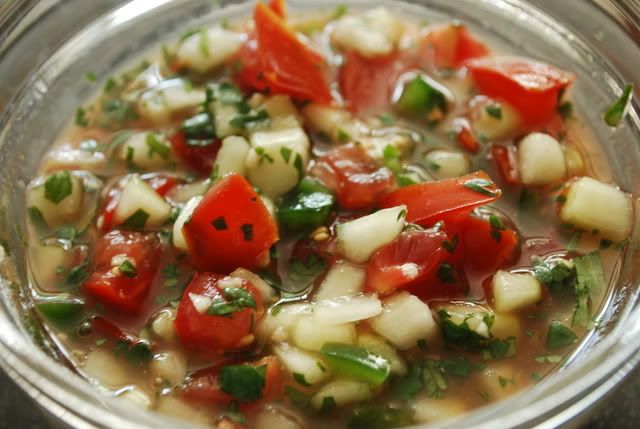 This refreshing, cool, salsa crudo was a great accompaniment to hot, spicy Mexican quesadillas and black beans.
1 cucumber, peeled, seeded and chopped
4 campari tomatoes or 2 regular tomatoes, chopped
1 tsp minced garlic
1 jalapeno, chopped
1/4 cup cilantro, chopped (or less if you don't want that much)
juice of half a lime
cumin (about 1/4 tsp)
Tabasco (five shakes)
salt to taste (about 1/2 tsp)
Combine the cucumber, tomatoes, garlic, jalapeno and cilantro in a medium-sized bowl. Toss with the juice of half a lime and then season to taste with cumin, salt and Tabasco. You may want less or more than I've noted about. It's really just about getting it to where you want it to be flavor wise. This is great with spicy dishes.
Smashed Black Beans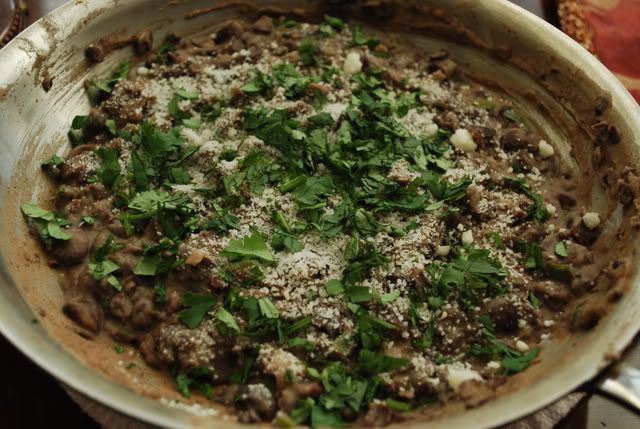 1 can black beans, drained and rinsed
1 jalapeno, diced
2 cloves garlic, minced
crushed red pepper (about 1/4 tsp)
2 tb olive oil
1/4 cup chicken stock
juice of half a lime
salt and pepper to taste
chopped cilantro and Parmesan for serving
Set your beans aside. In a small skillet, warm your olive oil over medium heat and then add your jalapeno and garlic. Let soften slightly and then add your crushed red pepper. Let vegetables soften some more and then add the black beans. Toss to coat with the olive oil and then once warm, smash your black beans with a fork or muddler until your beans have a chunky consistency. Add in your chicken stock to thin them out a bit. Finally add in your lime juice and season again with salt and pepper as needed. Sprinkle the top with cilantro and Parmesan and serve warm.