I absolutely loved this dish, chosen by Jill of
Insanely Good Food
! It was an easy and very tasty way to prepare shrimp scampi. Just throw all the ingredients together in one baking dish and bake! I couldn't eat shrimp scampi without the pasta though - and this recipe makes the perfect amount of buttery garlic sauce to pour over a bowl of pasta. I went one step further though and made homemade spaghetti noodles. What a labor of love! I think making homemade pasta is so much fun, but it's definitely a bit time consuming.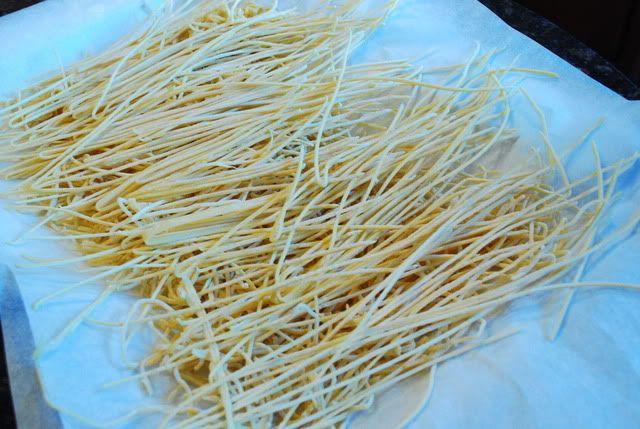 You have to let the pasta strings dry out a bit and I also found that you have to separate the strings as they come out of the machine, which was a bit of a pain. The reward is so worth the effort though. Tender, perfectly al dente pasta cooks up in half the time as the boxed variety. If you have a pasta machine or are thinking of getting one take my advice and do it. Fresh is best - I'm telling you, it will be hard to go back to boxed pasta after you spoil yourself with fresh!
I followed Ina's recipe for the shrimp exactly, except I did leave out the panko bread crumbs since I was tossing it with the pasta. I don't think they would have served their purpose the same way. I also added in a pint of roasted cherry tomatoes. The tomatoes made a nice bright addition to the pasta dish and added a tartness to the sauce. Go
here
to see what the other
Barefoot Bloggers
thought of this recipe. Enjoy!
Baked Shrimp Scampi
Ina Garten, Barefoot Contessa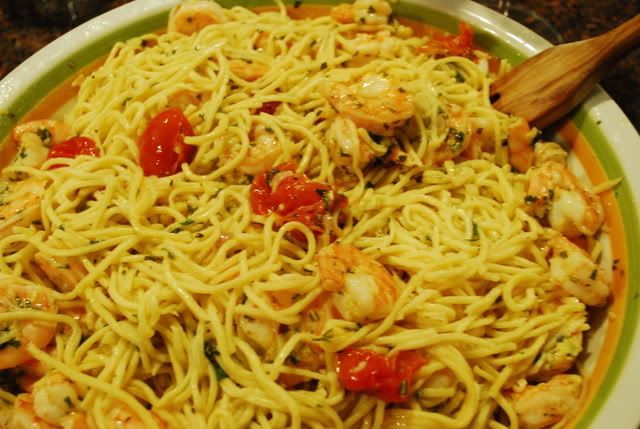 •2 pounds (12 to 15 per pound) shrimp in the shell
•3 tablespoons good olive oil
•2 tablespoons dry white wine
•Kosher salt and freshly ground black pepper
•12 tablespoons (1 1/2 sticks) unsalted butter, at room temperature
•4 teaspoons minced garlic (4 cloves)
•1/4 cup minced shallots
•3 tablespoons minced fresh parsley leaves
•1 teaspoon minced fresh rosemary leaves
•1/4 teaspoon crushed red pepper flakes
•1 teaspoon grated lemon zest
•2 tablespoons freshly squeezed lemon juice
•1 extra-large egg yolk
•2/3 cup panko (Japanese dried bread flakes)
•Lemon wedges, for serving
Directions
Preheat the oven to 425 degrees F.
Peel, devein, and butterfly the shrimp, leaving the tails on. Place the shrimp in a mixing bowl and toss gently with the olive oil, wine, 2 teaspoons salt, and 1 teaspoon pepper. Allow to sit at room temperature while you make the butter and garlic mixture.
In a small bowl, mash the softened butter with the garlic, shallots, parsley, rosemary, red pepper flakes, lemon zest, lemon juice, egg yolk, panko, 1/2 teaspoon salt, and 1/4 teaspoon of pepper until combined.
Starting from the outer edge of a 14-inch oval gratin dish, arrange the shrimp in a single layer cut side down with the tails curling up and towards the center of the dish. Pour the remaining marinade over the shrimp. Spread the butter mixture evenly over the shrimp. Bake for 10 to 12 minutes until hot and bubbly. If you like the top browned, place under a broiler for 1 minute. Serve with lemon wedges.