Well it was another cold, snowy weekend here in Maryland. Anyone seeing a trend here?? I'm quite sick of these snowed-in weekends. I can't wait for Spring! It feels so far away. One good thing about these snowy weekends is the opportunity to cook up a storm for breakfast, lunch and dinner. And I can sneak in a few pancake mornings while winter is still in its height, as I have my big bulky coat to hide those extra winter pounds. So as part of making the best of this weather, I searched through my
Williams-Sonoma Essentials of Breakfast and Brunch
cookbook for some inspiration. These
Lemon Ricotta Pancakes
were instantly calling my name.
What really caught my eye is that they use beaten egg whites to help keep the batter light and fluffy. These pancakes cook up so well - they rise beautifully, taste sweet and moist and leave you with a good solid start for the day. If you have extra time this weekend, use it to make some homemade ricotta pancakes. Top them with fresh fruit, butter and syrup and enjoy! You can always work them off once Spring gets here...
Lemon Ricotta Pancakes
Williams-Sonoma Essentials of Breakfast and Brunch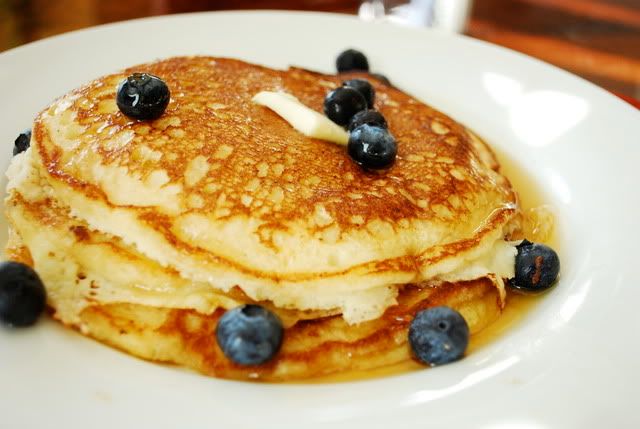 1 1/2 cups all-purpose flour
1 teaspoon baking soda
1/2 teaspoon of salt
1 1/2 cups buttermilk
2 large eggs, separated
1/4 cup sugar
3/4 cup ricotta cheese
1 tablespoon grated lemon zest (or the juice of half a lemon which is what I used because we don't do zest in my house)
In a large bowl, whisk together the flour, baking soda, and salt. In another bowl, whisk together the buttermilk, egg yolks, sugar, ricotta and lemon juice or zest, whichever you're using. Add the buttermilk mixture to the flour mixture and stir until just blended. There will be some small lumps.
In a separate bowl, using a mixer on medium speed or a whisk, beat the whites until soft peaks form. Using a rubber spatula, carefully fold the beaten egg whites into the ricotta mixture just until blended.
Place a large griddle or fry pan with low sides over medium heat until hot enough for a drop of water to sizzle and then evaporate. Brush with a 1/2 teaspoon melted butter. For each pancake, ladle about 1/4 cup batter onto the hot surface. Reduce the heat to medium-low and cook until small bubbles appear, the edges start to look dry and the bottoms are golden brown, about 4 minutes. Carefully turn the pancakes and cook until lightly browned on the second side, about 1 1/2 minutes longer. Repeat with the remaining batter and butter to make about 16 pancakes, each about 4 in in diameter. Serve accompanied by butter, syrup and any sliced fruit you desire.