Oh yes. This is bad. Really bad. If you're like me you can eat a handful of Andes candies in a sitting and then justify by claiming you were trying to maintain fresh breath.
When I was in college, one of the local restaurants made an Andes candies chocolate mint pie. My roomates and I would go to the restaurant just for a thick slice of this pie with vanilla ice cream. I really wanted to make a version of that, but when I came across this Andes Candies Supreme Cheesecake my search came to an end. What could be better than creamy cheesecake ribboned with the flavors of chocolate and mint?? Classic yet creative! This cheesecake baked up beautifully. I used a water bath, even though the instructions didn't call for one. I am notorious for having cracks in my cheesecake - they still taste good but those cracks sure are disheartening. The last thing I wanted for Valentine's Day was a crack in my cheesecake!! Not good. So I labored with the foil to create a secure water bath and it was worth it.
Just wrap the bottom of your springform pan securely with about four pieces of foil - this will ensure that the water won't leak into your cheesecake. Then place your cheesecake in a larger pan. The only larger one I had was my roasting pan. And then fill up the pan with hot tap water until it reaches up about 1/3 of your cheesecake pan. Then bake. When removing it from the oven, you may want to remove your cheesecake from the water bath while in the oven so you don't splash or slosh hot water on yourself or on your cheesecake. Then remove the pan with the water after it has cooled.
The finale to this cheesecake is topping it off with a creamy chocolate mint sauce - made from, you guessed it, Andes Candies! Then you can decorate the top as you see fit with extra candies.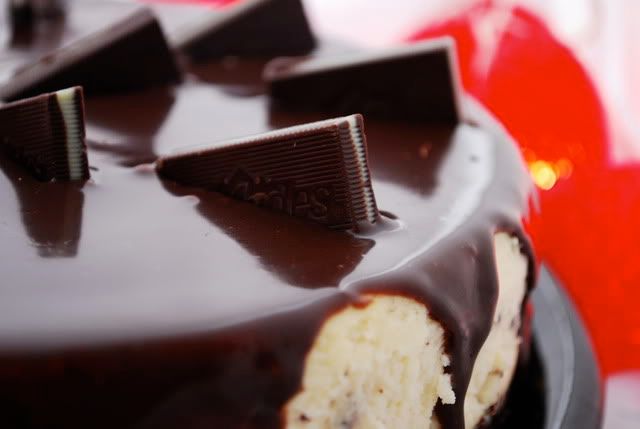 My Valentine will certainly enjoy this cheesecake. Thank the LORD that Lent follows Valentine's day! I will need some motivation to give up chocolate - and even more motivation to finish this cheesecake all up by Wednesday. Happy Valentine's Day!! I hope you're spending it with loved ones and celebrating the true reason for this holiday, true love, romantic or otherwise, commitment and a reminder of our daily blessings. Enjoy!
Andes Candies Supreme Cheesecake
www.tootsie.com, Andes Candies section
1 cup chocolate cookie crumbs
3 tablespoons sugar
3 tablespoons butter, melted
4 packages (8 oz. each) cream cheese, softened
1 cup sugar
2 tsp. vanilla extract
4 eggs
1 package (4.67 oz.) Andes® Crème de Menthe Thins chopped (28 candies) or 1 cup Andes® Crème de Menthe Baking Chips
Andes® Crème de Menthe Thins (28 candies)
3 tablespoons whipping cream or milk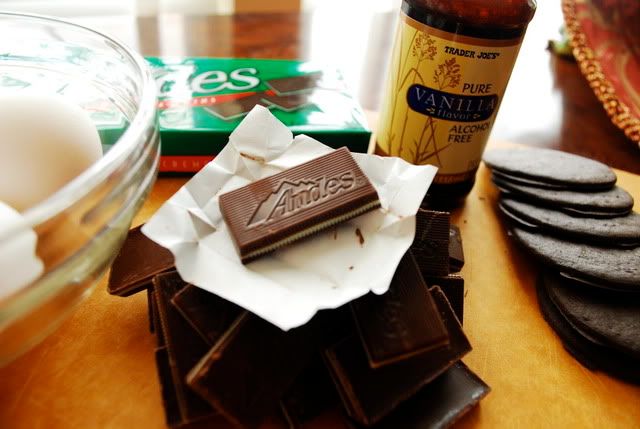 Directions:
Preheat oven to 325° F.
Crust: Mix crumbs and 3 tablespoons sugar in a small bowl. Add butter; mix well. Press onto bottom of 9-inch springform pan. Bake at 325° F, 10 minutes.
Filling: Beat cream cheese and 1 cup sugar in large bowl with electric mixer at medium speed until well blended. Add eggs and vanilla; mix on low speed just until well blended. Stir in 1 cup Andes Baking Chips or 1 package of chopped Andes Candies (28 pieces); pour into crust.
Bake at 325° F, 1 hour and 5 minutes or until center is almost set. Run knife between rim of pan and cheesecake. Cool to room temperature.
Topping: 4 Set aside 10-12 candy pieces, for decorating top of cake. Place remaining Andes Candies and whipping cream in microwaveable bowl. Microwave on high 45 seconds. Stir until candies are melted and mixture is smooth. Pour over cheesecake, spreading to cover surface and drizzle down sides of cheesecake. Decorate with reserved Andes Candies.
Set: 5 Refrigerate cheesecake 3 hours or until serving time.