We had an unexpectedly heavy snow storm one Saturday about two weeks ago - which is becoming a usual weekend happening in these parts lately - and fortunately I had gone to the store earlier that day with preparing this dish in mind. I had a whole weekend to cook, after many nights of take-out and spontaneous cracker and cheese dinners. We had spent countless evenings working on the beautiful mural below so it left little time for cooking and dinner preparation. So once the mural was done, I set out to the grocery store with a list a mile long and several meals in mind for the upcoming weekend days and nights. I found this fancy-sounding meal in one of my favorite cookbooks and it sounded easy enough to pare down for two people, yet challenging enough that I wouldn't be bored making it.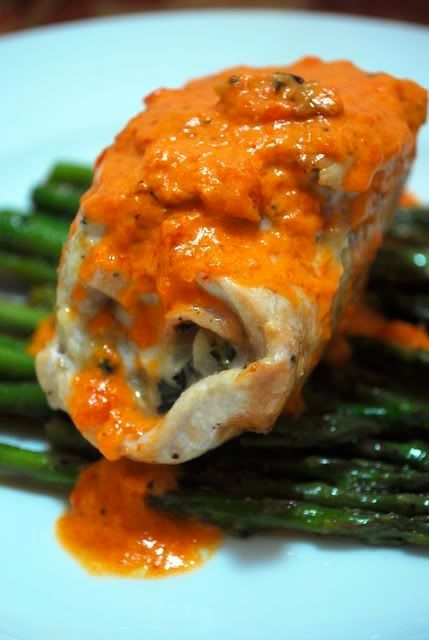 I did have one slight problem with this recipe and it revolved around the cream sauce. Every time (and yes I did it twice and threw it out twice before I switched methods) I added the cream to the champagne it curdled up. My cream was fresh so I knew it wasn't because it had spoiled. I think it was just the heat or the alcohol. Either way, I decided to go ahead and reduce the champagne, but I added the cream to the blender with the peppers and other ingredients and then added it to the champagne. No curdling! So once success was finally achieved, I moved on and served up this delicious chicken over top of some simple roasted asparagus. This meal was fancy enough for a our date night in or to serve to company. Or maybe you could make it for that special holiday coming up? You know the one - it's pink, red and covered in chocolate! Either way, it's worth all the work and many steps to make this yummy meal. Enjoy!
Prosciutto and Walnut-Stuffed Chicken Breasts with Roasted Red Pepper and Champagne Cream
The Wine Lover Cooks With Wine, by Sid Goldstein
For The Chicken
3 tbs olive oil
1 large yellow onion, chopped
3 garlic cloves, minced
2 cups grated monterey jack cheese
3/4 cup walnuts, toasted and coarsely chopped
2 tbs minced fresh sage
1 tb minced fresh flat-leaf parsley
salt and pepper
8 chicken breasts
8 thin slices of prosciutto
For the Cream Sauce
1 tsp olive oil, plus 1/4 cup
1 tb minced shallots
2 cups champagne or other sparkling wine
3 cups heavy cream or half-and-half
2 large red bell peppers roasted (or an 8 oz jar of roasted red peppers)
2 roasted garlic bulbs
2 shallots, roasted and peeled
1 tb balsamic or red wine vinegar
salt and pepper
In a medium saute pan or skillet, heat 1 tablespoon olive oil over medium heat and saute the onion and garlic until soft, 5 to 7 minutes. Transfer to a medium bowl. Stir in the cheese, walnuts, sage, chives, parsley, salt and pepper. Set aside.
Place each chicken breast between 2 pieces of plastic wrap. Pound with a mallet until evenly 1/4 in thick. Remove from the plastic wrap and lay each piece of chicken on a cutting board. Cover each chicken breast with 1 slice of prosciutto. Divide the onion mixture evenly over the prosciutto. Roll up each chicken breast jelly-roll style, securing it with toothpicks, and season with salt and pepper.
To make the cream: In a medium saucepan, heat the 1 teaspoon olive oil over medium heat. Add the shallots and saute until soft, about 3 minutes. Add the champagne and cook to reduce to 1/4 cup. Add the cream or half and half and cook to reduce to about 1 cup. Strain and set aside.
In a blender of food processor, combine the roasted bell peppers, roasted garlic, roasted shallots and vinegar. Puree until smooth. With the machine running, drizzle in the 1/4 cup olive oil. Season with salt and pepper. Set aside.
Preheat the oven to 400. In a large ovenproof saute pan or skillet, heat the remaining 2 tablespoons olive oil over medium heat. Saute the chicken in batches if necessary, until golden brown on all sides. Remove the toothpicks. Transfer to the oven and bake until opaque throughout, 10 to 15 minutes.
To serve, sliced the chicken roll and top with the champagne cream sauce.