"Oh baby!" Those were the exact words of my mother when she bit into this pizza. Do yourself a favor and go make this pizza now. It's so delicious. The flavors go together so well - tender scallops, garlicky broccoli rabe, sweet tomatoes, sauteed onions, crisp, salty bacon and gooey fontina cheese. I mean how can you go wrong? The inspiration for this pizza came from some leftover scallops. I had a craving for broccoli rabe and fortunately the grocery store was brimming with lush, full bouquets of this bitter, leafy green.
I thought about how I could combine all these flavors in a unique way. This pizza came to mind and I'm so glad it did. It was delicious! I'll definitely be putting this pizza in a monthly rotation of meals. It's great for summer, fall, winter and spring too!
It's a bit labor intensive - I mean we're not just slapping marinara, cheese and pepperoni on some dough here. You have to do a lot of prep work to get the toppings ready, but believe me it's worth all the work. It is so yummy with a nice, cold glass of Pinot Grigio. Grill it or bake it, whatever you prefer. Just make it. You'll be glad you did! Enjoy!
Broccoli Rabe, Bacon and Scallop Pizza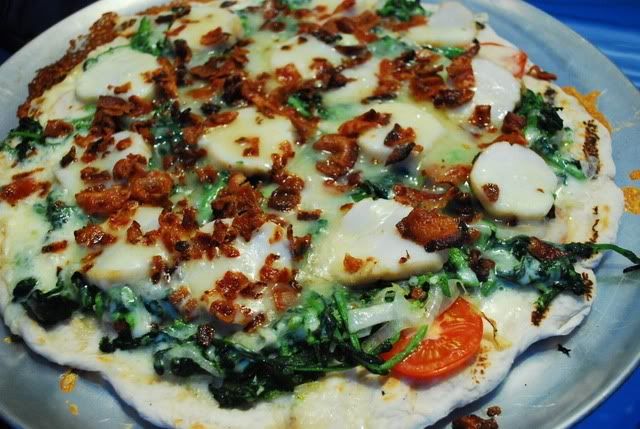 1 bunch of broccoli rabe
4 cloves garlic, minced
1/4 cup olive oil plus two tablespoons
8 slices of bacon, cooked and crumbled
2 cups fontina cheese, shredded
4 large scallops cooked
5 Campari tomatoes, sliced
1/2 vidalia onion
1 raw pizza dough
First, prepare your broccoli rabe. Trim the stalks from the broccoli rabe so that you just have the leafy tops. Rinse and drain and set aside. Fill a large pot with 1 inch of water and set to boil on the stove. Once boiling, throw in the broccoli rabe and reduce to a simmer and cook for 10 minutes. Once done, drain the broccoli rabe and set aside.
In a small skillet, place your 1/4 cup olive oil along with your minced garlic. Saute until the garlic is softened and then add your cooked broccoli rabe. Saute for two more minutes and then remove from the pan and set aside.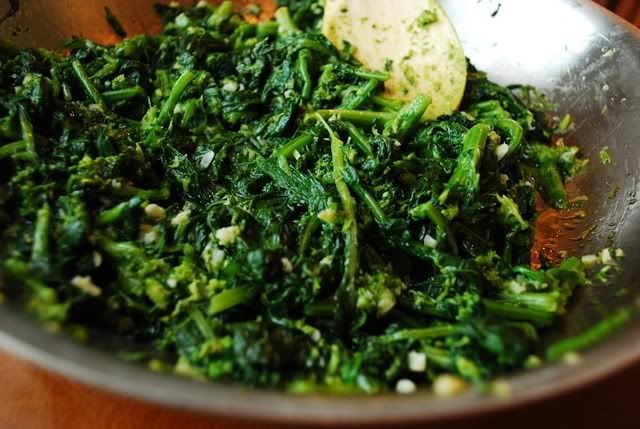 In the same pan, heat two tablespoons of olive oil. Slice your onion thinly and then add to the pan. Saute until softened, about 15 minutes. Remove from heat.
Grill or bake your pizza dough according to directions. I buy the raw balls of dough at my grocery store and then grill it on a rimmed baking sheet or pizza pan on the hot grill. I stretch the dough out in the pan while it sits over a hot grill. As the dough starts to cook it takes on the shape of the pan. I close the lid, let it cook up on one side and then flip the dough onto the grill coals to parbake it on the other side. I remove the cooked pizza crust from the grill, return it to the baking sheet or pizza pan and start adding your toppings.
Drizzle the crust with olive oil and then ararnge your sliced tomatoes evenly over the crust. Next distribute your broccoli rabe and sauteed onions evenly over the dough. Next, slice your cooked scallops into discs and arrange evenly over the pizza. Finally top with your fontina cheese and then sprinkle over your crumbled bacon. Bake on 350 until the cheese is melted - or you can return it to the hot grill to melt the cheese.
Serve warm with grated cheese and crushed red pepper.