Figs seem to be very "en vogue" lately. They are popping up on blogs everywhere. Fig jam, fig tortes, fig cookies - the possibilities and blog entries are endless. I'm sure you've seen many versions of a fig and prosciutto pizza or flatbread before, but this is my take on the classic pairing. For one, I'm not a big fan of fresh figs. The slimy consistency of the center, along with the texture of the outside just doesn't sit well for me. I don't know if I just haven't had good fresh figs, or if I just really don't like them. To me, dried figs have more flavor, a nice, chewy texture and a no-fail ripe, sweet taste that I can depend on.
Fresh figs are more of a gamble. So for my pizza I combine dried figs, caramelized onions with balsamic and fresh rosemary, crisp prosciutto, crumbled gorgonzola and garlic oil. I've made this pizza for a few different crowds and, I don't mean to brag...but I've been told by several of them that it's THE BEST pizza they've EVER tasted. (Yes I know how obnoxious that statement sounds.)
Oh and I call it flatbread because its square. To me, flatbread is square, pizza is round. And flatbread sounds...hmmm sexier. Like something from a gourmet restaurant perhaps? I know, can I get anymore pretentious with this pizza or what? Anyway, hope you enjoy my version of this figgy favorite!
Fig and Prosciutto Flatbread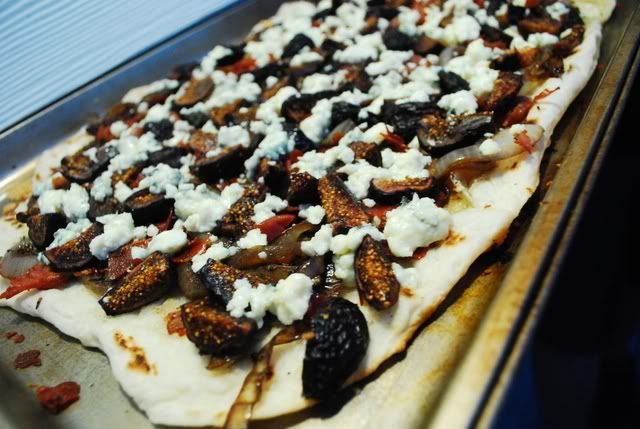 1 portion pizza dough, grilled or baked (I buy the pre-made bags of raw dough at my grocery store)
1/2 large sweet onion, sliced
2 tablespoons balsamic vinegar
1 tablespoon rosemary
dash of salt
1/4 cup olive oil plus 2 tablespoons
3 cloves garlic, minced
5 thin slices of prosciutto
1 bag dried black mission figs, chopped (usually 6-8 oz bag)
1 cup crumbled gorgonzola cheese
Preheat oven to 350. Lay your prosciutto out in a single layer onto a baking sheet. Crisp in the oven for 15-20 minutes. Remove and set aside.
Grill or bake your pizza dough according to directions. I buy the raw balls of dough at my grocery store and then grill it on a rimmed baking sheet on the hot grill. I stretch the dough out in the pan while it sits over a hot grill. As the dough starts to cook it takes on the square shape of the pan. I close the lid, let it cook up on one side and then flip the dough onto the grill coals to parbake it on the other side. I remove the cooked pizza crust from the grill, return it to the my baking sheet and set it aside.
Meanwhile, I start preparing my other toppings. In a small skillet, I heat two tablespoons of olive oil. Add your sliced onions and cook over medium heat until slightly softened. Add your balsamic vinegar and rosemary and cook until the vinegar has thickened slightly. Season lightly with salt and once the onions are caramelized and cooked down. Remove the onions from the skillet to a plate and set aside.
Rinse and wipe out your skillet. Add your remaining 1/4 cup of olive and your minced garlic. Cook over low heat until the garlic is softened. You'll use this garlic oil as the sauce.
Now you're ready to assemble your pizza. First brush the crust with half of your garlic oil. Top evenly with your caramelized balsamic onions, then chopped figs, then crumble your prosciutto onto the pizza. Finally top with your crumbled gorgonzola. Return the pizza to a hot grill or put back into your preheated 350 degree oven and cook until the gorgonzola has melted.
Serve hot.