Ok before we discuss how delicious eggs benedict are served over hot, crispy risotto cakes, it needs to be said that I've discovered the secret, my friends. The secret to making THE PERFECT poached egg. After a bit of research, and much trial and error, I've found the best method for poaching an egg
here
.
My first attempt at poaching was a bit of a mess. I had bought one of those poaching pans that you put above steaming water. Well, that was a complete disaster. My eggs stuck to the pan, my yolks hardened and it was just a failure. Then I tried just dropping my egg into a pan of boiling water. While this worked better than the poaching pan, it wasn't foolproof. The eggs stuck a bit and didn't coagulate and stay together. This final method seemed nearly foolproof! I think the swirl and the addition of the vinegar really seal the deal here.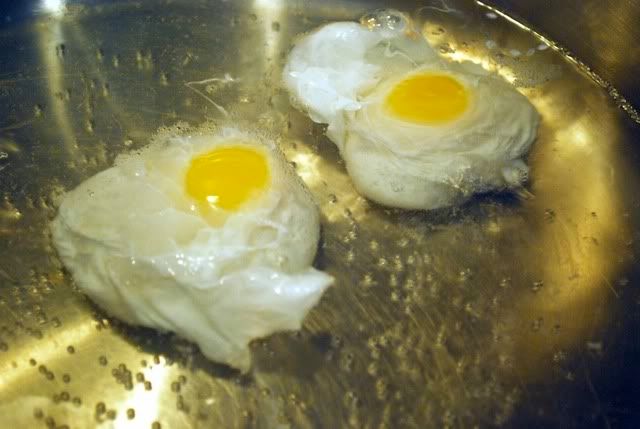 So for the recipe below follow the link above when it comes to poaching your eggs.
The rest is up to me! I had made some traditional risotto a few nights before for dinner and this past Saturday while contemplating the usual pancakes or omelettes for breakfast, I noticed my leftover risotto. Suddenly it hit me. Why not make eggs Benedict-style and serve them over some crunchy, gooey risotto cakes instead of over boring English muffins? I had served eggs Benedict-style on top of croquettes made out of leftover mashed potatoes before and it was delicious. It seemed like a similar enough substition so I figured what the hell? I love it when I go with my instincts. This was so delicious!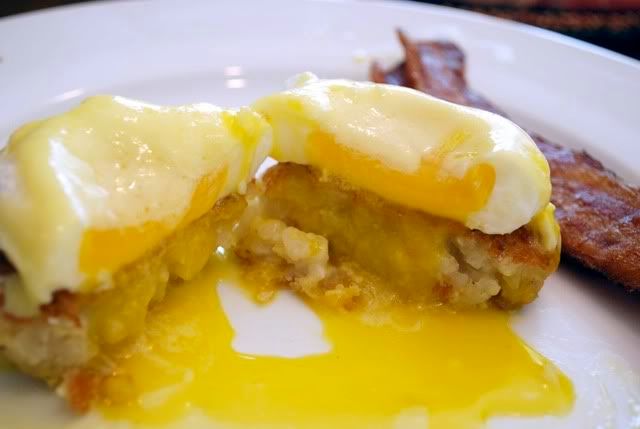 I may make risotto in the future just so I can have leftovers to serve with poached eggs. So if you happen to come by some leftover risotto then don't pass up the opportunity to give this a try. It's a bit of work so early in the morning, but well worth it. Just pour yourself an extra mimosa and slap on your comfy house slippers. Brunch is served. Enjoy!
Eggs Benedict on Risotto Cakes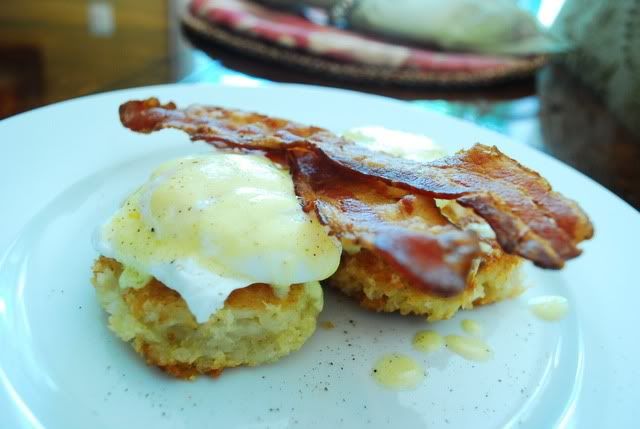 For the Risotto Cakes:
2 cups leftover risotto of any variety
1 egg
1 cup panko bread crumbs
olive oil and vegetable oil (have plenty on hand)
For the Hollandaise:
1 stick of butter, cubed
2 egg yolks
juice of half a lemon
salt and pepper
For the Poached Eggs:
4 eggs
1 tb white distilled vinegar
Prepare a large skillet for frying up the risotto cakes by coating the bottom with half olive oil and half vegetable oil. Turn the heat to medium while you make your risotto patties. In 1/2 cup increments scoop out your prepared leftover risotto. Form into small patties, dip in your beaten egg and then coat with panko bread crumbs. Once your oil is hot, place your rice paddies in the hot oil. Turn heat on pan down to medium low heat. Allow the patties to brown on one side for about 3 to 4 minutes before flipping to brown on the other side. Once evenly browned, removed with a slotted spoon to a plate lined with paper towels. Once your patties are fried up, set aside and cover to keep warm.
For the Hollandaise, set up a double boiler. Once the water is simmering below, add in your two egg yolks and your cubed butter. With a whisk, constantly whisk the yolks and butter together so as to temper the yolks while you melt the butter. Once the butter and yolks are combined, whisk in your lemon juice. Finally season with salt and pepper, turn heat to low and keep sauce warm while you poach your eggs. If your sauce starts to coagulate, I just whisk in a splash of boiling water to bring it back to a saucy consistency.
Finally you're ready to poach your eggs. Follow
this
method here, making sure to swirl the simmering water into a whirlpool and drop your eggs one by one into the center. It helps keep the egg together in the jacuzzi and they poach up to perfect squidginess after three to four minutes.
Once the eggs are done, you're ready to assemble your Benedict. Place two risotto patties on a plate. Top each patty with a poached egg and then drizzle generously with Hollandaise sauce. Serve with bacon and a lightly dressed green salad and enjoy!