I was watching
Barefoot Contessa
on
The Food Network
, as I so often am, and Ina had a guest on her show who was making Chicken Tagine. One of the ingredients was preserved lemons and I have to say I was intrigued by this concept. Lemons that have been cured, basically, in a salt-water solution making the whole fruit edible, from every last pithy bit of peel to each drop of pulpy pectin. I had to experiment with them for myself.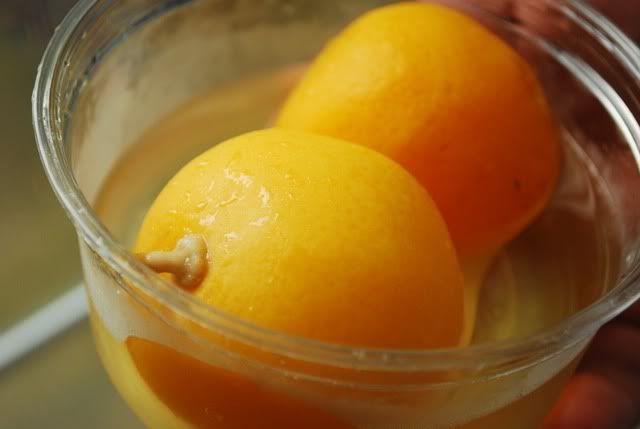 Fortunately, I was shopping in one of my favorite markets,
Whole Foods
, when I came across already prepared preserved lemons. They seem quite easy enough to make on your own but when I found them already made I figured what the heck! Less fuss and muss and I can test out this ingredient for myself and not go through a lot of trouble.
I didn't want to make the chicken tagine because, well basically it's a lot of food for two people and if we didn't like it I was afraid we'd have leftovers that would never leave. I did some internet searching on preserved lemons and found some recipes with pasta and preserved lemons.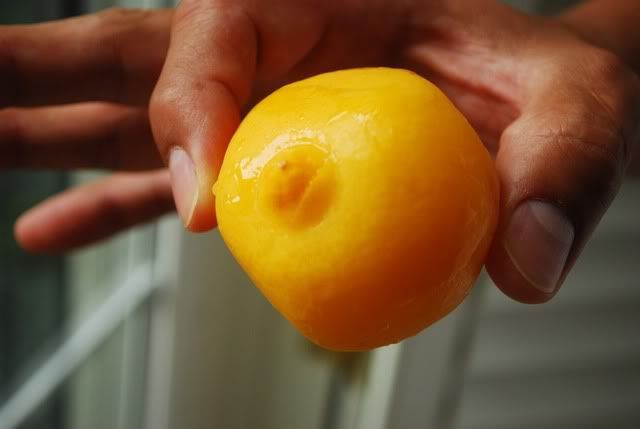 I kind of fashioned my own creation, with inspiration from
this
web site's recipe for
Pasta with Preserved Lemons and Roasted Garlic
and came up with what you have below. I'm so glad that I did because this was an exceptionally flavorful dish. Very unique, but in a good way, and (in my opinion) very fancy. I mean it sounds like something that would be on the menu of a superb, chic little Italian restaurant on the upper West Side or something.
And because it was a rainy September Sunday, I decided to go ahead and make my own pasta from scratch. I whipped up the dough and got out my hand-crank pasta roller and set to work. I ended up with some beautiful fettuccine, albeit of various lengths (that just makes it more authentically hand-made, of course!). It cooked up tender and perfect and absorbed just the right amount of the lemony, vibrant sauce. Here's a pic of my lovely pasta ribbons drying on my make-shift pasta drying rack - shhh don't tell, it's my clothes drying rack:
So if you find some preserved lemons in your local market, give this pasta dish a try and let me know what you think. Or if you're feeling really industrious, make your own preserved lemons along with your pasta. You'll be your own little cottage industry right in your own kitchen! Enjoy!
Homemade Fettuccine with Preserved Lemon, Roasted Garlic and Shrimp
1 lb homemade fettuccine, or 1 lb store-bough pasta
1 whole bulb of garlic
1 lb shrimp, peeled and deveined
4 cloves garlic, minced
2 tb butter
1/4 cup olive oil plus 2 tb
1 preserved lemon, diced (the whole thing, pulp, skin and all - seeds removed though!)
1 1/2 cups of the cooking water from the pasta
1/2 cup basil leaves, chiffonaded
First, put your garlic to roast in the oven. Preheat the oven to 425 degrees. Cut off the top half of the garlic clove, exposing the cloves. Rub with your two tablespoons of olive oil and then season lightly with salt and pepper. Place in a ramekin and then pour water into the dish so it measures up to about half of the clove of garlic. Cover with foil and roast in the oven for 1 hour. Remove and let the clove cool. Once it is cool, squeeze the pulp from the bulb and mash it together with a little olive oil. Set aside for later use.
Prepare your homemade fettuccine according to whichever recipe you prefer. I use 4 eggs and 1 pound of flour. Mix them together and then add a bit of olive oil to soften the dough. I then form it into a ball and then divide it into four equal parts to then place through my pasta roller. Once you've rolled out all your pasta sheets and then your fettuccine ribbons, hang the pasta to dry for a bit on a drying rack. Boil until al dente - about 8 to 10 minutes. Reserve 1 1/2 cups of the cooking water for your sauce and then drain your pasta.
In a large skillet, melt your butter and the 1/4 cup olive oil together. Add in the minced garlic and let soften over medium heat. Add in your shrimp and your diced preserved lemon. Cook until the shrimp are opaque and pink. Add in your roasted garlic and cook for another minute. Finally, add in your reserved pasta water to form a sauce. If it's running, let it come to a slight simmer to thicken a bit and then remove from the heat. Toss with your pasta, top with your shredded basil and serve with grated parmesan or romano cheese.