Braciole, pronounced bra-shoal, is an age-old Italian meat dish. It's a very southern Italian, Italian-immigrant dish. My older relatives (think grandparents and their generation) used to make it all the time. I haven't had it in years and when I saw a post recently on
Proud Italian Cook's
blog, it made my mouth water and my tastebuds yearn for that melt in your mouth tender meat. The trick to braciole is the braising process - basically you sear the meat rolls and then simmer them for hours in a rich, winey tomato sauce. The end result is the most flavorful, fork-tender meat you'll ever eat. In my family, we usually rolled the pounded out flank steak with slabs of lard, which helps tenderize the meat. I noticed
Proud Italian Cook
used thinly sliced prosciutto and I absolutely loved this idea. I used pancetta however, and then I followed her basic stuffing combination and the rolls were delicious.
My mom was in charge of wrapping up the rolls and I think she went a little overboard! Check out those sailor knots LOL!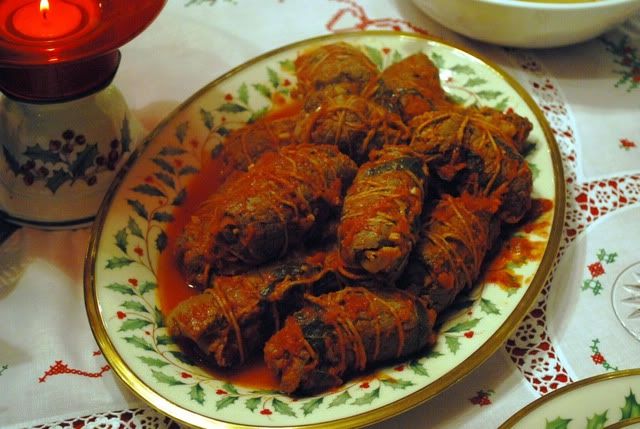 You don't need to use as much twine, not that it will mess with the taste but it did take quite a while to open these little packages when dinner was served. Mom was just being extra-cautious though so you can't fault her for hog-tying the rolls. She just didn't want the rolls to break up in the sauce. I'm sure it comes as no surprise that Italians are good with rope (lol little bad mob humor there, not sayin' anything of course! Just kidding!)
Anyway, here are some rough measurements I came up with for the recipe. In the true Italian tradition, PRC's blog doesn't provide measurements on her post, but I know not everyone can just improvise and I don't want that to be a reason why you didn't try this dish because it's out of this world. For the tomato sauce you can just use any basic tomato sauce recipe you like - one that has red wine in it might be nice, but not required. I think the wine helps tenderize the meat even more. You need kitchen twine to tie your rolls together. I prefer to cut the steak into strips in order to make individual rolls, but if you do an online search for braciole you'll find many recipes that have you rolling up the flank steak in one large piece and tying it that way. Do whatever works for you. Enjoy! We served this for Christmas dinner with some
homemade crab and red pepper ravioli
.
Braciole
Source: adapted from Proud Italian Cook
4-5 lbs flank steak, pounded thin and cut into long strips about 3 inches wide
3/4 lb pancetta, sliced thinly (get this from your deli counter at your grocery)
1/2 cup minced garlic (almost one whole small bulb)
2/3 cup chopped parsley
2/3 cup grated pecorino romano cheese
1/4 - 1/2 cup breadcrumbs (use more if your mixture is looking too thick with parsley and garlic)
olive oil
Mix together your garlic, parsley, cheese and breadcrumbs. Use a little olive oil, about a tablespoon or two to bind the mixture. Lay out your flank steak, make sure it's been pounded to about 1/2 inch thick, or thinner if you can without breaking the meat too much. Season lightly with salt and pepper.
Layer the pancetta in a single layer on top of each flank steak. Then top evenly with the stuffing mixture and pat flat. Finally, roll up your flank steak and secure with kitchen twine.
In a high-sided saute pan, cover the bottom with olive oil in a thin layer and heat. Once the oil is hot, add your rolls, a few at a time, and brown on all four sides.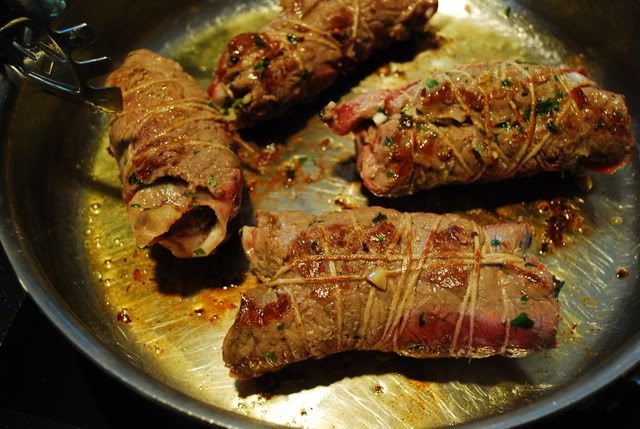 Remove once browned and set aside. Once all your rolls are browned, add them to your simmering homemade tomato sauce and let them cook on low heat for a few hours until the meat is tender. Be careful when stirring the sauce pot so you don't break up the rolls within the pot. Once done, remove and serve with more sauce and grated romano cheese and your favorite pasta. Enjoy!