Not to boast, but my homemade guacamole is kind of a big deal (anyone seen Anchorman? haha).
But seriously, it is. I have had so many requests from friends and family for my guacamole at parties and gatherings. Once, my mom and I polished off a whole bowl ourselves. This recipe didn't happen overnight though. I must have tried tons of different recipes and combination of recipes before getting exactly how I wanted it. And honestly, it changes almost every time I make it. I never measure, I just go by taste. Meaning, I add some spice, taste, add more if needed etc. But I have kind of got it down to a science. I'm definitely not a guacamole purist - meaning I add nearly everything but the kitchen sink to my guacamole. Some people just do avocado, lime and salt. I need more than that! Give me spicy, garlicky and chunky. I served it up recently with a ground turkey and black bean quesadilla that I seasoned with cumin, chili powder and pepperjack cheese.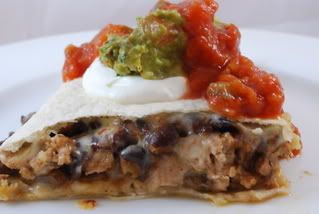 Do yourself a favor. Buy a bag of good blue corn chips, make yourself a salty tangy margarita and settle in with this bowl of guacamole. You'll never be the same again!
Lisa's Homemade Guacamole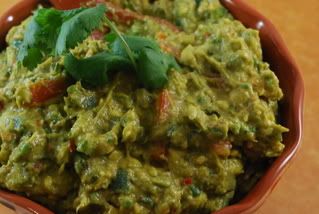 4 ripe avocados
juice of 1 lime
sea salt to taste (I don't use too much salt if I'm eating it with salty chips, but salt is essential to bring out the taste of the avocado)
2 jalapenos, seeded and diced
1/2 tablespoon garlic, minced (I use the jarred kind here because I find it a little milder than raw bulb garlic, which can upset my stomach)
1 tomato (or 2 if you want, sometimes I use two), diced
1/2 teaspoon chili powder
1/2 teaspoon cumin
1/2 teaspoon of red pepper flakes
a few healthy dashes of tabasco sauce (if you don't like the flavor of this just leave it out)
a swirl of olive oil (I don't measure, I just take the jar and pour in a swig, I find this adds to the creaminess and richness)
a handful of chopped cilantro
Cut your avocados in half. To remove the pit you can use a spoon or if you're brave you can hold the avocado in your hand and come down on the pit with the blade of the knife. The pit will stick onto the knife blade and you can pull it out pretty easily. Then peel your avocados and place them in a bowl.
I then use a pastry cutter to smash my avocados. I find it's easier than using a fork and I get a good consistency this way.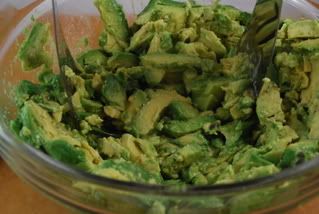 Next I juice one lime in a bowl and then sprinkle in about 1 teaspoon of salt - I don't measure just eyeball. The acid from the lime helps break down and melt the salt so it gets evenly distributed through the guacamole. Once the salt is nearly dissolved in the lime juice, I pour it over the mashed avocado and mix it in. If you think all that juice will be too much you can just use half, taste and see how you like it. Then at the end you can always add more.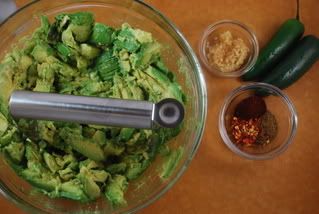 Next I add in the chopped jalapeno, spices, garlic, tomato, tabasco sauce, olive oil and cilantro and mix gently with a spoon.
You can then decorate with a cilantro leaf and serve in a festive bowl alongside a huge basket of chips. Enjoy!