I've been on a major soup and sandwich kick lately. I think because the winter weather has set in and it's just so comforting. And soup can be packed with veggies and vitamins, making it an easy, good-for-you dinner. I saw this soup on
Cooking for Real with Sunny Anderson
on
The Food Network
. I loved that she made a roasted tomato soup but incorporated red peppers, garlic and onions. It also looked like a simple soup to make, as she just roasted all the vegetables first and then pureed them with the stock.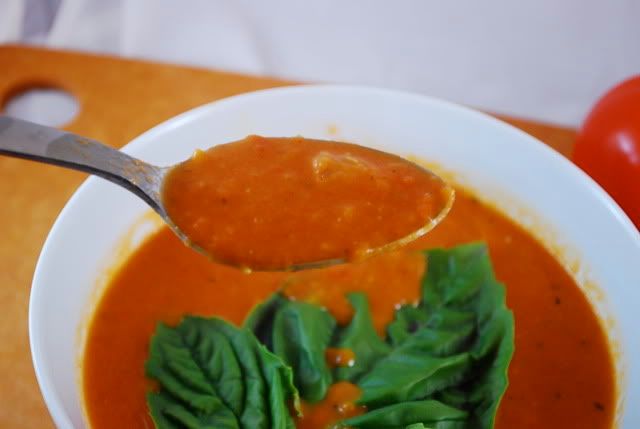 The one problem I had with this recipe was putting the hot soup in a blender afterwards to puree it. What a hot mess - literally!! My blender went all Linda Blair in the Exorcist on me and started spouting hot soup like a fire hose! The pressure from the heat of the soup builds up in the blender and you need to use all your strength to keep that lid on - otherwise hello new paint job on your kitchen ceiling. Ugh. So to avoid exploding soup, I think the next time I make this (if I don't get that immersion blender from good ole' St. Nick this Christmas) then I'll probably wait till the roasted vegetables cool and then puree them in a food processor or blender, separate of the rest of the soup. Then I would whisk the pureed vegetables into the warm stock and go from there. I think you'd get the same result without the risk of third-degree burns from projectile soup shooting out of the top of your blender. Or perhaps I'm the only one who has had a problem with blending hot soup....it's very possible. Oh well, from one kitchen calamity comes future success, or let's hope at least.
I made simple grilled paninis to go with the soup. I picked up some shrimp from the market and combined them with sauteed buttery leeks and garlic and tons of mozzarella cheese for a DELICIOUS panini. What a great combo!! I didn't want the typical grilled cheese and I had a leek leftover in my fridge from the potato soup below and voila - shrimp and leek paninis. My husband and I really liked these sandwiches. Enjoy!
Roasted Tomato Soup
Sunny Andersen, Food Network.com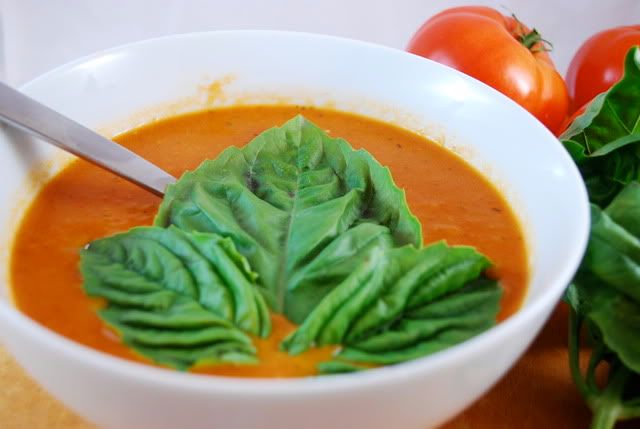 * 8 Roma tomatoes, halved and seeded
* 2 red peppers, quartered and seeded
* 1 medium onion, quartered
* 8 cloves garlic 2 teaspoons chopped fresh thyme leaves
* 4 tablespoons olive oil, divided
* 2 tablespoons balsamic vinegar
* Kosher salt and freshly ground black pepper
* 1 (6-ounce) can tomato paste
* 6 cups vegetable stock
* 1/4 cup loosely packed chiffonade basil leaves
Directions
Special Equipment: Blender or immersion blender
Preheat the oven to 400 degrees F.
On a sheet pan, gently toss together the tomatoes, peppers, onion, garlic, thyme, 2 tablespoons olive oil, vinegar, and salt and pepper to taste. Arrange the tomatoes and red peppers, skin side up, and bake until lightly charred, 45 to 50 minutes. In a soup pot, warm the remaining 2 tablespoons of the olive oil over medium-high heat. Stir in the tomato paste and mix well. Add the tomato and pepper mixture, including the juices, and combine. Stir in the stock, cover, and bring to a boil. Reduce the heat to low and simmer for 20 minutes. Transfer the soup to a blender* (or use an immersion blender) and pulse in small batches that reach only about a third to halfway up the side of the jar. Be careful to start slow then increase the speed to blitz the ingredients until smooth. Use a separate bowl to hold the blended soup and then return it all to the pot.
Heat the soup to warm through, then ladle into serving bowls and garnish with basil.
*When blending hot liquids: Remove liquid from the heat and allow to cool for at least 5 minutes. Transfer liquid to a blender or food processor and fill it no more than halfway. If using a blender, release one corner of the lid. This prevents the vacuum effect that creates heat explosions. Place a towel over the top of the machine, pulse a few times then process on high speed until smooth.
Shrimp and Leek Paninis
1 leek, chopped
3 cloves garlic, minced
5 tablespoons butter
8 shrimp, shelled and deveined
salt and pepper
1 cup of mozzarella cheese or Italian blend cheese, shredded
4 slices of sourdough bread
In a saute pan, melt 3 tablespoons of butter and throw in your leeks and garlic. Cook until the two vegetables are softened and then add your shrimp. Season with salt and pepper and toss until the shrimp turn pink. Once the shrimp are cooked, remove from the pan to a plate. I like to cut the shrimp in half lengthwise so they aren't bulky in my sandwich. If you prefer to chop them, then you can do that too. Either way, make sure you have four shrimp per sandwich.
Preheat your grill pan. Slather one side of each piece of bread with the remaining two tablespoons of butter. Assemble your sandwiches. Butter side down, place your first piece of bread on the grill pan. Sprinkle it with about 1/4 cup of cheese and then place your sliced shrimp down on top. Smother with half of the leek mixture and then top with another 1/4 cup of cheese. Then place top bread on, butter side up. Repeat for other sandwich with the remaining ingredients. Place top on grill pan and griddle until crisp and cheese is melted. Remove and serve!