They get me every time. Every month the beautiful
Williams-Sonoma
catalog arrives and is chock full of sparkling merchandise and mouth-watering recipes. I equate its arrival to the Big Sears Toy Book of my childhood - funny how interests change? Although, when I was little I would eye up those play kitchens (which I never got, so deprived!) and the Easy Bake oven (which I also never got, again so deprived!) every single year until I was like 12. So I guess things don't change that much.
Either way, I always end up saving the catalogs because they mesmerize me with the featured recipes. On top of the great photography, I've never been disappointed by any of the recipes I've tried. I must say that
Williams-Sonoma
is a quite trustworthy source for no-fail recipes that range from weeknight dinners to fancy entertaining dishes. This recipe for homemade meatballs was no exception. My husband actually spotted it first - yes, I've even got him in the habit of perusing the W&S catalog for good-looking recipes - and insisted that I make them soon.
Last week was cold and dreary, the perfect time for a hearty, homey meal like spaghetti and meatballs. I made the meatballs exactly as the recipe stated, except for the size. It denotes that the recipe makes 10 meatballs. Those would have to be some HUGE meatballs. I was able to make 20 good-size meatballs out of the beef mixture. Needless to say, I froze 14 of them for future use. These were moist and tender, and the cheese cube in the center was the decadent finish.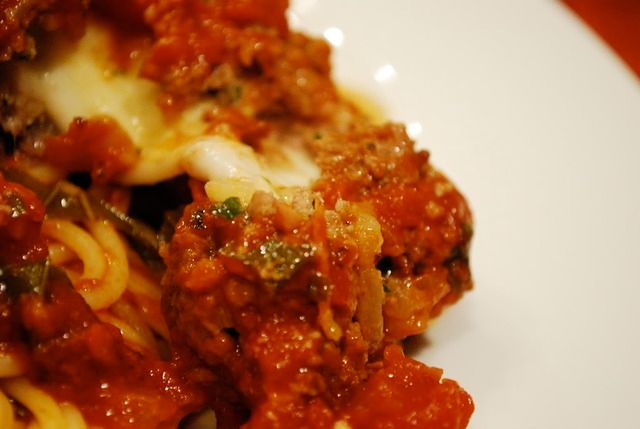 In a word - superb. I made my own homemade marinara and used store-bought spaghetti to complement the meatballs. So don't throw out this month's W&S catalog. Flip through and get sucked in...you know you won't be able to resist it!
Homemade Meatballs with Spaghetti
source: Williams & Sonoma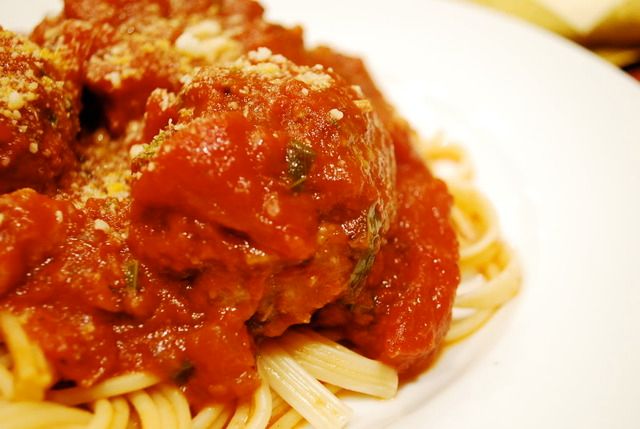 3 Tbs. olive oil
1 yellow onion, finely diced
Kosher salt and freshly ground pepper, to taste
3 garlic cloves, minced
2 cups torn pieces crustless white bread (1/2-inch pieces)
1/2 cup buttermilk
2 lb. ground beef
1/4 cup chopped fresh flat-leaf parsley
1 tsp. finely chopped fresh thyme
5 oz. mozzarella cheese, cut into 1-inch cubes
7 cups tomato sauce
1 1/2 lb. spaghetti, cooked and drained
Grated Parmigiano-Reggiano cheese for serving
Directions:
In a large sauté/simmer pan over medium heat, warm 1 Tbs. of the olive oil. Add the onion and salt and cook, stirring occasionally, until soft, about 10 minutes. Add the garlic and cook, stirring constantly, for 1 minute. Let cool.
In a bowl, combine the bread and buttermilk. Add the ground beef, onion mixture, parsley, thyme, 2 1⁄2 tsp. salt and 1/2 tsp. pepper and mix with your hands until cohesive. Form the mixture into 10 meatballs. Stuff a cheese cube into the center of each one, then reroll the meatball.
In the same pan over medium-high heat, warm the remaining 2 Tbs. olive oil. Working in 2 batches, brown the meatballs, about 8 minutes per batch. Transfer to a plate. Reduce the heat to medium, pour the tomato sauce into the pan and add the meatballs. Simmer, turning the meatballs once, until they are cooked through, 25 to 30 minutes.
Divide the spaghetti among individual bowls and top with the sauce and meatballs. Pass the cheese alongside. Serves 5 to 6.