Ok so I've never really been a big meatloaf eater. My mom would make it once in a while when I was little, but it wasn't like we had some great family recipe to pass down, as many Americans seem to have. I've made meatloaf maybe twice since being married - once with ground turkey and the other time I can't even remember. It's not my favorite meal, but it's easy, classic and homey. I wasn't real excited about this
Barefoot Bloggers
choice, but I figured what they heck. I really wasn't excited about the ketchup topping. That just sounded so "tv dinnerish" to me - also, I kind of hate ketchup. Here's a little story about how much it grosses me out.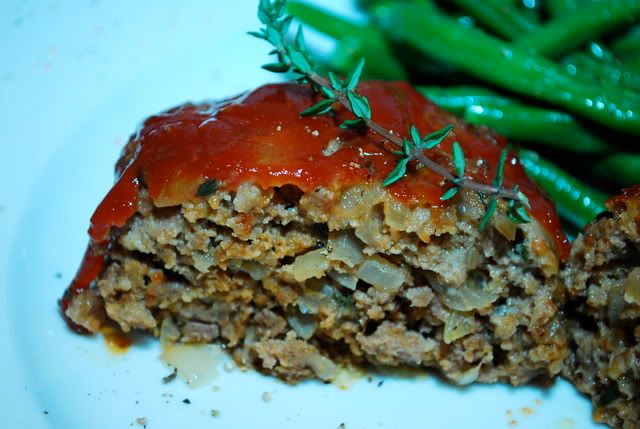 I used to be a camp counseler when I was in high school and this one little girl would bring ketchup and bologna sandwiches on white bread in her lunch bag every day (GAAAAAG!). Now as if that wasn't gross enough to me - cold ketchup on cold white bread and cold bologna, she would take out the piece of bologna in the middle of the two ketchup-stained pieces of white bread, and hold it up and lick the excess ketchup off the bologna. I could only witness this display of her love of ketchup once for fear that I would literally throw up my own lunch.
Ketchup is way too sweet in my opinion, the smell of it makes me kind of gag and the only thing I can really stomach it with is french fries. But even then I usually mix it with a little mustard. Or just hold the ketchup and dip my fries in mustard. My love of mustard could fill a whole blog entry, to be honest. And don't get me started about ketchup on hamburgers and hotdogs. Ugh. My husband likes ketchup however and wanted me to go with the ketchup topping on these mini-meat loaves, so I obliged. It wasn't too bad actually and gave the meat loaf a moistness. Overall, these were pretty tasty. I halfed the recipe to make 3 mini loaves. I also reduced the amount of onions Ina calls for, as I thought 1 and 1/2 onions would be WAY too much onion. I only used 1/2 of one onion and it was more than enough. I also added a lot more fresh thyme than she calls for. Go to the Barefoot Bloggers website to see how everyone else fared with these meat loaves. Enjoy!
Ina's Mini Meat Loaves
Barefoot Contessa, Ina Garten
1 tablespoon good olive oil
3 cups chopped yellow onions (3 onions)
1 teaspoon chopped fresh thyme leaves
2 teaspoons kosher salt
1 teaspoon freshly ground black pepper
3 tablespoons Worcestershire sauce
1/3 cup canned chicken stock or broth
1 tablespoon tomato paste
2 1/2 pounds ground chuck (81 percent lean)
1/2 cup plain dry bread crumbs (recommended: Progresso)
2 extra-large eggs, beaten
1/2 cup ketchup (recommended: Heinz)
Directions
Preheat the oven to 350 degrees F. Heat the olive oil in a medium saute pan. Add the onions, thyme, salt, and pepper and cook over medium-low heat, stirring occasionally, for 8 to 10 minutes, until the onions are translucent but not brown. Off the heat, add the Worcestershire sauce, chicken stock, and tomato paste. Allow to cool slightly. In a large bowl, combine the ground chuck, onion mixture, bread crumbs, and eggs, and mix lightly with a fork. Don't mash or the meatloaf will be dense. Divide the mixture into 6 (10 to 11-ounce) portions and shape each portion into a small loaf on a sheet pan. Spread about a tablespoon of ketchup on the top of each portion. Bake for 40 to 45 minutes, until the internal temperature is 155 to 160 degrees F and the meat loaves are cooked through. Serve hot.